Free Delivery Over £69*
10% off for new customers using code WELCOME
4.86/5 on Trusted Shops
0.0% ABV | 750ml
Regular price
Sale price
£7.99
Unit price
per
Offer
Hold Tight - Being Restocked Shortly
In stock
Not Guilty Pinot Grigio: Experience the joy of wine without the guilt with Not Guilty Pinot Grigio. This non-alcoholic wine is a true delight that you don't need to hide behind. It's part of a range of exceptional non-alcoholic wines that will leave you wanting to share and talk about your discovery.
Not Guilty Pinot Grigio is the epitome of a non-compromising treat. It's crafted for those who crave all the fun and pleasure of wine without the baggage the next day. This zero-alcohol wine is so good that you'll question whether you're drinking the real deal. From its appearance to its aroma and taste, it's a remarkable creation that mirrors the characteristics of traditional Pinot Grigio.
Indulge in the vibrant and refreshing flavours of Not Guilty Pinot Grigio. It entices with delicate notes of ripe pear, crisp green apple, and zesty citrus. Every sip reveals a well-balanced profile, with a harmonious blend of fruitiness and acidity that dances on the palate. The wine's smooth texture and lingering finish make it a true pleasure to drink.
Not Guilty Pinot Grigio is made for those who want it all - all the fun, all the flavour, and all the enjoyment without the baggage. It's a wine that knows how to have a good time without compromising your well-being or productivity. So go ahead, sip and savour this guilt-free indulgence, and wake up feeling refreshed and ready to tackle the day.
Join the growing community of wine enthusiasts who have discovered the incredible world of non-alcoholic wines. Not Guilty Pinot Grigio is your ticket to a world of flavour, enjoyment, and balance. Raise your glass and toast to a life well-lived, without the limitations of alcohol. Cheers to having it all, all the fun without the baggage!
Share
Curious to explore our range? You don't have to settle for just one. At DryDrinker, we offer
'Pick Your Own'
mixed cases. Handpick a selection of different products to discover your new favourites without getting too much of one kind.
View full details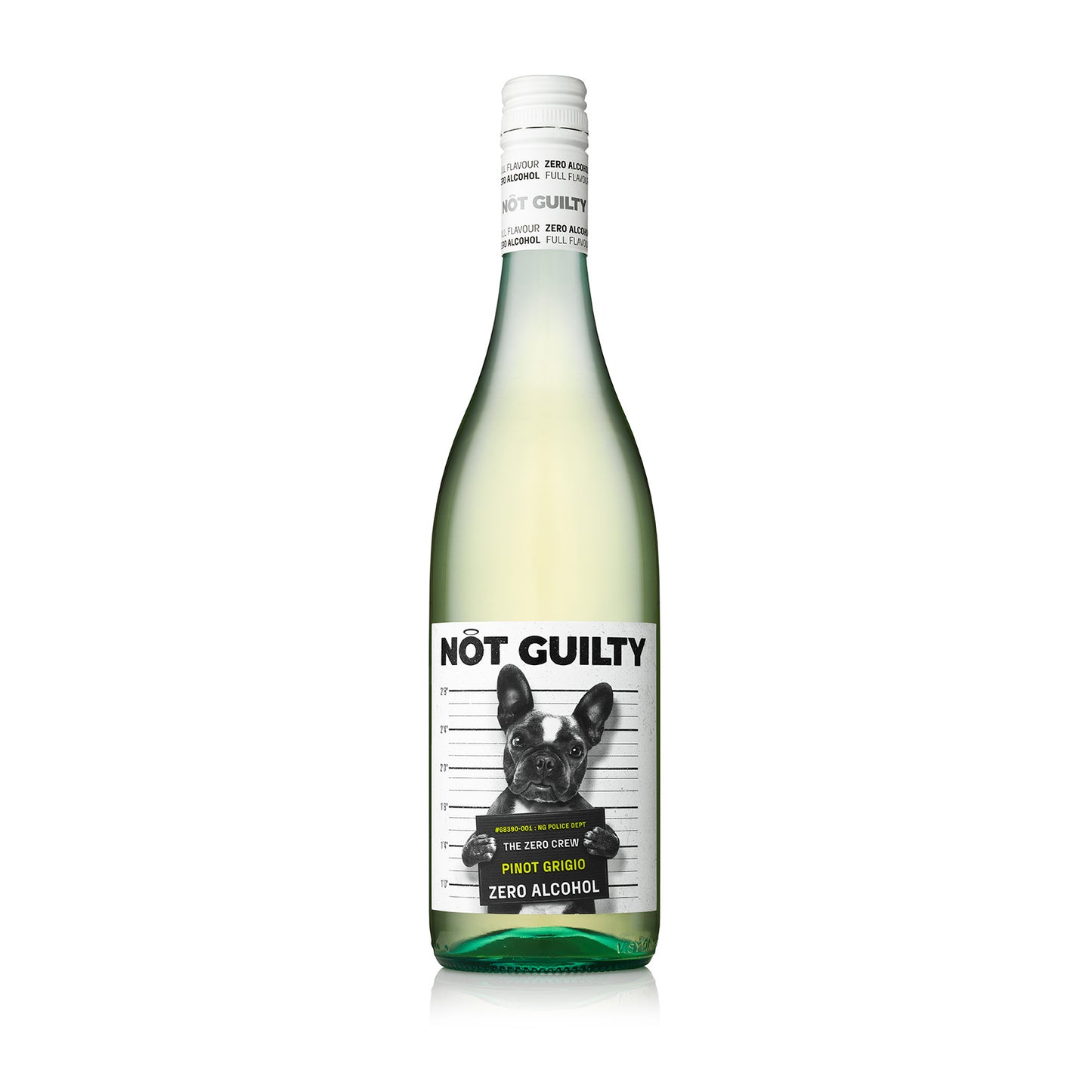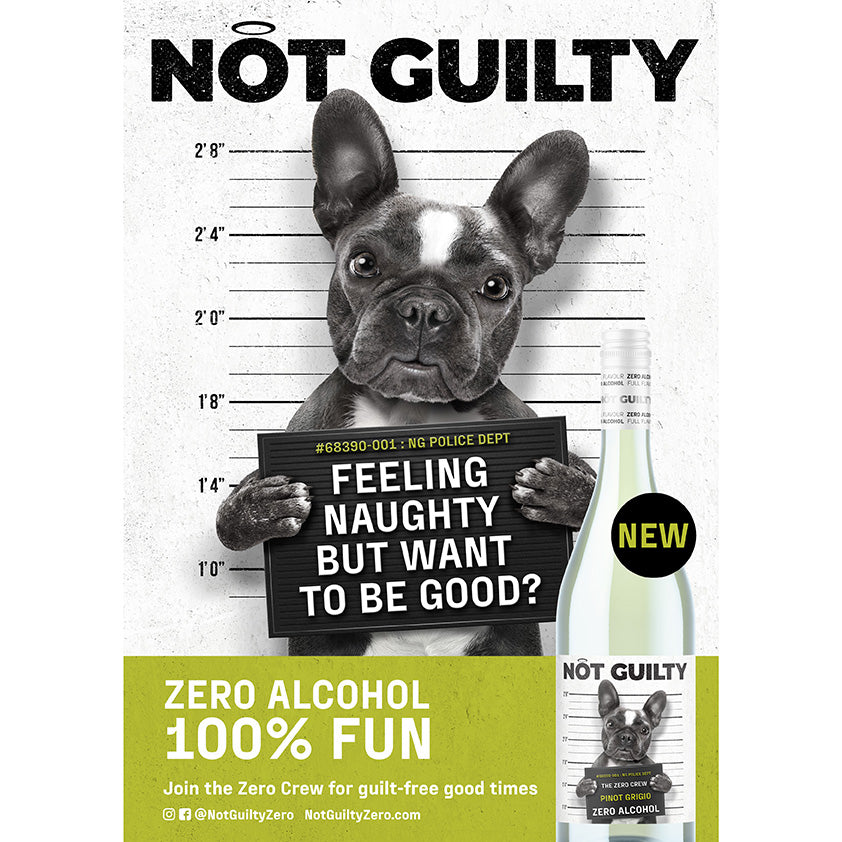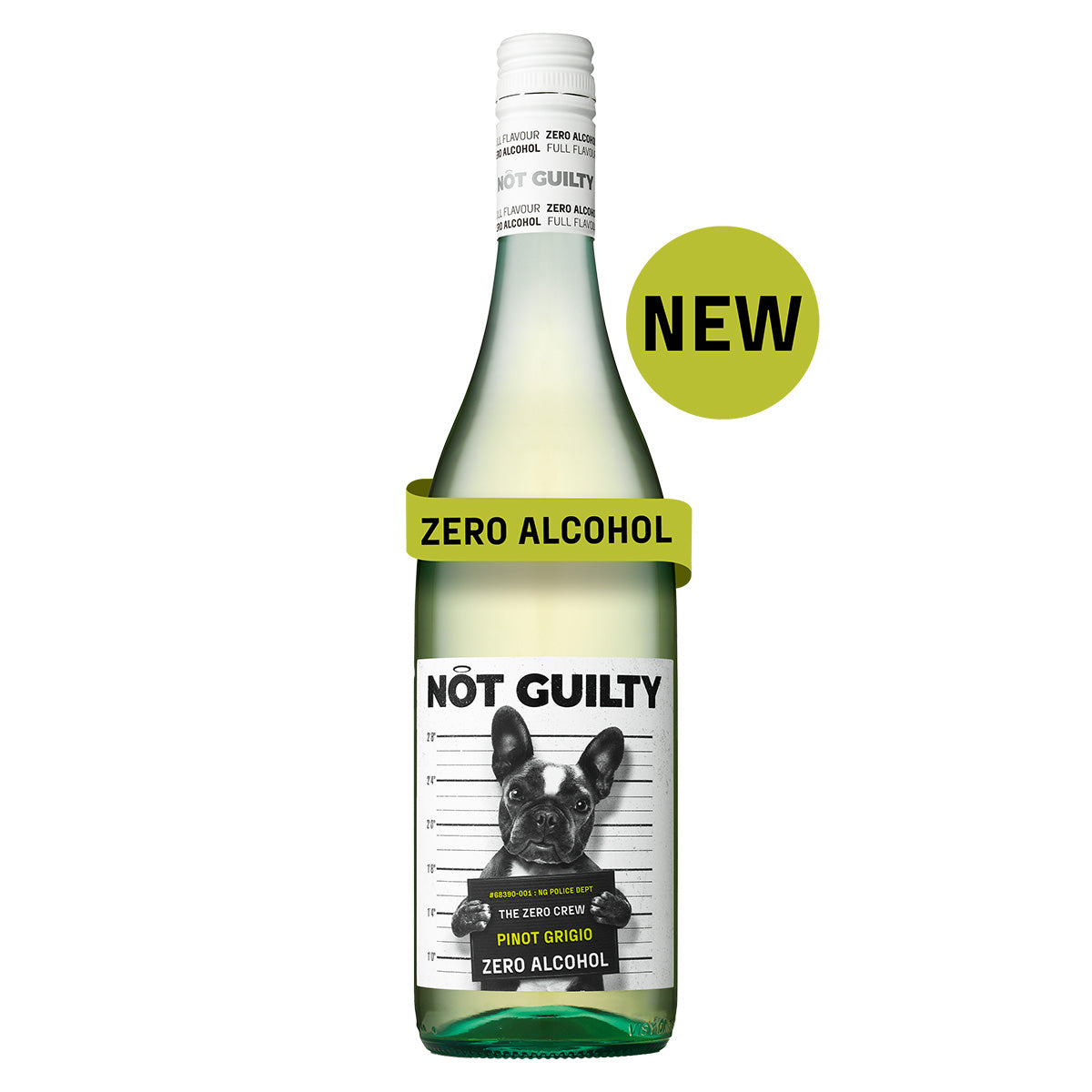 Collapsible content
Tasting notes

Not Guilty Alcohol Free Pinot Grigio Tasting Notes:

Appearance: Immerse yourself in the inviting allure of Not Guilty Pinot Grigio as it pours into your glass. Its light straw colour captures the essence of a classic Pinot Grigio, setting the stage for a delightful sensory experience.

Aroma: Take a moment to inhale the enticing aroma that wafts from the glass. The fragrance is fresh and uplifting, filled with the captivating scents of ripe pear, crisp green apple, and hints of citrus. It beckons you to indulge in its enticing flavours.

Palate: As the wine touches your lips, your taste buds are greeted with a burst of freshness and fruitiness. The palate comes alive with the vibrant flavours of juicy pear, zesty green apple, and a subtle citrus tang. It's a symphony of harmonious notes, perfectly balanced and refreshing in every sip.

Finish: The journey concludes with a crisp and balanced finish, leaving a refreshing aftertaste that lingers on your palate. It's a testament to the craftsmanship of this exceptional non-alcoholic wine, inviting you to take another sip and savour the moment.

Not Guilty Pinot Grigio is a non-compromising treat for those who seek all the fun and pleasure of wine without the baggage the next day. Its crisp and balanced finish leaves a lasting impression, offering a refreshing and revitalizing sensation on the palate. Not Guilty Pinot Grigio is also more than just a non-alcoholic wine; it's a gateway to a world of indulgence and enjoyment without the limitations of alcohol. Experience the fullness of flavour, the freshness of aromas, and the satisfaction of a well-crafted wine. Cheers to raising your glass and embracing the guilt-free pleasure of Not Guilty Pinot Grigio!
Food Pairings

Food Pairings:

Light salads: Not Guilty Pinot Grigio pairs beautifully with fresh and vibrant salads, such as mixed greens with citrus vinaigrette or a refreshing caprese salad.
Seafood: The crisp and fruity nature of this wine complements seafood dishes perfectly. Try it with grilled shrimp skewers, lemon-buttered salmon, or a seafood risotto.
Vegetarian dishes: For a delightful vegetarian pairing, enjoy Not Guilty Pinot Grigio with dishes like roasted vegetable medley, vegetable stir-fry, or a creamy mushroom pasta.
Soft cheeses: The subtle acidity of this wine enhances the creamy flavours of soft cheeses. Serve it alongside a cheese board featuring brie, camembert, or goat cheese.
Light appetizers: Pair this wine with light appetizers, such as bruschetta, crostini with fresh tomato and basil, or a selection of Mediterranean dips.
Herb-infused dishes: The fresh and fruity profile of Not Guilty Pinot Grigio complements herb-infused dishes. Try it with herbed roasted chicken, grilled vegetables with rosemary, or a lemon-thyme pasta.

These food pairings elevate the flavours of Not Guilty Pinot Grigio, creating a harmonious dining experience that will delight your taste buds and enhance your enjoyment of this exceptional non-alcoholic wine.
Serving Suggestions

Serving Suggestions:

Chilled: Serve Not Guilty Pinot Grigio well-chilled to enhance its refreshing and crisp characteristics. Keep the wine in the refrigerator for a couple of hours before serving, or use a wine chiller to maintain its temperature.
Glassware: Choose a medium-sized wine glass with a narrow rim to concentrate the aromas and allow for easy swirling. This will help release the wine's flavours and aromas, enhancing your overall tasting experience.
Garnish: For an extra touch of elegance, garnish the glass with a twist of lemon or a sprig of fresh herbs, such as mint or basil. This adds a visual element and complements the wine's fresh and fruity profile.
Accompaniments: Enjoy Not Guilty Pinot Grigio on its own as a refreshing aperitif or pair it with light, flavourful dishes. It pairs well with a variety of cuisines, making it a versatile choice for social gatherings, picnics, or casual get-togethers.
Temperature: Aim to serve Not Guilty Pinot Grigio at a temperature of around 8-10°C to preserve its freshness and ensure optimal enjoyment.
Storage: Store the bottle in a cool, dark place away from direct sunlight and heat to maintain its quality. Once opened, reseal the bottle tightly and store it in the refrigerator for up to 3-4 days.

Follow these serving suggestions to make the most of your experience with Not Guilty Pinot Grigio. Whether you're enjoying it at home or at a social gathering, these tips will help you savour the wine's fresh and fruity flavours to the fullest.
About McGuigan Wines

Once upon a time, in the picturesque Hunter Valley of Australia, there was a family with a passion for winemaking. This family, the McGuigans, had a dream to create wines that would captivate the world. And so began their enchanting journey, spanning over four generations and more than a century of dedication to the art of winemaking.

In the early days, the McGuigans worked tirelessly to refine their craft, exploring the secrets of the fertile Australian soil and the sun-kissed grapes that grew in their vineyards. With each passing generation, the family's knowledge grew, and their love for winemaking deepened.

As the years went by, the McGuigans not only became masters of traditional winemaking but also fearless innovators. They were driven by an unyielding desire to push the boundaries of what was possible in the world of wine. And so, their quest led them to the creation of the McGuigan Zero range – a collection of exquisite, alcohol-free wines that would change the game forever.

The McGuigans knew that the key to unlocking the true potential of alcohol-free wine lay in the magical spinning cone technology. With this cutting-edge process, they could strip the wine of its alcohol content without sacrificing its rich and complex flavours. And thus, the enchanting McGuigan Zero Chardonnay NV was born.

But the story doesn't end there. The McGuigans' relentless pursuit of excellence earned them the prestigious title of International Winemaker of the Year a record-breaking four times! This incredible feat stands as a testament to their unwavering commitment to bringing the finest Australian wines to the world.

And so, the legend of the McGuigan family continues to grow, as they craft spellbinding wines that enchant the palates of wine lovers across the globe. With each sip of the mesmerising McGuigan Zero Chardonnay NV, you too can embark on a captivating journey through the enchanting world of Australian winemaking, and perhaps even find your own happily ever after.
Not Guilty Alcohol Free Pinot Grigio | Non Alcoholic White Wine
Nutritional Information per 100ml
| Nutrient | Amount |
| --- | --- |
| Energy (Kcal) | 19 |
| Energy (kJ) | 80 |
| Fat | <0.2g |
| Sodium | <0.01g |
| Carbs | 4.0g |
| Sugars | 3.1g |
| Protein | 0.2g |
Ingredients:&nbsp De-Alcoholised Wine (96%), Grape Juice Concentrate, Preservatives (E220, E224), Thickener (E414)
Disclaimer: At Dry Drinker, we take great care to ensure the accuracy of product information displayed on our website. However, product recipes may change periodically, impacting nutrition and allergen information. As a result, we advise that you always review product labels and not rely solely on the information presented on our website.
For specific advice regarding any Dry Drinker or ZeroHero™ branded products, please contact our Customer Care Team. For all other products, we recommend reaching out to the manufacturer directly.
The information provided on our website is intended for personal use only. Reproducing this information in any form without the prior consent of Dry Drinker Limited or without proper acknowledgement is strictly prohibited.
Collapsible content
Delivery & Returns

How Much is Delivery?

Enjoy free delivery on orders over £69 when placed before 5 pm.

For orders below £69, a standard delivery charge of £4.99 applies.

Most orders placed by 5 pm will typically be delivered on the next working day.

Do you deliver at the weekend?

Saturday Delivery is available for £8.99. To ensure timely dispatch, please complete your order by 5 pm on Friday, allowing enough time for picking and packing. Please note we don't ship or deliver on UK Bank Holidays.

Are there any restrictions?

Our next-day delivery is available for 99% of the UK mainland. However, some Scottish mainland postcodes may incur higher charges. Saturday delivery serves mainland England, Wales, Edinburgh, and Glasgow. Regrettably, it doesn't cover Aberdeen, the Highlands, or the following postcodes: PA, FK, DD, AD, PH, IV, KO, HS, BT, KA, and KY.

Do you make deliveries to Northern Ireland?

Certainly, we do deliver to Northern Ireland. Kindly allow 5 to 7 working days for your order to arrive.

Do you make deliveries to more remote areas of the UK?

Indeed, we deliver to the Islands and Highlands. Delivery times for these areas are based on your order's weight, and typically take 7-10 working days.

I want to make a very large order.

We regard an order as large when it consists of 20 cases or more, with each case containing 12 bottles/cans. Although next-day delivery isn't guaranteed for such orders, we'll ensure delivery within three working days from the order date.

If you need to contact us for any reason please use the contact option on our website here.

Don't forget your order number and to send us a photo.

Please check your delivery as soon as you receive it as we can't give a refund if it is more than 24 hours after delivery.

More information available here
Choosing a selection results in a full page refresh.
Opens in a new window.