Free Delivery Over £69*
5% off for new customers using code WELCOME
4.86/5 on Trusted Shops
0.5% ABV | 330ml Cans
Regular price
Sale price
$28.00
Unit price
per
Offer
Hold Tight - Being Restocked Shortly
In stock
Experience the vibrant and captivating flavours of Chakra British Hopped Pale Ale. Crafted with passion and expertise, this exceptional ale pays homage to the rich brewing heritage of Britain while incorporating the distinct character of carefully selected British hops.
Pouring a beautiful golden hue, Chakra Pale Ale entices with its enticing aroma of floral and citrusy hop notes, inviting you to take your first sip. As the ale touches your lips, a symphony of flavours unfolds on your palate. The robust hop profile delivers a delightful combination of fresh apricot, tangerine zest, and hints of pine.
The malt backbone provides a solid foundation, offering a gentle sweetness that balances the hop bitterness. This harmonious interplay between hops and malt creates a well-rounded and satisfying flavour profile.
Chakra Pale Ale is a beer that showcases the best of British brewing tradition and innovation. It captures the essence of British hops, known for their distinctive earthy, herbal, and citrusy characteristics. Each sip is a journey through the flavours of the countryside, evoking images of rolling green hills and fields of hop vines.
Whether you're enjoying it on its own or pairing it with your favourite dishes, Chakra Pale Ale is a versatile companion. Its crisp and refreshing nature makes it a perfect choice for casual gatherings, while its robust flavour profile holds up well against hearty and flavourful foods.
Chakra Pale Ale is a testament to the craftsmanship and passion of the brewers, who have carefully created a beer that celebrates the rich traditions of British brewing while adding their own unique touch. Sit back, savour the flavours, and let Chakra British Hopped Pale Ale transport you to the heart of the British beer scene.
Share
Curious to explore our range? You don't have to settle for just one. At DryDrinker, we offer
'Pick Your Own'
mixed cases. Handpick a selection of different products to discover your new favourites without getting too much of one kind.
Stuart's Product of the Month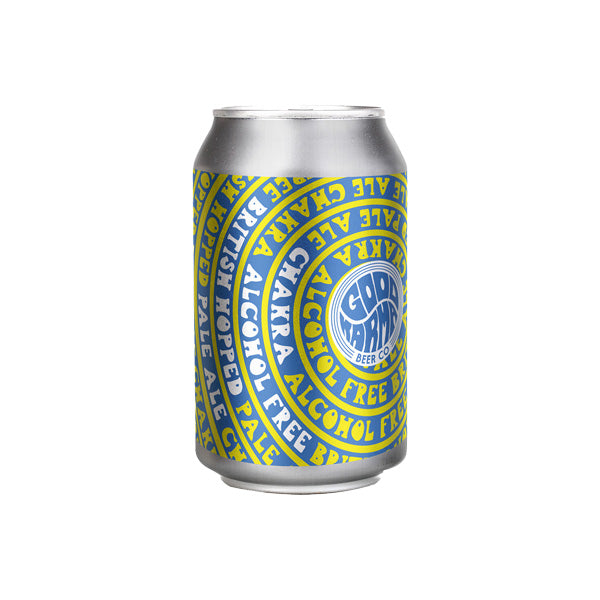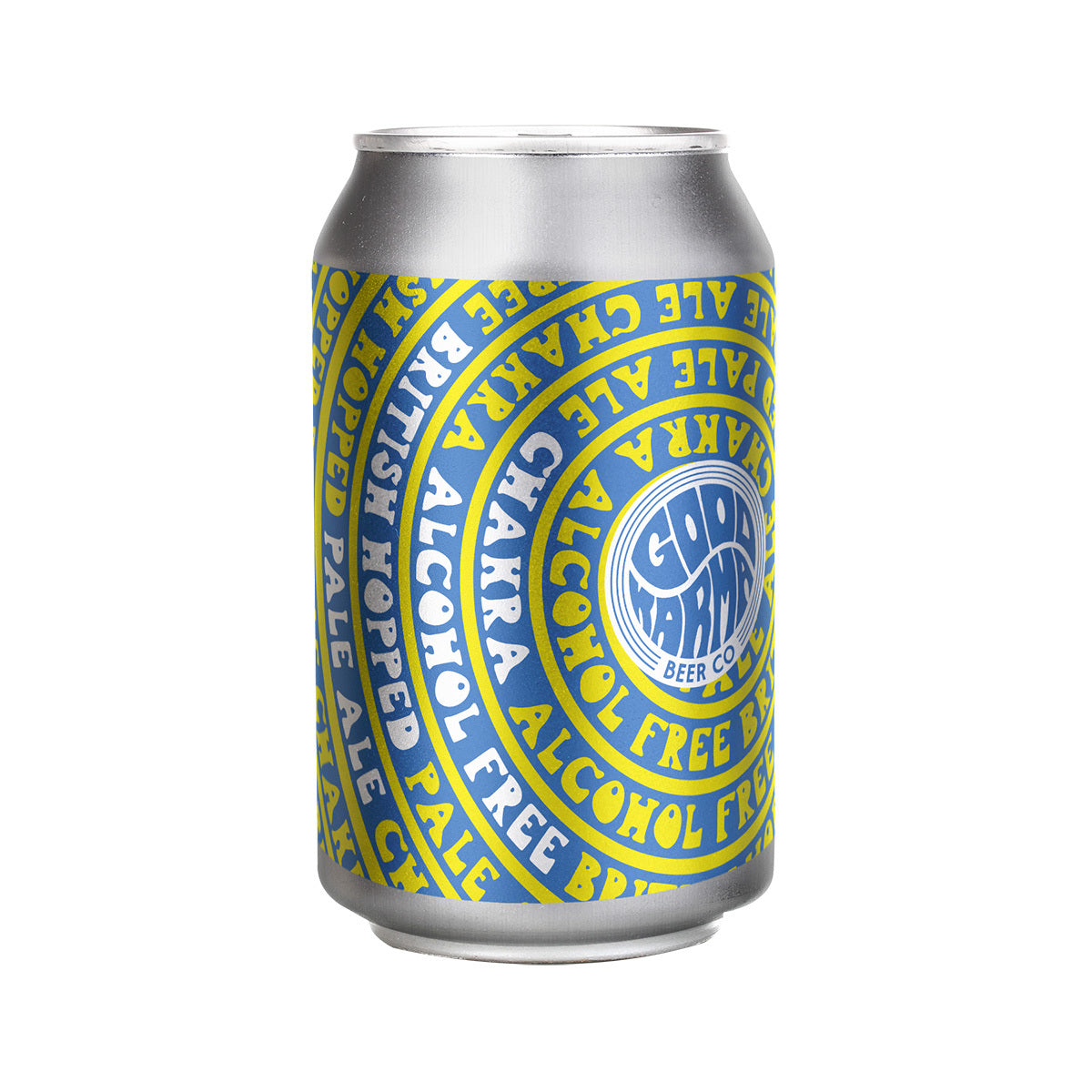 Collapsible content
Tasting notes

Chakra British Hopped Pale Ale Tasting Notes:

Appearance: Chakra Pale Ale pours a beautiful golden colour with a slight haze, topped with a creamy white head that lingers.
Aroma: The aroma of Chakra Pale Ale is a delightful blend of floral and citrusy hops. Notes of fresh

apricot

,

tangerine

 zest, and hints of pine fill the air, creating an enticing and invigorating experience.
Taste: As you take your first sip, the vibrant flavours of Chakra Pale Ale come to life. The British hops take centre stage, offering a burst of zesty

apricot 

and tangy

tangerine

, accompanied by subtle floral undertones. The hop bitterness is balanced by a gentle sweetness from the malt, creating a harmonious and well-rounded flavour profile.  CHAKRA British hopped Pal Ale uses two of Good Karma's favourite British hops Northdown and you guessed it Ernest. 
Mouthfeel: Chakra Pale Ale has a medium body with a smooth and crisp mouthfeel. The carbonation is moderate, providing a refreshing and effervescent sensation on the palate.
Finish: The finish of Chakra Pale Ale is clean and satisfying, with the hop bitterness lingering just enough to entice another sip. The flavours gradually fade, leaving a pleasant and subtle hoppy aftertaste.

Chakra British Hopped Pale Ale offers a memorable drinking experience with its vibrant hop flavours, balanced sweetness, and refreshing character. It showcases the best of British brewing tradition, delivering a taste of the countryside in every sip. Whether enjoyed on its own or paired with your favourite dishes, Chakra Pale Ale is sure to satisfy beer enthusiasts seeking a well-crafted and flavourful brew.
Food Pairings

Food Pairings for Chakra British Hopped Pale Ale:

Spicy Chicken Wings: The hop bitterness and citrusy flavours of Chakra Pale Ale complement the heat and spices of chicken wings, creating a mouth-watering combination.
Fish Tacos: The crisp and refreshing nature of Chakra Pale Ale pairs well with the delicate flavours of fish tacos. The citrusy hops enhance the flavours of the fish while providing a pleasant contrast.
Grilled Halloumi Salad: The herbal and floral notes of Chakra Pale Ale beautifully complement the grilled halloumi cheese and fresh salad ingredients. The beer's crispness cuts through the richness of the cheese, creating a harmonious balance of flavours.
BBQ Ribs: The caramel malt sweetness of Chakra Pale Ale pairs perfectly with the smoky and savoury flavours of BBQ ribs. The beer's hop bitterness helps cleanse the palate between bites.
Mushroom Risotto: The earthy and nutty flavours of mushroom risotto are enhanced by the floral and herbal characteristics of Chakra Pale Ale. The beer's carbonation helps refresh the palate between creamy bites.

These food pairings are designed to complement the flavours of Chakra British Hopped Pale Ale, creating a harmonious dining experience. Experiment with different dishes to discover your own favourite combinations and enjoy the versatile nature of this exceptional pale ale.
Serving Suggestions

Serving Suggestions for Chakra British Hopped Pale Ale:

Pint Glass: Pour Chakra Pale Ale into a classic pint glass to showcase its beautiful amber colour and allow the aromas to develop.
Temperature: Serve Chakra Pale Ale at a cool but not overly chilled temperature, around 7-10°C, to fully appreciate its flavours and aromas.
Garnish: Consider adding a slice of lemon or orange to the rim of the glass to enhance the citrusy hop aromas and add a touch of visual appeal.
Food Pairings: Enjoy Chakra Pale Ale alongside a variety of dishes, such as spicy chicken wings, fish tacos, grilled halloumi salad, BBQ ribs, or mushroom risotto, to elevate your dining experience.
Outdoor Gatherings: Chakra Pale Ale is a fantastic choice for outdoor gatherings, barbecues, or picnics, where its refreshing and vibrant flavours can be enjoyed in the company of friends and loved ones.
Tasting Events: Consider hosting a tasting event where you can showcase the unique flavours and characteristics of Chakra Pale Ale to fellow beer enthusiasts. Encourage discussions about the beer's aroma, flavour profile, and overall enjoyment.
Beer Cocktails: Get creative and experiment with Chakra Pale Ale in beer cocktails, such as a shandy, by mixing it with lemonade or fruit juices to create refreshing and unique concoctions.

These serving suggestions are designed to enhance your enjoyment of Chakra British Hopped Pale Ale. Feel free to explore and personalize your serving style to create memorable experiences with this exceptional brew.
About Good Karma

Good Karma Beer Co. is a brewery that embraces a culture shift towards sustainability, diversity, and equality. Founded in 2016, they took a brief hiatus in 2018 before returning to brew beer styles they love, appealing to a wide range of tastes. Their offerings include traditional Belgian and German classics, as well as styles that reflect their local roots.

The brewery focuses on crafting beers using traditional methods, without unnecessary processes or additives like lactose. This approach aligns with the growing trend of mindfulness, which encourages greater awareness of mental health, emotional wellbeing, and self-care.

Good Karma Beer Co. is part of this mindful movement, and they offer a range of 0.5% alcohol beers, with plans to expand into wellness drinks that promote good vibes. They believe in the importance of being mindful of what we consume and how it affects our bodies. With recent advancements in the brewing sector, they can now produce better beers using traditional methods.

In addition to brewing great-tasting beers, Good Karma Beer Co. is committed to environmental responsibility. They strive to be sustainable in every aspect of their business and to make mindful decisions that benefit the planet. Their ethos is that everyone must contribute to making a positive impact, and they aptly call this "Good Karma".
Good Karma Chakra British Hopped Pale Ale - Non Alcoholic IPA
Nutritional Information per 100ml
Ingredients:&nbsp Barley Malt, Wheat, Oats, Hops, Hop Extract, Potassium Sorbate.
Disclaimer: At Dry Drinker, we take great care to ensure the accuracy of product information displayed on our website. However, product recipes may change periodically, impacting nutrition and allergen information. As a result, we advise that you always review product labels and not rely solely on the information presented on our website.
For specific advice regarding any Dry Drinker or ZeroHero™ branded products, please contact our Customer Care Team. For all other products, we recommend reaching out to the manufacturer directly.
The information provided on our website is intended for personal use only. Reproducing this information in any form without the prior consent of Dry Drinker Limited or without proper acknowledgement is strictly prohibited.
Collapsible content
Delivery & Returns

How Much is Delivery?

Enjoy free delivery on orders over £69 when placed before 5 pm.

For orders below £69, a standard delivery charge of £5.99 applies.

Most orders placed by 5 pm will typically be delivered on the next working day.

Do you deliver at the weekend?

Saturday Delivery is available for £8.99. To ensure timely dispatch, please complete your order by 5 pm on Friday, allowing enough time for picking and packing. Please note we don't ship or deliver on UK Bank Holidays.

Are there any restrictions?

Our next-day delivery is available for 99% of the UK mainland. However, some Scottish mainland postcodes may incur higher charges. Saturday delivery serves mainland England, Wales, Edinburgh, and Glasgow. Regrettably, it doesn't cover Aberdeen, the Highlands, or the following postcodes: PA, FK, DD, AD, PH, IV, KO, HS, BT, KA, and KY.

Do you make deliveries to Northern Ireland?

Certainly, we do deliver to Northern Ireland. Kindly allow 5 to 7 working days for your order to arrive.

Do you make deliveries to more remote areas of the UK?

Indeed, we deliver to the Islands and Highlands. Delivery times for these areas are based on your order's weight, and typically take 7-10 working days.

I want to make a very large order.

We regard an order as large when it consists of 20 cases or more, with each case containing 12 bottles/cans. Although next-day delivery isn't guaranteed for such orders, we'll ensure delivery within three working days from the order date.

If you need to contact us for any reason please use the contact option on our website here.

Don't forget your order number and to send us a photo.

Please check your delivery as soon as you receive it as we can't give a refund if it is more than 24 hours after delivery.

More information available here
Choosing a selection results in a full page refresh.
Opens in a new window.