Free Delivery Over £69*
10% off for new customers using code WELCOME
4.86/5 on Trusted Shops
0.5% ABV | 700ml Bottle
Regular price
Sale price
£20.49
Unit price
per
Offer
Hold Tight - Being Restocked Shortly
In stock
CleanCo Clean W Whiskey Alternative: A Non-Alcoholic Spirit Inspired by Bourbon Whisky
CleanCo's Clean W is a sophisticated and flavourful non-alcoholic alternative to traditional Bourbon Whisky, offering the warmth and character of oak and sweet vanilla without the alcohol content. This innovative spirit captures the essence of Bourbon Whisky, with rich spice, fresh apple, and fig notes that lead to a smooth and lingering finish.
Indulge in the smooth and satisfying taste of CleanCo's Clean W Whiskey Alternative, a responsible and enjoyable choice for those seeking to experience the essence of Bourbon Whisky without the alcohol content or associated hangovers. Its well-crafted blend of flavours provides a memorable and enjoyable taste that can be savoured on any occasion.
Revel in the ultimate pairing for a refreshing and unique drinking experience!
For a limited time, purchase CleanCo's Clean W for just £19.99 and upgrade your order to include 4 Fever-Tree Cola's for only an additional £4, making the total just £23.99.
Elevate your non-alcoholic beverage game by mixing CleanCo's Clean W with the premium taste of Fever-Tree Cola. Indulge in the oak and sweet vanilla flavours of CleanCo's Clean W, enhanced by the smooth and balanced notes of Fever-Tree Cola.
Don't miss out on this exclusive offer – treat yourself to a sophisticated and flavoursome drink, perfect for any occasion. Click 'Add to Basket' now and embark on a sensational taste journey with CleanCo's Clean W and Fever-Tree Cola!
Are CleanCo Drinks Vegan Friendly?
Absolutely! CleanCo drinks are indeed vegan friendly, which means that they do not contain any animal-derived ingredients or by-products. This makes them a fantastic choice for individuals who follow a vegan lifestyle or those who prefer to consume cruelty-free products.
It's great to see that you're interested in vegan-friendly options! CleanCo's commitment to creating high-quality, non-alcoholic spirits that cater to a range of dietary preferences showcases their dedication to inclusivity and sustainability. So, whether you're hosting a gathering with vegan friends or exploring new plant-based alternatives yourself, CleanCo's range of drinks will definitely impress!
Are CleanCo Drinks Gluten Free?
Yes, CleanCo drinks are indeed gluten-free! This makes them an excellent choice for individuals with gluten sensitivity, coeliac disease, or those who prefer a gluten-free diet.
CleanCo's dedication to crafting high-quality non-alcoholic spirits that cater to various dietary needs and preferences showcases their commitment to offering enjoyable and inclusive options for all.
So, if you're looking for gluten-free non-alcoholic alternatives, CleanCo's range of drinks is perfect! Feel free to explore their collection and discover a new favourite to enjoy.
Are CleanCo Drinks Sugar Free?
CleanCo drinks are sugar-free, making them a fantastic option for those who want to reduce their sugar intake, manage their blood sugar levels, or enjoy a healthier alternative to traditional alcoholic beverages.
The absence of added sugars in CleanCo's range of non-alcoholic spirits allows you to enjoy the complex flavours and aromas without worrying about consuming excess sugar. This makes them an ideal choice for health-conscious individuals or following specific dietary guidelines.
Share
Curious to explore our range? You don't have to settle for just one. At DryDrinker, we offer
'Pick Your Own'
mixed cases. Handpick a selection of different products to discover your new favourites without getting too much of one kind.
View full details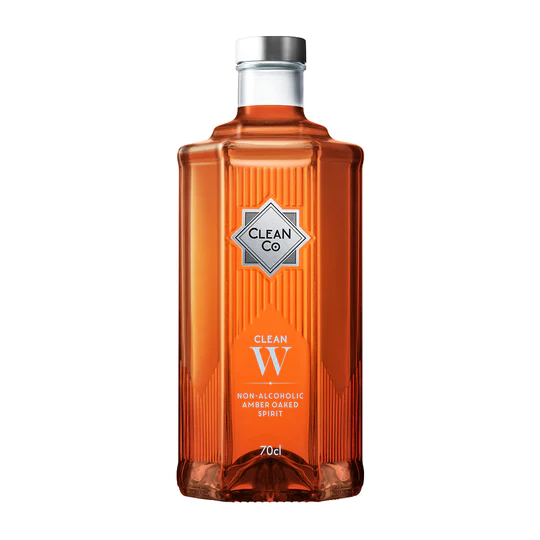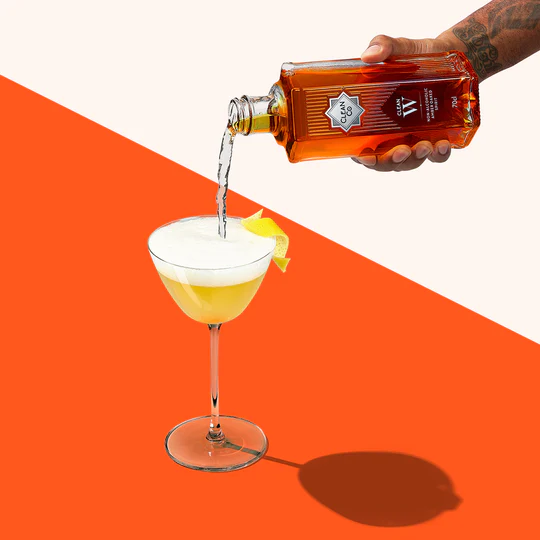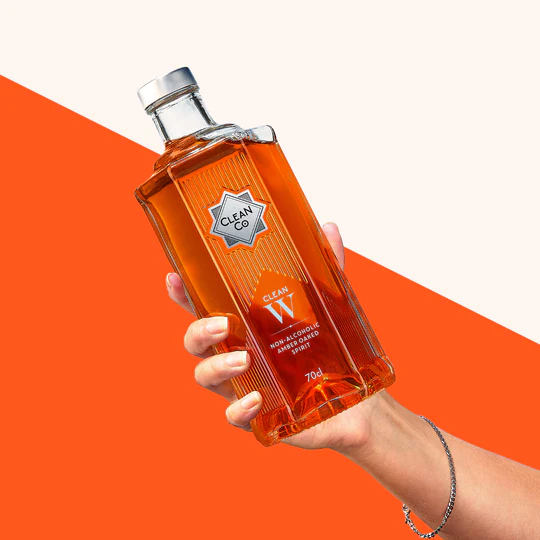 Collapsible content
Tasting notes

Nose: The aroma of Clean W presents an enticing blend of sweet vanilla, rich oak, and subtle hints of spice. This non-alcoholic spirit captures the characteristic scent of Bourbon Whisky, creating an inviting and comforting bouquet.

Palate: On the palate, Clean W delivers a well-rounded and flavourful experience. The warmth of oak and sweet vanilla are complemented by the rich spice, fresh apple, and fig notes. These flavours meld together harmoniously, offering a satisfying and authentic Bourbon Whisky-inspired profile.

Finish: The finish is smooth, lingering, and mouth-coating, leaving a pleasant aftertaste that encourages savouring the experience. The absence of alcohol ensures a smooth and enjoyable finish, making it an ideal choice for those seeking a non-alcoholic alternative without compromising on flavour.

CleanCo's Clean W Whiskey Alternative offers a sophisticated and enjoyable whisky-inspired experience, perfect for those looking to enjoy the taste of Bourbon Whisky without the alcohol content. Its well-crafted blend of flavours provides a memorable and enjoyable taste that can be savoured on any occasion.
Food Pairings

The rich and complex flavours of Clean W make it an excellent non-alcoholic spirit to pair with a variety of dishes. Here are some food pairing suggestions that complement and enhance the experience of enjoying Clean W:

Barbecue: Pair Clean W with smoky, grilled meats like barbecue ribs, pulled pork, or beef brisket. The rich flavours of the spirit will complement the smokiness and the sweetness of the barbecue sauce.

Cheese Board: Enjoy Clean W alongside a selection of aged cheeses, such as cheddar, gouda, or gruyere. The spirit's complex flavours will balance the rich and nutty notes of the cheeses, creating a delightful contrast.

Roasted or Grilled Vegetables: The warming and rich flavours of Clean W pair well with hearty, roasted or grilled vegetables like sweet potatoes, carrots, or butternut squash. The spirit's complexity will enhance the natural sweetness of the vegetables.

Chocolate Desserts: The sweet vanilla and oak notes in Clean W make it a perfect companion for chocolate-based desserts like chocolate mousse, brownies, or chocolate lava cake. The spirit's rich flavours will complement the decadent sweetness of the chocolate.

Pecan Pie: Pair Clean W with a slice of pecan pie for a delightful combination of sweet and nutty flavours. The spirit's vanilla and oak notes will enhance the caramelised pecan filling, creating a harmonious pairing.

When pairing CleanCo's Clean W Whiskey Alternative with food, consider the spirit's rich and complex flavour profile and choose dishes that complement and enhance these notes without overpowering them. This will ensure a memorable and enjoyable culinary experience.
Serving Suggestions

CleanCo Clean W Whiskey Alternative: Serving Suggestions and Cocktail Recipes

Clean W's whiskey-inspired flavours make it a fantastic base for a variety of non-alcoholic cocktails. Here are some serving suggestions and cocktail recipes to help you enjoy this whiskey alternative:

Clean W & Cola:

50ml Clean W
150ml cola
Ice
Lime wedge for garnish
Pour Clean W over ice, top with cola, and gently stir. Garnish with a lime wedge.


Clean W Old Fashioned:

50ml Clean W
1 tsp sugar or sugar syrup
2 dashes of Angostura bitters (non-alcoholic if preferred)
Ice
Orange twist and maraschino cherry for garnish
In a glass, muddle sugar, bitters, and a splash of water. Add ice and pour in Clean W. Stir gently and garnish with an orange twist and a maraschino cherry.

Clean W Sour:

50ml Clean W
25ml lemon juice
15ml sugar syrup
1 egg white (optional)
Ice
Lemon twist for garnish
In a cocktail shaker, combine Clean W, lemon juice, sugar syrup, and egg white (if using). Shake well without ice (dry shake) to emulsify the egg white. Add ice and shake again (wet shake) until well chilled. Strain into a glass and garnish with a lemon twist.

Clean W Apple Spritz:

50ml Clean W
75ml sparkling apple juice
50ml soda water
Ice
Apple slice for garnish
Fill a large wine glass with ice. Pour in Clean W, sparkling apple juice, and soda water. Stir gently and garnish with an apple slice.

Clean W Ginger Highball:

50ml Clean W
150ml ginger ale
Ice
Lime wheel and mint sprig for garnish Fill a highball glass with ice. Pour in Clean W and top with ginger ale. Stir gently and garnish with a lime wheel and a mint sprig.

These serving suggestions and cocktail recipes showcase the versatility of CleanCo's Clean W Whiskey Alternative, allowing you to create a variety of enjoyable and refreshing non-alcoholic beverages for any occasion.
About CleanCo

Introducing CleanCo: Non-Alcoholic Spirits Founded by Spencer Matthews

Spencer's Story: Spencer Matthews spent most of his twenties caught in a cycle of excessive drinking, working in jobs where socialising and entertaining were considered essential skills. However, upon the birth of his first child, Spencer made the life-changing decision to go clean. This choice unlocked a new dimension of his life, making him more focused, driven, creative, and able. He soon realised that alcohol wasn't necessary for having fun and never looked back.

CleanCo's Mission: Spencer founded CleanCo with the goal of offering a choice when it comes to mixing drinks, without compromising on taste or the social experience. Rather than preaching about alcohol consumption, CleanCo provides delicious, refreshing non-alcoholic alternatives to classic cocktails, allowing you to enjoy your favourite drinks without the repercussions.

An Expanding Range of Non-Alcoholic Spirits: As the leading independent non-alcoholic spirits brand in the UK, CleanCo is proud to offer a diverse range of alternatives to gins, rum, tequila, vodka, and whiskey. They continue to innovate regularly, striving to bring the best non-alcoholic spirits to the market, all while having a great time doing so.

More Than Just Non-Alcoholic Spirits: Some may say that CleanCo sells non-alcoholic spirits, but the brand believes they're selling something even more valuable: time. By choosing CleanCo, you're embracing a life less wasted and gaining the opportunity to focus on what truly matters.

Cheers to a life less wasted with CleanCo's exceptional range of non-alcoholic spirits.
CleanCo Clean W Non Alcoholic Whiskey Alternative
Nutritional Information per 100ml
| Nutrient | Amount |
| --- | --- |
| Energy (Kcal) | 25kcal |
| Energy (kJ) | 104kJ |
| Fat | 0g |
| Sodium | 0g |
| Carbs | 5g |
| Sugars | 0g |
| Protein | 0g |
Ingredients:&nbsp Water, Vegetable Glycerine, Acid (Citric Acid), Natural Flavourings, Flavouring, Preservative (Potassium Sorbate)
Disclaimer: At Dry Drinker, we take great care to ensure the accuracy of product information displayed on our website. However, product recipes may change periodically, impacting nutrition and allergen information. As a result, we advise that you always review product labels and not rely solely on the information presented on our website.
For specific advice regarding any Dry Drinker or ZeroHero™ branded products, please contact our Customer Care Team. For all other products, we recommend reaching out to the manufacturer directly.
The information provided on our website is intended for personal use only. Reproducing this information in any form without the prior consent of Dry Drinker Limited or without proper acknowledgement is strictly prohibited.
Collapsible content
Delivery & Returns

How Much is Delivery?

Enjoy free delivery on orders over £69 when placed before 5 pm.

For orders below £69, a standard delivery charge of £4.99 applies.

Most orders placed by 5 pm will typically be delivered on the next working day.

Do you deliver at the weekend?

Saturday Delivery is available for £8.99. To ensure timely dispatch, please complete your order by 5 pm on Friday, allowing enough time for picking and packing. Please note we don't ship or deliver on UK Bank Holidays.

Are there any restrictions?

Our next-day delivery is available for 99% of the UK mainland. However, some Scottish mainland postcodes may incur higher charges. Saturday delivery serves mainland England, Wales, Edinburgh, and Glasgow. Regrettably, it doesn't cover Aberdeen, the Highlands, or the following postcodes: PA, FK, DD, AD, PH, IV, KO, HS, BT, KA, and KY.

Do you make deliveries to Northern Ireland?

Certainly, we do deliver to Northern Ireland. Kindly allow 5 to 7 working days for your order to arrive.

Do you make deliveries to more remote areas of the UK?

Indeed, we deliver to the Islands and Highlands. Delivery times for these areas are based on your order's weight, and typically take 7-10 working days.

I want to make a very large order.

We regard an order as large when it consists of 20 cases or more, with each case containing 12 bottles/cans. Although next-day delivery isn't guaranteed for such orders, we'll ensure delivery within three working days from the order date.

If you need to contact us for any reason please use the contact option on our website here.

Don't forget your order number and to send us a photo.

Please check your delivery as soon as you receive it as we can't give a refund if it is more than 24 hours after delivery.

More information available here
Choosing a selection results in a full page refresh.
Opens in a new window.