Free Delivery Over £69*
10% off for new customers using code WELCOME
4.86/5 on Trusted Shops
<0.5% ABV | 750ml Bottles
Regular price
Sale price
£15.00
Unit price
per
Offer
Hold Tight - Being Restocked Shortly
In stock
Oddbird GSM Non-Alcoholic Red Wine from Saint-Chinian, 2020 Harvest
Step into the illustrious wine regions of the South of France with Oddbird's GSM Non-Alcoholic Red Wine. Hailing from the renowned vineyards of Saint-Chinian, this 2020 harvest is a harmonious blend of Grenache, Syrah, Mourvèdre, and Carignan, offering wine enthusiasts a captivating journey of taste and terroir.
Upon the first sip, the wine showcases its robust character. It begins with a burst of fresh red and black fruits, paving the way for its sharp tannic entrance. As the journey continues, the palate is introduced to deeper layers of complexity, from matured fruits to a subtle hint of spices. The wine rounds off beautifully, leaving a memorable dry finish that resonates with the richness of the French vineyards. Every sip is a testament to the intricate art of wine-making and the unique qualities that are only found in wines liberated from alcohol.
Share
Curious to explore our range? You don't have to settle for just one. At DryDrinker, we offer
'Pick Your Own'
mixed cases. Handpick a selection of different products to discover your new favourites without getting too much of one kind.
View full details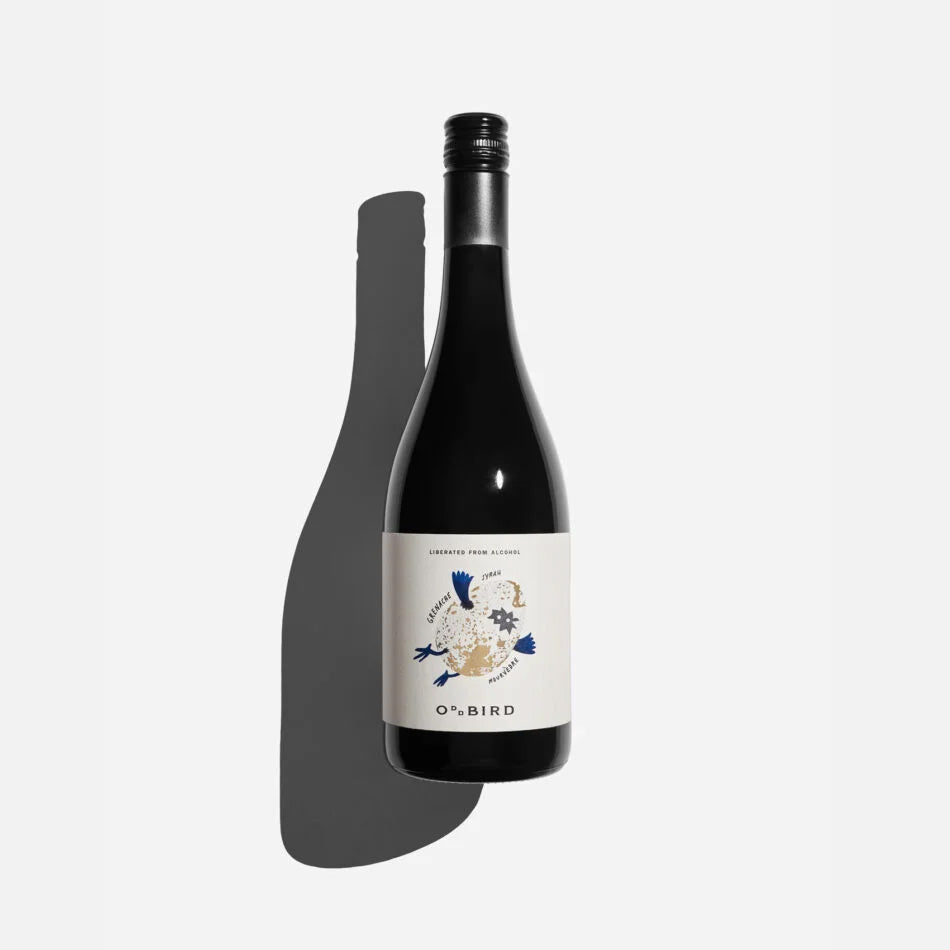 Collapsible content
Tasting notes

Oddbird GSM Non-Alcoholic Red Wine Tasting Notes:

Appearance: The wine presents itself with a deep ruby hue, shimmering with a rich intensity reminiscent of a classic red wine from the South of France. Its clarity offers a glimpse into its refined character.

Nose: The aromatic profile of this wine is a delightful symphony of contrasts. The initial aroma is a blend of fresh red and black fruits like raspberries, blackberries, and cherries. This vibrant bouquet is complemented by subtle undertones of earthiness, hinting at its Saint-Chinian roots.

Palate: Oddbird's GSM Non-Alcoholic Red Wine is a textured experience on the palate. It starts with a sharp tannic entrance, creating a framework for the unfolding flavours. The blend of Grenache, Syrah, Mourvèdre, and Carignan grapes introduces the palate to layers of complexity, transitioning from youthful fruits to mature, dark berries and plums. These deep fruit flavours are intertwined with delicate touches of spices such as clove and star anise, enhancing the wine's depth.

Finish: The wine concludes its journey with a dry, lingering finish. This finale is a testament to its meticulous crafting, retaining the essence of its grape blend and showcasing the elegance of wines from Saint-Chinian. The absence of alcohol in no way diminishes its spirit but instead accentuates its origins' pure, unadulterated flavours.

Oddbird's GSM Non-Alcoholic Red Wine is a masterful representation of tradition meeting innovation, creating a wine experience that is both familiar and refreshingly new. 
Food Pairings

Food Pairing Suggestions for Oddbird GSM Non-Alcoholic Red Wine, Saint-Chinian, 2020 Harvest

Oddbird's GSM Non-Alcoholic Red Wine, with its rich flavours and matured profile, pairs splendidly with a variety of dishes, enhancing the gastronomic experience.

Grilled Meats: The wine's robust character complements the charred flavours of grilled lamb, beef, or pork. The earthy undertones of the wine harmonize with the smokiness of the meat, elevating the entire meal.
Roasted Vegetables: The wine's fruity notes act as a delightful contrast to the caramelized, savoury flavours of roasted root vegetables such as carrots, parsnips, or beets.
Game: Wild game dishes, like venison or duck, can benefit from the sharp tannic entrance and the rich, layered flavours of this wine.
Cheese: Opt for aged cheeses such as Comté, Gruyère, or a matured Camembert. The wine's spice notes and dry finish cut through the creamy texture and intensity of the cheese.
Mediterranean Dishes: The wine's origins in the South of France make it a perfect match for Mediterranean cuisine, especially dishes with olives, tomatoes, and herbs like rosemary or thyme.
Stews: Slow-cooked stews, with rich sauces and hearty ingredients, work wonderfully with the matured fruit flavours and earthy notes of the wine.

With its intricate flavour profile, Oddbird's GSM Non-Alcoholic Red Wine offers a versatile pairing range, making it a delightful addition to any meal, whether casual or gourmet.
Serving Suggestions

Serving Suggestions for Oddbird GSM Non-Alcoholic Red Wine

To experience the full spectrum of flavours and aromas that Oddbird's GSM Non-Alcoholic Red Wine has to offer, it's essential to serve it under optimal conditions.

Decanting: Decant the wine for about 30 minutes to an hour before serving. This allows the wine to breathe, enhancing its earthy notes, mature fruit undertones, and complex spice layers.
Temperature: Serve this GSM at a slightly cool room temperature, ideally between 16-18°C. If the wine is too cold, it can suppress its nuanced flavours; if too warm, it can accentuate the alcohol-free sharpness.
Glassware: Opt for a large, round wine glass, allowing the wine's intricate aromas to be fully appreciated. The wide bowl of the glass lets the wine get ample air, accentuating its layered complexity.
Food Pairing: To enhance the wine-tasting experience, pair it with dishes that complement its profile, such as grilled meats, roasted vegetables, or Mediterranean cuisine.
Enjoy Slowly: This wine is characterized by its layers of complexity, from fruity beginnings to a dry finish. Take the time to savour each sip, allowing the wine's full range of flavours to unfold on the palate.

With these serving suggestions in hand, you're all set to indulge in the luxurious and intricate world of Oddbird's GSM Non-Alcoholic Red Wine. Cheers!
About Oddbird

Oddbird was founded in 2013 by Moa Gürbüzer. Moa is a former family therapist and social worker with over 2 decades of experience. She worked mainly with alcohol related family issues and saw, first hand, the detrimental effects of alcohol on our society. She was astonished by how recurrent so many of the issues were and realized there need to be a structural change.

She founded Oddbird with a vision to question and change the alcohol norms of society by creating world class beverages and liberating them from alcohol. She wanted the question "Do you want your wine with or without alcohol?" to be as common as "Do you want your coffee with or without milk?".

Today Oddbird is the largest producer of wine, beer and spirit liberated from alcohol in Scandinavia.

They focus wholeheartedly on natural wines and produce wines exclusively from organic agriculture. That means the grapes are free from synthetic pesticides and insecticides. The vineyards have a completely restored natural life, that allows grapes which taste well and are filled with all the elements that allow a natural wine making. The wine makers have great experience from vineyards that have been organically and biodynamically farmed and are part of the initiative of the Pepin project to democratize natural wines.

The grapes are grown all naturally without intervention and are hand harvested with care. Like any other living organisms, the grapes are alive - so it's important to listen to the grapes and not to stress them, in order for them to reach their full potential. That way the grapes are in charge.
Oddbird GSM Non-Alcoholic Red Wine
Nutritional Information Per 100ml
| Nutrient | Amount |
| --- | --- |
| Energy (Kcal) | 21.1Kcal |
| Energy (kJ) | 88.3KJ |
| Fat | 0g |
| Sodium | <0.1g |
| Carbs | 4.7g |
| Sugars | 4g |
| Protein | 0g |
Ingredients:&nbsp Grenache, Syrah, Mourvèdre & Carignan
Disclaimer: At Dry Drinker, we take great care to ensure the accuracy of product information displayed on our website. However, product recipes may change periodically, impacting nutrition and allergen information. As a result, we advise that you always review product labels and not rely solely on the information presented on our website.
For specific advice regarding any Dry Drinker or ZeroHero™ branded products, please contact our Customer Care Team. For all other products, we recommend reaching out to the manufacturer directly.
The information provided on our website is intended for personal use only. Reproducing this information in any form without the prior consent of Dry Drinker Limited or without proper acknowledgement is strictly prohibited.
Collapsible content
Delivery & Returns

How Much is Delivery?

Enjoy free delivery on orders over £69 when placed before 5 pm.

For orders below £69, a standard delivery charge of £4.99 applies.

Most orders placed by 5 pm will typically be delivered on the next working day.

Do you deliver at the weekend?

Saturday Delivery is available for £8.99. To ensure timely dispatch, please complete your order by 5 pm on Friday, allowing enough time for picking and packing. Please note we don't ship or deliver on UK Bank Holidays.

Are there any restrictions?

Our next-day delivery is available for 99% of the UK mainland. However, some Scottish mainland postcodes may incur higher charges. Saturday delivery serves mainland England, Wales, Edinburgh, and Glasgow. Regrettably, it doesn't cover Aberdeen, the Highlands, or the following postcodes: PA, FK, DD, AD, PH, IV, KO, HS, BT, KA, and KY.

Do you make deliveries to Northern Ireland?

Certainly, we do deliver to Northern Ireland. Kindly allow 5 to 7 working days for your order to arrive.

Do you make deliveries to more remote areas of the UK?

Indeed, we deliver to the Islands and Highlands. Delivery times for these areas are based on your order's weight, and typically take 7-10 working days.

I want to make a very large order.

We regard an order as large when it consists of 20 cases or more, with each case containing 12 bottles/cans. Although next-day delivery isn't guaranteed for such orders, we'll ensure delivery within three working days from the order date.

If you need to contact us for any reason please use the contact option on our website here.

Don't forget your order number and to send us a photo.

Please check your delivery as soon as you receive it as we can't give a refund if it is more than 24 hours after delivery.

More information available here
Choosing a selection results in a full page refresh.
Opens in a new window.