Free Delivery Over £69*
5% off for new customers using code WELCOME
4.86/5 on Trusted Shops
0.5% ABV | 750ml Bottle
Regular price
Sale price
$8.00
Unit price
per
Offer
Hold Tight - Being Restocked Shortly
In stock
Introducing the captivating Adnams Cabernet/Tempranillo Low Alcohol Red Wine – a divine concoction that fuses the rich, bold flavours of the classic Cabernet and Tempranillo grapes into a guilt-free libation fit for gods and mortals alike. This enchanting elixir has been meticulously crafted to deliver a full-bodied, non-alcoholic red wine that honours the art of winemaking while inviting you to indulge without restraint.
Adnams masterful winemakers have traversed Spain's verdant valleys and sun-kissed slopes in search of the most exquisite Cabernet and Tempranillo grapes. The result is a wine that captures the very essence of these noble varietals, weaving an intricate tapestry of flavours and aromas that will leave your senses spellbound.
Share
Curious to explore our range? You don't have to settle for just one. At DryDrinker, we offer
'Pick Your Own'
mixed cases. Handpick a selection of different products to discover your new favourites without getting too much of one kind.
Stuart's Product of the Month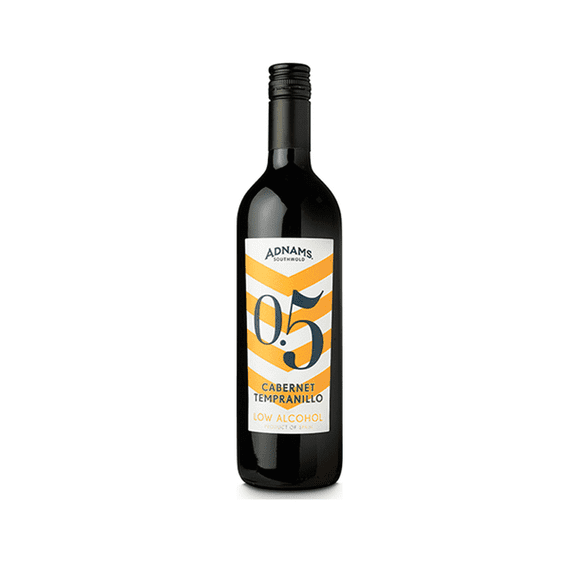 Collapsible content
Tasting notes

Adnams Cabernet/Tempranillo Low Alcohol Red Wine is a masterful blend of two renowned grape varieties, skilfully crafted to create a captivating and complex flavour profile. Here are the tantalising tasting notes to entice your senses:

On the Nose: A beguiling bouquet of ripe blackcurrant and luscious cherry notes takes centre stage, accompanied by an enchanting backdrop of fragrant violet and warm, earthy undertones that invite you to delve deeper into this exquisite wine.

Palate: As you take your first sip, a symphony of bold dark fruits – think juicy blackberries, succulent plums, and velvety black cherries – bursts forth, complemented by a harmonious fusion of warm spices, delicate cocoa, and a subtle touch of vanilla. The wine's velvety texture and expertly balanced earthiness create a genuinely immersive tasting experience.

Finish: The Adnams Cabernet/Tempranillo Low Alcohol Red Wine leaves a lasting impression with a smooth, lingering finish that showcases the elegance and complexity of the Cabernet and Tempranillo grapes. It's refined flavours and sophisticated character will continue to enchant your palate long after the final sip.

Overall Impression: This non-alcoholic red wine is a triumphant testament to the art of winemaking, expertly capturing the essence of the Cabernet and Tempranillo grapes while offering a guilt-free indulgence. The Adnams Cabernet/Tempranillo Low Alcohol Red Wine is a captivating experience for the senses, providing a taste of the extraordinary in every single drop.
Food Pairings

The Adnams Cabernet/Tempranillo Low Alcohol Red Wine's complex flavours and full-bodied character make it a versatile choice for pairing with a variety of delectable dishes. Here are some enticing food pairings to consider:

Red Meats: The wine's bold flavours complement hearty red meat dishes, such as succulent roast beef, tender lamb shanks, or a rich beef stew.
Grilled or Roasted Vegetables: The earthy undertones of the wine beautifully enhance the natural flavours of a colourful medley of grilled or roasted vegetables, such as peppers, courgettes, and aubergines.
Hearty Pasta Dishes: The velvety texture of the wine pairs splendidly with robust pasta dishes like lasagne, spaghetti Bolognese, or a mushroom and spinach-stuffed cannelloni.
Pizza: The wine's fruity profile and balanced acidity make it an ideal accompaniment for a classic Margherita or a gourmet pizza topped with a mix of fresh, flavourful ingredients.
Blue and Aged Cheeses: The wine's rich, complex flavours work wonders with piquant blue cheeses, such as Stilton or Gorgonzola, as well as aged cheeses like a sharp Cheddar or nutty Manchego.
Smoky, Spicy Flavours: The wine's warm spice notes harmonise beautifully with smoky, spicy dishes, such as barbecue, grilled chorizo, or a smoked paprika-infused paella.

By pairing the Adnams Cabernet/Tempranillo Low Alcohol Red Wine with these sumptuous dishes, you'll elevate your culinary experience to new heights of indulgence and enjoyment.
Serving Suggestions

To fully savour the captivating flavours and aromas of Adnams Cabernet/Tempranillo Low Alcohol Red Wine, follow these serving suggestions:

Chilling: Although not strictly necessary for red wines, you may prefer to serve this non-alcoholic red wine slightly chilled, at a temperature of around 15-18°C. This can help to emphasise the wine's fruity notes and refreshing character. Place the bottle in the refrigerator for approximately 30 minutes before serving.
Decanting: To enhance the wine's release of its delightful aromas, consider decanting it into a carafe or decanter. This allows the wine to breathe and can improve the overall tasting experience.
Proper Glassware: Serve the Adnams Cabernet/Tempranillo in a red wine glass with a larger bowl and a long stem. The shape of the glass helps to concentrate the wine's aromas and provides ample space for swirling.
Pouring: When pouring the wine, fill the glass to about one-third or half-full. This allows room for swirling and aerating the wine, which helps to release its enchanting aromas and enhance your enjoyment of its flavours.
Swirling: Gently swirl the wine in the glass to encourage aeration and release its full bouquet of fragrances. This simple action helps to unlock the wine's true potential, enriching your appreciation of its flavours and aromas.

By following these serving suggestions, you will enhance the overall experience of enjoying the Adnams Cabernet/Tempranillo Low Alcohol Red Wine and fully appreciate the skill and artistry that has gone into creating this exceptional beverage.
About Adnams

Step right up and discover the enchanting world of Adnams, an esteemed UK-based brewing and distilling company that has been quenching the nation's thirst with delectable libations since 1872. Nestled in the charming coastal town of Southwold, Suffolk, Adnams started as a humble brewery and has since blossomed into a veritable cornucopia of spirits, wines, and other tantalising beverages.

Adnams is not just any ordinary purveyor of fine tipples, though. They've become the vanguard of sustainability and ethical practices in the drinks industry. With a steadfast commitment to using locally sourced ingredients, this eco-friendly company has set an example with green initiatives that would make Mother Nature herself proud. Marvel at the solar panels and wind turbine adorning their brewery, and be amazed by their zero waste policy for beer production.

But fear not, for Adnams' dedication to sustainability does not come at the expense of quality. Their flavourful creations have earned them a legion of devoted fans, eagerly sipping on their popular Ghost Ship pale ale, savouring the delights of Copper House Gin, or raising a toast with East Coast Vodka. And let's not forget their curated collection of wines, handpicked from small, family-run vineyards – a testament to Adnams' unwavering commitment to quality and authenticity.

Adnams stands tall as a shining beacon of excellence in the UK beer and spirits landscape. With their unwavering dedication to sustainability and exceptional products that tantalise the senses, Adnams is more than just a brand – it's an adventure in taste, waiting to be explored. So, come along, and let Adnams whisk you away on a magical journey of extraordinary libations and unforgettable experiences. Cheers!
Adnams Cabernet/Tempranillo - Low Alcohol Red Wine
Nutritional Information per 100ml
| Nutrient | Amount |
| --- | --- |
| Energy (Kcal) | 29cal |
| Energy (kJ) | 121kJ |
| Fat | 0g |
| Sodium | 0g |
| Carbs | 9.7g |
| Protein | 0.3g |
Disclaimer: At Dry Drinker, we take great care to ensure the accuracy of product information displayed on our website. However, product recipes may change periodically, impacting nutrition and allergen information. As a result, we advise that you always review product labels and not rely solely on the information presented on our website.
For specific advice regarding any Dry Drinker or ZeroHero™ branded products, please contact our Customer Care Team. For all other products, we recommend reaching out to the manufacturer directly.
The information provided on our website is intended for personal use only. Reproducing this information in any form without the prior consent of Dry Drinker Limited or without proper acknowledgement is strictly prohibited.
Collapsible content
Delivery & Returns

How Much is Delivery?

Enjoy free delivery on orders over £69 when placed before 5 pm.

For orders below £69, a standard delivery charge of £5.99 applies.

Most orders placed by 5 pm will typically be delivered on the next working day.

Do you deliver at the weekend?

Saturday Delivery is available for £8.99. To ensure timely dispatch, please complete your order by 5 pm on Friday, allowing enough time for picking and packing. Please note we don't ship or deliver on UK Bank Holidays.

Are there any restrictions?

Our next-day delivery is available for 99% of the UK mainland. However, some Scottish mainland postcodes may incur higher charges. Saturday delivery serves mainland England, Wales, Edinburgh, and Glasgow. Regrettably, it doesn't cover Aberdeen, the Highlands, or the following postcodes: PA, FK, DD, AD, PH, IV, KO, HS, BT, KA, and KY.

Do you make deliveries to Northern Ireland?

Certainly, we do deliver to Northern Ireland. Kindly allow 5 to 7 working days for your order to arrive.

Do you make deliveries to more remote areas of the UK?

Indeed, we deliver to the Islands and Highlands. Delivery times for these areas are based on your order's weight, and typically take 7-10 working days.

I want to make a very large order.

We regard an order as large when it consists of 20 cases or more, with each case containing 12 bottles/cans. Although next-day delivery isn't guaranteed for such orders, we'll ensure delivery within three working days from the order date.

If you need to contact us for any reason please use the contact option on our website here.

Don't forget your order number and to send us a photo.

Please check your delivery as soon as you receive it as we can't give a refund if it is more than 24 hours after delivery.

More information available here
Choosing a selection results in a full page refresh.
Opens in a new window.