Free Delivery Over £69*
5% off for new customers using code WELCOME
4.86/5 on Trusted Shops
0.5% ABV | 440ml Cans
Regular price
Sale price
$40.00
Unit price
per
Offer
Hold Tight - Being Restocked Shortly
In stock
Embark on a sensory expedition with Mash Gang Cult Hazy Pale Ale, a masterful creation that stands as a beacon of modern craft brewing. This ale is a celebration of innovation, brewed with a deep understanding of traditional techniques yet with an eye firmly set on pushing boundaries.
Mash Gang Cult's essence lies in its artful blend of select hops and malts, delivering an experience that is both familiar and refreshingly novel. It is a tribute to the hazy pale ale style, a genre revered by beer enthusiasts worldwide. Each sip is a step into a world where the norms of brewing are reimagined, and the unexpected is embraced.
The ale's visual allure is undeniable, presenting a hazy, golden amber hue that promises a journey of discovery. Its appearance is a prelude to the complex aromas and flavours that await, a tapestry of sensory delights woven with care and passion.
At its core, Mash Gang Cult Hazy Pale Ale is a convergence of contrasting yet complementary elements. The tropical fruitiness and citrus zest are expertly counterbalanced by a subtle floral presence and a nuanced hop profile. This balance is the hallmark of the ale, a testament to the skilful brewing that brings such diverse flavours into harmony.
The ale's mouthfeel is another chapter in this tale of craftsmanship. Smooth, creamy, and perfectly carbonated, it engages the palate in a dance of textures, each sip a step in a rhythm that is both invigorating and comforting.
Finally, Mash Gang Cult Hazy Pale Ale leaves its mark with a finish that lingers just long enough to beckon another taste. It is a fitting conclusion to a drink that is much more than a beer - it's an exploration, a celebration, a work of art.
Whether enjoyed alone as a testament to the brewer's art or paired with a meal that complements its depth, Mash Gang Cult Hazy Pale Ale is an experience to be savoured, a journey to be cherished.
Share
Curious to explore our range? You don't have to settle for just one. At DryDrinker, we offer
'Pick Your Own'
mixed cases. Handpick a selection of different products to discover your new favourites without getting too much of one kind.
Stuart's Product of the Month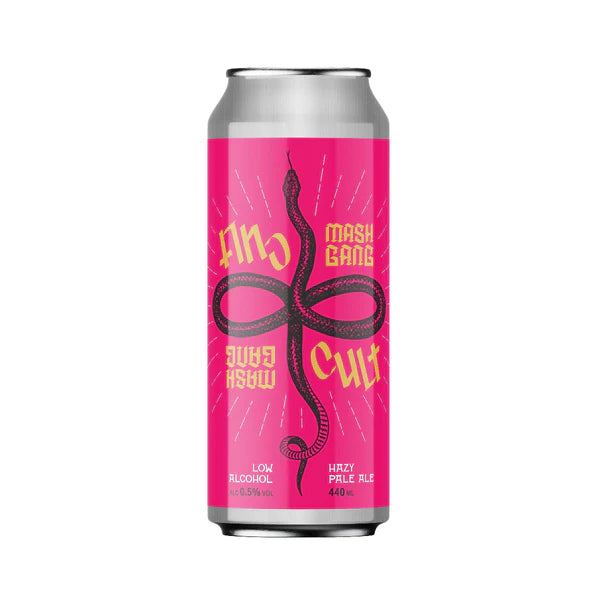 Collapsible content
Tasting notes

Mash Gang Cult Tasting Notes:

Appearance:

Mash Gang Cult Hazy Pale Ale greets the eye with its alluring, hazy golden amber colour, reminiscent of a misty morning sunrise. The beer forms a frothy, white head that adds to its inviting presentation.

Aroma:

The aroma is a captivating blend of tropical fruitiness intertwined with floral and citrus notes. Prominent scents of ripe mango, pineapple, and a hint of citrus zest are complemented by subtle undertones of pine and a gentle floral bouquet, creating a complex and inviting nose.

Taste:

On the palate, Mash Gang Cult Hazy Pale Ale offers a harmonious blend of hop-driven flavours. The taste buds are greeted with a burst of juicy tropical fruits - think mango, papaya, and a squeeze of fresh orange. This fruitiness is beautifully balanced by a moderate hop bitterness, imparting a refreshing and well-rounded flavour profile.

Mouthfeel:

The mouthfeel of this hazy pale ale is smooth and creamy, with a medium body that coats the palate pleasantly. The moderate carbonation enhances the drinking experience, adding a slight prickliness that makes the ale both satisfying and thirst-quenching.

Finish:

The finish is lingering and balanced. It leaves a subtle aftertaste of tropical fruit sweetness coupled with a delicate hop bitterness, inviting you back for another sip. The interplay between sweetness and bitterness is expertly crafted, providing a finish that is both clean and complex.

Mash Gang Cult Hazy Pale Ale is a testament to the art of craft brewing, offering a delightful journey through a landscape of tropical flavours and aromatic hops. It's an ideal choice for those who appreciate the nuanced interplay of hops and fruit in their beer.
Food Pairings

Mash Gang Cult - Hazy Pale Ale, with its unique blend of tropical fruitiness and subtle hop character, is a versatile beer that complements a wide array of dishes. Here are some food pairing suggestions to enhance your culinary experience:

Spicy Cuisine: The fruity and citrusy notes of this Hazy Pale Ale make it an excellent companion for spicy foods. Try pairing it with spicy Thai curries, Indian dishes like Chicken Tikka Masala, or even spicy Mexican tacos. The beer's crispness cuts through the spice, balancing the heat and enhancing the flavours of the food.

Grilled Meats: The beer's hoppy nuances pair wonderfully with the smoky flavours of grilled meats. Enjoy it with barbecued ribs, grilled chicken, or even a juicy burger. The beer's citrus undertones provide a refreshing contrast to the richness of the meat.

Seafood: The light and refreshing nature of Mash Gang Cult Hazy Pale Ale makes it a great match for seafood dishes. Pair it with grilled salmon, shrimp tacos, or a classic fish and chips for a delightful taste combination.

Vegetarian Options: The ale's versatility extends to vegetarian dishes as well. Enjoy it with a spicy bean chili, vegetable stir-fry, or a fresh caprese salad. The beer's crispness complements the natural flavours of the vegetables and herbs.

Cheeses: For a cheese pairing, try it with milder options like Mozzarella or a creamy Brie. The beer's fruity and floral notes create a harmonious blend with the soft textures and subtle flavours of these cheeses.

Whether you're dining out or enjoying a meal at home, these food pairings will enhance your enjoyment of Mash Gang Cult - Hazy Pale Ale, creating a memorable gastronomic experience.

Serving Suggestions

Enjoying Mash Gang Cult - Hazy Pale Ale to its fullest potential involves serving it in a way that enhances its unique characteristics. Here are some suggestions to make the most of your Hazy Pale Ale experience:

Temperature: Serve this Hazy Pale Ale chilled, ideally between 6-8°C. At this temperature, the beer's tropical and citrus notes will be more pronounced, providing a refreshing and vibrant drinking experience.

Glassware: Pour the beer into a tulip glass or an IPA glass. These types of glasses have a slightly wider body and a tapered mouth, which help concentrate the aromatic compounds and maintain the beer's head, enhancing the overall sensory experience.

Pouring: Tilt the glass at a 45-degree angle and pour gently down the side until about half of the glass is filled, then straighten and pour the remaining beer directly into the centre. This pouring technique allows for a good head formation, which releases more aromas.

Occasions: Mash Gang Cult - Hazy Pale Ale is a versatile beer that suits a variety of occasions. It's perfect for casual get-togethers, barbecues, or simply as a refreshing drink after a long day. Its fruity and easy-drinking nature also makes it a great choice for beer tastings or pairing with meals.

By following these serving suggestions, you'll be able to fully appreciate the intricate flavours and aromas of Mash Gang Cult - Hazy Pale Ale, enhancing your beer-drinking experience.

About Mash Gang

Introducing Mash Gang: Unleashing the Spirit of Friendship Through Exceptional NOLO Beers At Mash Gang, we're more than just a brewery – we're a story of camaraderie, creativity, and a shared passion for brewing. Born from a group of friends seeking connection during the first lockdown, we've embraced the spirit of adventure and pushed the boundaries of NOLO (non-alcoholic and low-alcohol) beer crafting.

Our journey began with humble beginnings, experimenting in our homes to create unique and flavourful brews. As word spread and demand grew, we rapidly expanded our range, curating a collection of nine distinctive beers in just three months. The support from our incredible community has propelled us from a casual hobby to a thriving business.

Mash Gang is committed to delivering high-quality, artisanal NOLO beers that surprise and delight with every sip. Our diverse range caters to every palate, from the crisp, refreshing lagers for a leisurely afternoon to the rich, full-bodied stouts perfect for a cosy night in.

When you choose Mash Gang, you're not only savouring a delicious brew – you're joining a community of beer lovers who appreciate the story behind every bottle. As we continue to grow and evolve, we remain dedicated to our roots: a group of friends united by a love for brewing and a desire to share our creations with the world.
Disclaimer: At Dry Drinker, we take great care to ensure the accuracy of product information displayed on our website. However, product recipes may change periodically, impacting nutrition and allergen information. As a result, we advise that you always review product labels and not rely solely on the information presented on our website.
For specific advice regarding any Dry Drinker or ZeroHero™ branded products, please contact our Customer Care Team. For all other products, we recommend reaching out to the manufacturer directly.
The information provided on our website is intended for personal use only. Reproducing this information in any form without the prior consent of Dry Drinker Limited or without proper acknowledgement is strictly prohibited.
Collapsible content
Delivery & Returns

How Much is Delivery?

Enjoy free delivery on orders over £69 when placed before 5 pm.

For orders below £69, a standard delivery charge of £5.99 applies.

Most orders placed by 5 pm will typically be delivered on the next working day.

Do you deliver at the weekend?

Saturday Delivery is available for £8.99. To ensure timely dispatch, please complete your order by 5 pm on Friday, allowing enough time for picking and packing. Please note we don't ship or deliver on UK Bank Holidays.

Are there any restrictions?

Our next-day delivery is available for 99% of the UK mainland. However, some Scottish mainland postcodes may incur higher charges. Saturday delivery serves mainland England, Wales, Edinburgh, and Glasgow. Regrettably, it doesn't cover Aberdeen, the Highlands, or the following postcodes: PA, FK, DD, AD, PH, IV, KO, HS, BT, KA, and KY.

Do you make deliveries to Northern Ireland?

Certainly, we do deliver to Northern Ireland. Kindly allow 5 to 7 working days for your order to arrive.

Do you make deliveries to more remote areas of the UK?

Indeed, we deliver to the Islands and Highlands. Delivery times for these areas are based on your order's weight, and typically take 7-10 working days.

I want to make a very large order.

We regard an order as large when it consists of 20 cases or more, with each case containing 12 bottles/cans. Although next-day delivery isn't guaranteed for such orders, we'll ensure delivery within three working days from the order date.

If you need to contact us for any reason please use the contact option on our website here.

Don't forget your order number and to send us a photo.

Please check your delivery as soon as you receive it as we can't give a refund if it is more than 24 hours after delivery.

More information available here
Choosing a selection results in a full page refresh.
Opens in a new window.