Free Delivery Over £69*
10% off for new customers using code WELCOME
4.86/5 on Trusted Shops
0.0% ABV | 330ml Cans
Regular price
Sale price
£24.52
Unit price
per
Offer
Hold Tight - Being Restocked Shortly
In stock
Brulo Sabro Galaxy DDH IPA is a beer that takes your taste buds on a captivating journey through a galaxy of flavours. Crafted with meticulous attention to detail, this IPA showcases the extraordinary Sabro and Galaxy hops, known for their vibrant and unique characteristics.
With its deep golden hue and a slight haze, Brulo Sabro Galaxy DDH IPA is a visual delight, inviting you to explore its complex profile. As you bring the glass to your lips, a captivating aroma fills the air. Notes of tropical fruits like pineapple, passionfruit, and mango dance with hints of citrus, creating an enticing bouquet that promises a sensory adventure.
The first sip reveals the beer's true nature a symphony of flavours that harmoniously blend together. The Sabro hops bring forward a delightful coconut-like sweetness and a touch of cedar, reminiscent of a tropical paradise. The Galaxy hops add layers of juicy citrus, brightening the palate with bursts of grapefruit and orange zest. Together, these hops create a dynamic interplay of flavours that is both refreshing and invigorating.
The malt backbone provides a sturdy foundation, balancing the hop-forward profile with a subtle touch of caramel and bready sweetness. It lends a smooth and velvety texture to the beer, enhancing its overall drinkability. The bitterness is assertive but well-balanced, offering a pleasant lingering finish that leaves you craving another sip.
Brulo Sabro Galaxy DDH IPA is a beer that showcases the artistry and innovation of modern craft brewing. It embodies the spirit of exploration, pushing the boundaries of flavour and craftsmanship. Whether you're a seasoned beer enthusiast or an adventurous newcomer, this IPA invites you to discover the exciting world of hop-forward brews and embark on a flavour-filled journey that will leave a lasting impression.
Share
Curious to explore our range? You don't have to settle for just one. At DryDrinker, we offer
'Pick Your Own'
mixed cases. Handpick a selection of different products to discover your new favourites without getting too much of one kind.
View full details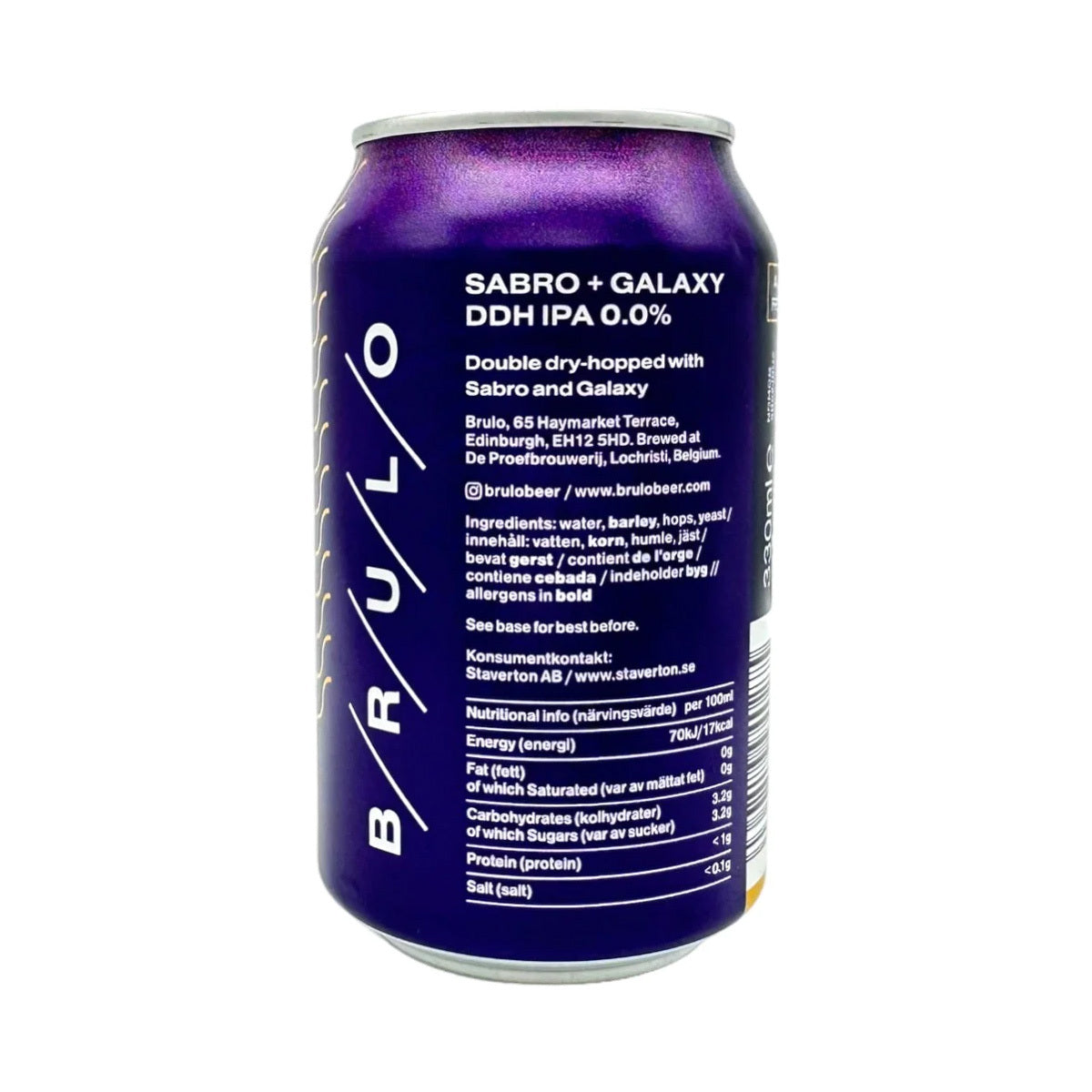 Collapsible content
Tasting notes

Sabro Galaxy DDH IPA Tasting Notes:

Appearance: Sabro Galaxy DDH IPA pours a hazy golden colour with a frothy white head that lingers, enticing you to dive into its flavourful depths.

Aroma: The aroma is an explosion of tropical goodness, with prominent notes of ripe pineapple, juicy mango, and zesty citrus. It's like stepping into a tropical paradise.

Taste: With your first sip, Sabro Galaxy DDH IPA delivers a burst of tropical flavours. The interplay between Sabro and Galaxy hops creates a symphony of pineapple, passion fruit, and grapefruit, dancing on the palate and tantalizing your taste buds.

Body: The beer has a medium body that perfectly complements its hop-forward character. It offers a smooth and velvety mouthfeel, coating the tongue with its tropical hop goodness.

Bitterness: The bitterness level is moderate, providing a well-balanced and refreshing experience. The hop bitterness is present but not overpowering, allowing the tropical flavours to shine through.

Finish: The finish is delightfully crisp and clean, with a lingering tropical hop flavour that invites you to take another sip. It leaves a pleasant and satisfying aftertaste, reminiscent of a tropical paradise.

Overall, Sabro Galaxy DDH IPA is a tropical hop bomb that delivers an explosion of flavours and aromas. It's a true delight for hop enthusiasts, with its complex tropical fruit profile and balanced bitterness. The medium body and smooth mouthfeel make it a pleasure to drink, while the clean finish leaves you craving more. This IPA is a perfect choice for those seeking a tropical escape in a glass.
Food Pairings

Sabro Galaxy DDH IPA Food Pairings:

Spicy Thai Curry: The bold tropical flavours of Sabro Galaxy DDH IPA complement the vibrant and spicy notes of Thai curry. The hop bitterness and fruity hop character cut through the richness of the curry, creating a harmonious balance.
Grilled Pineapple and Shrimp Skewers: The tropical hop profile of Sabro Galaxy DDH IPA pairs beautifully with the sweetness of grilled pineapple and the savoury flavours of shrimp. The beer's citrusy and pineapple notes enhance the natural flavours of the dish, creating a delightful combination.
Mango Salsa and Fish Tacos: The tropical fruit notes of Sabro Galaxy DDH IPA complement the sweetness and tanginess of mango salsa. Enjoy this refreshing combination with crispy fish tacos for a burst of flavours that harmonize with the beer's hop character.
Spicy Buffalo Wings: The hop bitterness and tropical hop flavours of Sabro Galaxy DDH IPA provide a perfect contrast to the heat and spiciness of Buffalo wings. The beer's crispness and refreshing qualities help cool down the palate between each deliciously fiery bite.
Grilled Citrus Chicken Salad: The bright and citrusy hop character of Sabro Galaxy DDH IPA pairs well with the grilled citrus-marinated chicken in a refreshing salad. The beer's tropical flavours and crisp bitterness complement the zesty and grilled elements of the dish.