Free Delivery Over £69*
10% off for new customers using code WELCOME
4.86/5 on Trusted Shops
0.5% ABV | 440ml Cans
Regular price
Sale price
£28.38
Unit price
per
Offer
Hold Tight - Being Restocked Shortly
In stock
Lowtide - Wild Juice Chase
Embark on an exhilarating taste adventure with Lowtide's Wild Juice Chase. This captivating beverage is a celebration of nature's bountiful harvest and the art of crafting unique flavours. With each sip, you'll be transported to lush orchards and sun-drenched vineyards, immersing yourself in the vibrant world of wild juices.
The essence of Lowtide's Wild Juice Chase lies in its commitment to using only the finest handpicked fruits and carefully selected ingredients. The master blenders have expertly combined a symphony of flavours, capturing the essence of the wild fruits and infusing them into this delightful beverage.
As you pour the Wild Juice Chase into your glass, you'll be greeted by a mesmerizing array of colours, reflecting the diversity of the fruits used. The aroma that wafts from the glass is a tantalizing medley of ripe berries, juicy citrus, and a hint of tropical sweetness.
On the palate, the Wild Juice Chase unravels its complex layers of flavour. The first sip reveals a burst of bright and tangy fruits, perfectly balanced with a subtle natural sweetness. As the flavours mingle on your tongue, you'll discover delightful nuances of orchard apples, succulent peaches, and luscious berries, each contributing to the tapestry of taste.
The journey through the Wild Juice Chase culminates in a refreshingly crisp and satisfying finish. Every sip leaves you craving for more, as the lingering flavours dance on your palate, reminding you of the abundance and beauty found in nature's purest offerings.
Lowtide's Wild Juice Chase is a testament to the dedication and craftsmanship of the brand. It is a beverage that invites you to savour and appreciate the wonders of nature, capturing the essence of wild fruits in every bottle. Whether enjoyed on its own or as a complement to a delightful meal, this remarkable beverage promises a journey of taste that is both invigorating and unforgettable.
Share
Curious to explore our range? You don't have to settle for just one. At DryDrinker, we offer
'Pick Your Own'
mixed cases. Handpick a selection of different products to discover your new favourites without getting too much of one kind.
View full details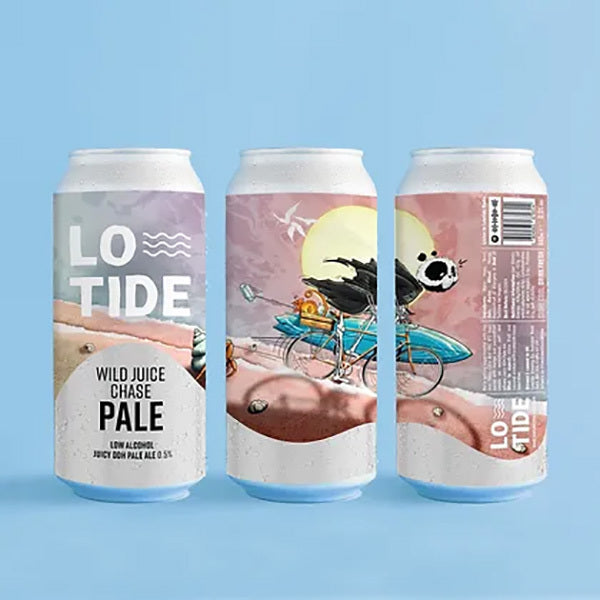 Collapsible content
Tasting notes

Lowtide - Wild Juice Chase Tasting Notes:

Appearance: Lowtide's Wild Juice Chase exhibits a vibrant and enticing appearance with its rich and natural colours, reflecting the variety of wild fruits used in its creation.

Aroma: The aroma of Wild Juice Chase is a delightful symphony of fruity notes, with hints of ripe berries, zesty citrus, and a touch of tropical sweetness. It invites you to explore the depth of flavours that await.

Palate: With the first sip of Wild Juice Chase, your taste buds are awakened by a burst of bright and tangy flavours. The natural sweetness of the fruits is perfectly balanced, creating a harmonious and enjoyable experience. The palate is treated to a medley of orchard apples, juicy peaches, succulent berries, and other wild fruits, each offering a unique and captivating taste sensation.

Texture: The texture of Wild Juice Chase is smooth and velvety, adding a luxurious mouthfeel to the overall drinking experience. It glides effortlessly across the palate, accentuating the flavours and allowing them to unfold with elegance.

Finish: The finish of Wild Juice Chase is refreshing and crisp, leaving a clean and lingering impression on the palate. The flavours gradually fade, revealing subtle hints of the wild fruits that continue to tantalize your taste buds even after the last sip.

Overall, Lowtide's Wild Juice Chase is a testament to the artistry of blending wild fruits into a captivating and harmonious beverage. Its vibrant colours, enticing aroma, and complex flavours make it a delightful choice for those seeking an adventurous and unique drinking experience. Whether enjoyed on its own or paired with your favourite cuisine, Wild Juice Chase promises to transport you on a journey of taste that celebrates the abundance and diversity of nature's bountiful harvest.
Food Pairings

Lowtide - Wild Juice Chase Food Pairings

Lowtide's Wild Juice Chase offers a versatile flavour profile that complements a wide range of culinary delights. Here are some food pairings that beautifully enhance the drinking experience:

Fresh Fruit Salad: The vibrant and fruity character of Wild Juice Chase harmonizes perfectly with a refreshing fruit salad. Pair it with a mix of seasonal fruits like berries, melons, and citrus for a delightful combination of flavours.
Grilled Seafood: The tangy and zesty notes of Wild Juice Chase are an excellent accompaniment to grilled seafood. Enjoy it with grilled shrimp, salmon, or scallops for a delectable fusion of flavours.
Spicy Asian Cuisine: The natural sweetness and refreshing qualities of Wild Juice Chase provide a wonderful balance to the bold and spicy flavours of Asian cuisine. Try it with dishes like Thai curry, stir-fried noodles, or spicy tofu for a delightful contrast.
Goat Cheese Salad: The crisp and tangy flavours of Wild Juice Chase complement the creamy and earthy notes of goat cheese. Pair it with a fresh green salad topped with goat cheese, walnuts, and a light vinaigrette for a delicious combination.
Gourmet Cheese Platter: The complexity and depth of flavours in Wild Juice Chase make it a fantastic match for a gourmet cheese platter. Explore different types of cheeses like brie, camembert, blue cheese, and aged cheddar for a delightful tasting experience.
Herb-Roasted Chicken: The bright and fruity flavours of Wild Juice Chase provide a refreshing contrast to the savoury and aromatic profile of herb-roasted chicken. Pair it with a succulent roasted chicken dish seasoned with herbs like rosemary, thyme, and lemon for a mouth-watering combination.

These food pairings are just a starting point, and you can experiment with various dishes to discover your own perfect match with Lowtide's Wild Juice Chase. Enjoy the exploration and the delightful interplay of flavours between the beverage and your favourite cuisine.
Serving Suggestions

Lowtide - Wild Juice Chase Serving Suggestions

To fully enjoy the unique flavours and refreshing nature of Lowtide's Wild Juice Chase, here are some serving suggestions:

Serve Chilled: Wild Juice Chase is best enjoyed when served chilled. Keep the bottle refrigerated before serving to enhance its crispness and invigorating qualities.
Use a Wine Glass: Pour Wild Juice Chase into a wine glass to fully appreciate its aroma and visual appeal. The wide bowl of the glass allows the flavours to develop and provides an elegant presentation.
Garnish with Fresh Fruit: Enhance the visual appeal and add a touch of freshness by garnishing your glass of Wild Juice Chase with a slice of fresh fruit, such as orange, lemon, or berries.
Enjoy as an Aperitif: Start your evening or gathering with a glass of Wild Juice Chase as a refreshing aperitif. Its vibrant flavours and balanced sweetness make it a perfect choice to awaken the palate and set the tone for the upcoming meal.
Pair with Lighter Fare: Wild Juice Chase pairs well with lighter dishes. Consider serving it alongside salads, seafood, grilled vegetables, or light pasta dishes to create a harmonious dining experience.
Create Spritz Cocktails: Experiment with Wild Juice Chase to create delightful spritz cocktails. Mix it with sparkling water or soda, add a splash of citrus juice, and garnish with fresh herbs or a fruit slice for a refreshing and low-alcohol beverage option.
Enjoy Outdoors: Take advantage of the refreshing nature of Wild Juice Chase by enjoying it outdoors. Whether it's a picnic, barbecue, or beach day, this beverage adds a touch of brightness and enjoyment to your outdoor gatherings.

These serving suggestions aim to enhance your experience with Lowtide's Wild Juice Chase. Feel free to explore and customize the serving style based on your preferences and the occasion. Cheers to a delightful and refreshing drinking experience!
About Lowtide

About Lowtide Brewing Co.

Once upon a time, in the balmy summer of 2019, two intrepid beer enthusiasts named Rob and Dave embarked on an unforgettable journey. They sought the Holy Grail of alcohol-free craft beers, a mythical brew that would tantalise the taste buds of even the most discerning drinkers.

As they traversed the globe, they discovered a world of fascinating AF beers, but they couldn't find a single shop that brought together all these hidden treasures. Inspired, they decided to create their own Aladdin's cave of alcohol-free delights, launching the Crafty AF website.

However, their unquenchable thirst for the ultimate AF beer remained unfulfilled. They realised that the world deserved more; more flavours, more styles, and a brewery that truly represented the spirit of craft brewing in the alcohol-free realm. Thus, Lowtide Brewing Co. was born.

With an infectious blend of artistic flair, rebellious spirit, and delectable alcohol-free brews, Lowtide Brewing Co. has become a beacon of true craft beer in the world of alcohol-free beverages. Their aim is simple: create unparalleled beers with one-of-a-kind artwork and unrivalled flavour.

Rob and Dave continue their quest to this day, ensuring that the legacy of Lowtide Brewing Co. remains as vibrant and unforgettable as the very first sip.
Lowtide Wild Juice Chase - Low Alcohol Juicy DDH Pale Ale
Nutritional Information per 100ml
Disclaimer: At Dry Drinker, we take great care to ensure the accuracy of product information displayed on our website. However, product recipes may change periodically, impacting nutrition and allergen information. As a result, we advise that you always review product labels and not rely solely on the information presented on our website.
For specific advice regarding any Dry Drinker or ZeroHero™ branded products, please contact our Customer Care Team. For all other products, we recommend reaching out to the manufacturer directly.
The information provided on our website is intended for personal use only. Reproducing this information in any form without the prior consent of Dry Drinker Limited or without proper acknowledgement is strictly prohibited.
Collapsible content
Delivery & Returns

How Much is Delivery?

Enjoy free delivery on orders over £69 when placed before 5 pm.

For orders below £69, a standard delivery charge of £4.99 applies.

Most orders placed by 5 pm will typically be delivered on the next working day.

Do you deliver at the weekend?

Saturday Delivery is available for £8.99. To ensure timely dispatch, please complete your order by 5 pm on Friday, allowing enough time for picking and packing. Please note we don't ship or deliver on UK Bank Holidays.

Are there any restrictions?

Our next-day delivery is available for 99% of the UK mainland. However, some Scottish mainland postcodes may incur higher charges. Saturday delivery serves mainland England, Wales, Edinburgh, and Glasgow. Regrettably, it doesn't cover Aberdeen, the Highlands, or the following postcodes: PA, FK, DD, AD, PH, IV, KO, HS, BT, KA, and KY.

Do you make deliveries to Northern Ireland?

Certainly, we do deliver to Northern Ireland. Kindly allow 5 to 7 working days for your order to arrive.

Do you make deliveries to more remote areas of the UK?

Indeed, we deliver to the Islands and Highlands. Delivery times for these areas are based on your order's weight, and typically take 7-10 working days.

I want to make a very large order.

We regard an order as large when it consists of 20 cases or more, with each case containing 12 bottles/cans. Although next-day delivery isn't guaranteed for such orders, we'll ensure delivery within three working days from the order date.

If you need to contact us for any reason please use the contact option on our website here.

Don't forget your order number and to send us a photo.

Please check your delivery as soon as you receive it as we can't give a refund if it is more than 24 hours after delivery.

More information available here
Choosing a selection results in a full page refresh.
Opens in a new window.