Free Delivery Over £69*
10% off for new customers using code WELCOME
4.86/5 on Trusted Shops
0.5% ABV | 750ml Bottle
Regular price
Sale price
£6.14
Unit price
per
Offer
Hold Tight - Being Restocked Shortly
In stock
Introducing the Adnams Sauvignon BlancLow Alcohol White Wine – a genuinely enchanting elixir meticulously crafted to excite your senses and elevate your everyday moments. This spirited symphony of flavours masterfully captures the essence of a classic Sauvignon Blanc without alcohol, allowing you to indulge in a delightful tipple without a hint of guilt.
Adnams exceptional winemakers have harmoniously harnessed the finest sun-kissed grapes from lush, verdant vineyards, resulting in a tantalising tipple that teases the palate with its invigorating freshness. Aromas of fragrant elderflower, zesty lime and succulent gooseberries pirouette through the air, gently caressing your senses and transporting you to the idyllic English countryside.
As you take your first sip, a crescendo of crisp, citrus flavours dances across your tongue, accompanied by the subtle symphony of green apple and delicate white peach. The Adnams Sauvignon Blanc Low Alcohol White Wine is a vivacious virtuoso with a refreshingly crisp finish that leaves you utterly captivated and yearning for more.
Share
Curious to explore our range? You don't have to settle for just one. At DryDrinker, we offer
'Pick Your Own'
mixed cases. Handpick a selection of different products to discover your new favourites without getting too much of one kind.
View full details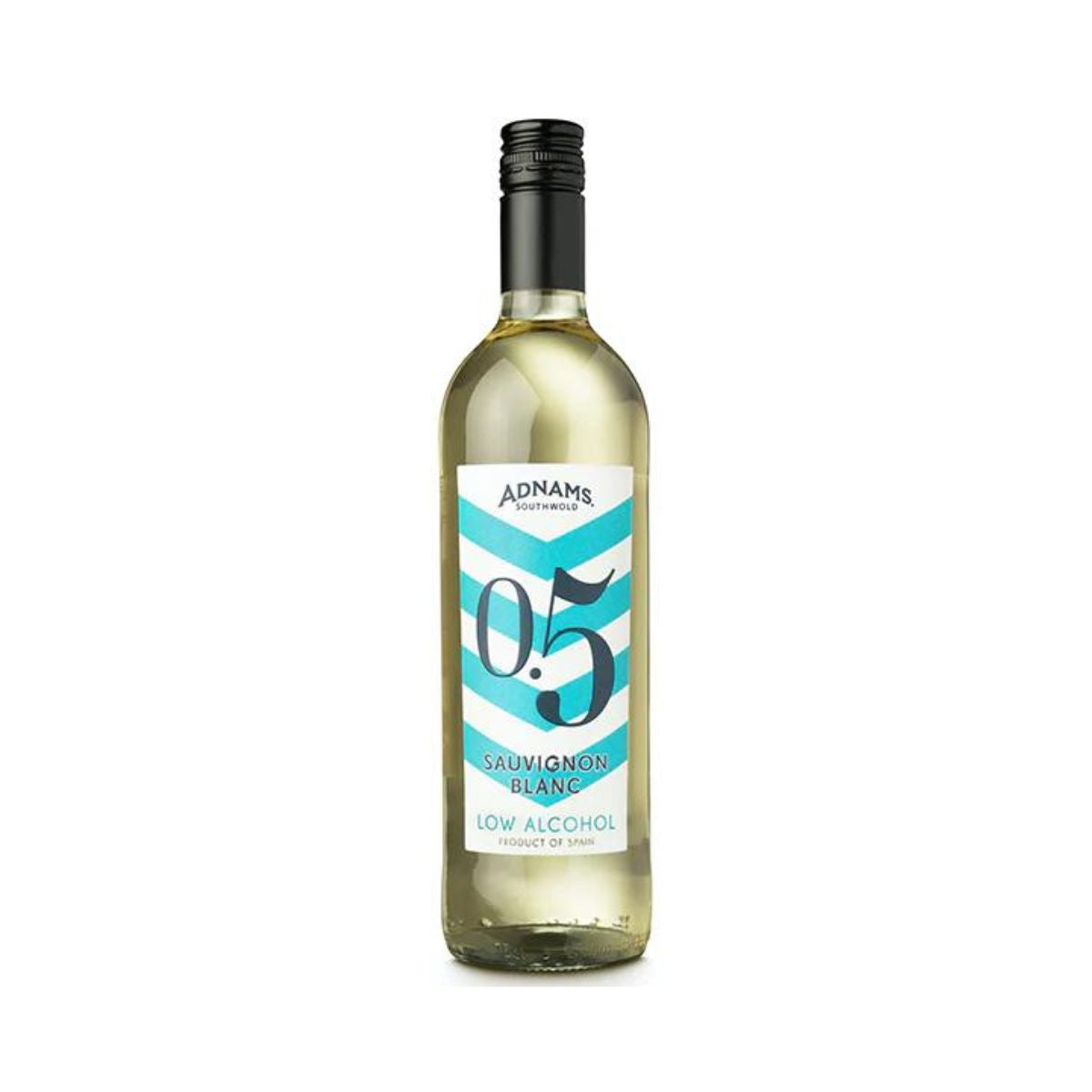 Collapsible content
Tasting notes

Adnams Sauvignon Blanc Low Alcohol White Wine is a harmonious blend of exquisite flavours and delightful aromas that encapsulates the essence of a traditional Sauvignon Blanc. Here are some noteworthy tasting notes:

On the Nose: A captivating bouquet of fragrant elderflower and zesty lime mingles with an enticing undercurrent of ripe gooseberries, setting the stage for a sensory experience unlike any other.

Palate: The first sip reveals a lively ensemble of crisp, citrus notes, with the delightful tang of green apples and the subtle sweetness of white peach creating a perfectly balanced melody. This non-alcoholic white wine showcases an impressive depth of flavour, with its refreshing acidity and vibrant fruit profile commanding centre stage.

Finish: The Adnams Sauvignon Blanc Non-Alcoholic White Wine concludes its performance with a refreshingly clean and crisp finish, leaving a lingering impression of invigorating flavours that dance across the palate long after the final sip.

Overall Impression: This masterful rendition of a classic Sauvignon Blanc is a true testament to the art of winemaking. Its alluring aromas, vibrant flavours, and sophisticated character make it the perfect choice for those seeking a non-alcoholic alternative without sacrificing taste or quality. The Adnams Sauvignon Blanc Non-Alcoholic White Wine is a delightful escape into the world of refined indulgence, where every sip is a celebration of life's simple pleasures.
Food Pairings

Adnams Sauvignon Blanc Low Alcohol White Wine's vibrant flavours and refreshing character make it an incredibly versatile accompaniment to a wide range of dishes. Here are some delightful food pairings for you to consider:

Seafood: Enhance the taste of fresh, succulent seafood dishes such as grilled prawns, pan-seared scallops, or zesty ceviche with the crisp, citrus notes of the Adnams Sauvignon Blanc. The wine's refreshing acidity complements the delicate flavours of seafood perfectly.

Goat's cheese: The tangy, earthy flavours of goat's cheese harmonise beautifully with the zesty, fruity notes of the wine. Enjoy a goat's cheese salad or a warm cheese tart for a delightful culinary experience.

Light salads: The wine's invigorating freshness pairs splendidly with vibrant, zesty salads. Think mixed greens adorned with citrus fruits, avocado, and a tangy vinaigrette, or a refreshing cucumber, mint, and feta salad.

Poultry and white meats: Delicate dishes such as roast chicken, grilled turkey, or succulent pork tenderloin are beautifully complemented by the wine's bright, fruity profile and balanced acidity.

Vegetarian fare: Enhance the flavours of your favourite vegetarian dishes with a glass of Adnams Sauvignon Blanc. Consider pairing the wine with a sumptuous risotto, a flavoursome vegetable curry, or a hearty, roasted vegetable platter.

Light, citrus-based desserts: Round off your meal with a deliciously light, citrus-infused dessert, such as a zesty lemon tart or a refreshing lime sorbet. The wine's crisp, fruity character will cleanse the palate and provide the perfect finale to your dining experience.

No matter the occasion, the Adnams Sauvignon Blanc Low Alcohol White Wine is the ideal partner for an array of mouth-watering dishes, elevating your culinary journey to new heights of pleasure and sophistication.
Serving Suggestions

To fully appreciate the delightful flavours and aromas of Adnams Sauvignon Blanc Low Alcohol White Wine, follow these serving suggestions:

Chilling: For optimal enjoyment, chill the wine to a temperature between 8-10°C. This ensures that the wine's vibrant flavours and refreshing character are perfectly showcased. Place the bottle in the refrigerator for approximately 2 hours before serving.
Decanting: Although not strictly necessary for a low alcohol white wine, you may wish to decant the wine into a carafe or jug. This allows the wine to breathe and can enhance the release of its delightful aromas.
Proper Glassware: Serve the Adnams Sauvignon Blanc in a white wine glass with a narrow bowl and a long stem. The shape of the glass helps to concentrate the wine's aromas and maintain its cool temperature.
Pouring: When pouring the wine, fill the glass to about one-third or half-full. This allows room for swirling, which helps to release the wine's enticing aromas and enhances the overall tasting experience.
Swirling: Gently swirl the wine in the glass to encourage aeration and release its full bouquet of fragrances. This simple action helps to unlock the wine's true potential, enriching your enjoyment of its flavours and aromas.

By following these serving suggestions, you will enhance the overall experience of enjoying the Adnams Sauvignon Blanc Low Alcohol White Wine and fully appreciate the masterful craftsmanship that has gone into creating this delightful tipple.
About Adnams

Step right up and discover the enchanting world of Adnams, an esteemed UK-based brewing and distilling company that has been quenching the nation's thirst with delectable libations since 1872. Nestled in the charming coastal town of Southwold, Suffolk, Adnams started as a humble brewery and has since blossomed into a veritable cornucopia of spirits, wines, and other tantalising beverages.

Adnams is not just any ordinary purveyor of fine tipples, though. They've become the vanguard of sustainability and ethical practices in the drinks industry. With a steadfast commitment to using locally sourced ingredients, this eco-friendly company has set an example with green initiatives that would make Mother Nature herself proud. Marvel at the solar panels and wind turbine adorning their brewery, and be amazed by their zero waste policy for beer production.

But fear not, for Adnams' dedication to sustainability does not come at the expense of quality. Their flavourful creations have earned them a legion of devoted fans, eagerly sipping on their popular Ghost Ship pale ale, savouring the delights of Copper House Gin, or raising a toast with East Coast Vodka. And let's not forget their curated collection of wines, handpicked from small, family-run vineyards – a testament to Adnams' unwavering commitment to quality and authenticity.

Adnams stands tall as a shining beacon of excellence in the UK beer and spirits landscape. With their unwavering dedication to sustainability and exceptional products that tantalise the senses, Adnams is more than just a brand – it's an adventure in taste, waiting to be explored. So, come along, and let Adnams whisk you away on a magical journey of extraordinary libations and unforgettable experiences. Cheers!
Adnams Sauvignon Blanc - Low Alcohol White Wine
Nutritional Information per 100ml
| Nutrient | Amount |
| --- | --- |
| Energy (Kcal) | 32cal |
| Energy (kJ) | 136kJ |
| Fat | 0g |
| Sodium | 0g |
| Carbs | 9.9g |
| Protein | 0.7g |
Disclaimer: At Dry Drinker, we take great care to ensure the accuracy of product information displayed on our website. However, product recipes may change periodically, impacting nutrition and allergen information. As a result, we advise that you always review product labels and not rely solely on the information presented on our website.
For specific advice regarding any Dry Drinker or ZeroHero™ branded products, please contact our Customer Care Team. For all other products, we recommend reaching out to the manufacturer directly.
The information provided on our website is intended for personal use only. Reproducing this information in any form without the prior consent of Dry Drinker Limited or without proper acknowledgement is strictly prohibited.
Collapsible content
Delivery & Returns

How Much is Delivery?

Enjoy free delivery on orders over £69 when placed before 5 pm.

For orders below £69, a standard delivery charge of £4.99 applies.

Most orders placed by 5 pm will typically be delivered on the next working day.

Do you deliver at the weekend?

Saturday Delivery is available for £8.99. To ensure timely dispatch, please complete your order by 5 pm on Friday, allowing enough time for picking and packing. Please note we don't ship or deliver on UK Bank Holidays.

Are there any restrictions?

Our next-day delivery is available for 99% of the UK mainland. However, some Scottish mainland postcodes may incur higher charges. Saturday delivery serves mainland England, Wales, Edinburgh, and Glasgow. Regrettably, it doesn't cover Aberdeen, the Highlands, or the following postcodes: PA, FK, DD, AD, PH, IV, KO, HS, BT, KA, and KY.

Do you make deliveries to Northern Ireland?

Certainly, we do deliver to Northern Ireland. Kindly allow 5 to 7 working days for your order to arrive.

Do you make deliveries to more remote areas of the UK?

Indeed, we deliver to the Islands and Highlands. Delivery times for these areas are based on your order's weight, and typically take 7-10 working days.

I want to make a very large order.

We regard an order as large when it consists of 20 cases or more, with each case containing 12 bottles/cans. Although next-day delivery isn't guaranteed for such orders, we'll ensure delivery within three working days from the order date.

If you need to contact us for any reason please use the contact option on our website here.

Don't forget your order number and to send us a photo.

Please check your delivery as soon as you receive it as we can't give a refund if it is more than 24 hours after delivery.

More information available here
Choosing a selection results in a full page refresh.
Opens in a new window.