Free Delivery Over £69*
5% off for new customers using code WELCOME
4.86/5 on Trusted Shops
0.05% ABV | 500ml Bottles
Regular price
Sale price
$27.00
Unit price
per
Offer
Hold Tight - Being Restocked Shortly
In stock
Old Mout Berries & Cherries Alcohol-Free Cider
Old Mout Berries & Cherries Alcohol-Free Cider is a delightful and vibrant fruit cider that brings together the best of both worlds: juicy, ripe berries and succulent, tangy cherries. This non-alcoholic version of the much-loved Old Mout classic offers all the fruity goodness and flavour intensity you'd expect, without the alcohol content.
Bursting with the natural sweetness of raspberries, blackcurrants, and red cherries, this cider boasts a deep, rich colour and a captivating aroma that entices the senses. On the palate, the fruit flavours meld harmoniously, offering a well-balanced and satisfying taste experience. With a refreshing and slightly tart finish, Old Mout Berries & Cherries Alcohol-Free Cider is the perfect drink to enjoy on a warm summer day or to brighten up any occasion.
Whether you're seeking a delicious alternative to traditional alcoholic beverages or simply looking for a fruity and refreshing drink, Old Mout Berries & Cherries Alcohol-Free Cider is the ideal choice. Serve it chilled over ice, and let this tantalizing fruit cider transport you to a world of pure, guilt-free indulgence.
Understanding Gluten Free
Gluten, a protein complex predominantly found in grains such as wheat, barley, rye, and oats, is a common constituent in various beverages, including beer and some wines. However, gluten-free drinks steer clear of these ingredients. For a drink to earn the 'gluten-free' label, it must contain less than 20 parts per million of gluten, which is practically a smidgen!
On a more serious note, the legal definition of 'gluten-free' in the UK, as outlined by the European Commission Regulation (EC) No. 41/2009, stipulates that foodstuffs must contain no more than 20 mg/kg (ppm) of gluten to qualify for the label. This regulation ensures that products marketed as 'gluten-free' are safe for those with coeliac disease and gluten intolerance to consume.
Vegan Friendly
This drink contains no animal products or by-products whatsoever.
Share
Curious to explore our range? You don't have to settle for just one. At DryDrinker, we offer
'Pick Your Own'
mixed cases. Handpick a selection of different products to discover your new favourites without getting too much of one kind.
Stuart's Product of the Month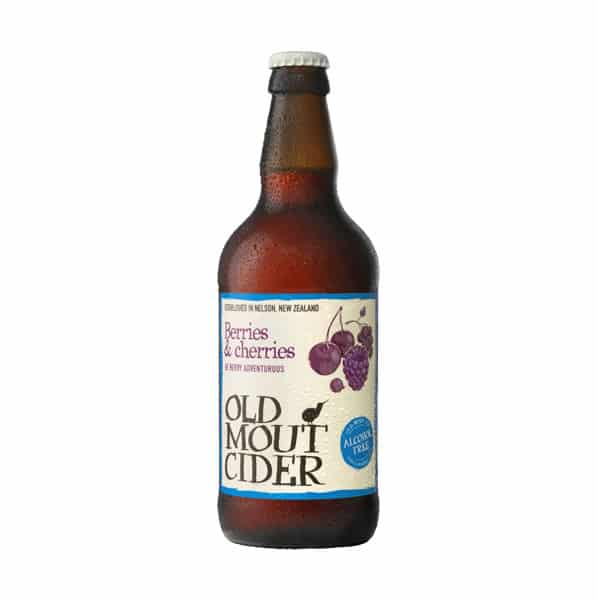 Collapsible content
Tasting notes

Old Mout Berries & Cherries Alcohol-Free Cider Tasting Notes

Aroma: A captivating bouquet of ripe raspberries, blackcurrants, and red cherries, with a subtle hint of apple in the background.
Appearance: Deep, rich ruby colour with a slight, inviting effervescence.
Taste: A harmonious blend of sweet, juicy berries and tangy cherries, creating a well-balanced flavour profile with a refreshing, slightly tart finish.
Mouthfeel: Light to medium-bodied with a pleasantly smooth and crisp texture, accentuated by a gentle carbonation.
Aftertaste: Lingering notes of ripe fruit, leaving a refreshing and slightly tart sensation on the palate.

Old Mout Berries & Cherries Alcohol-Free Cider is a fruit-forward and flavourful non-alcoholic option that retains all the charm and deliciousness of its traditional counterpart. It's perfect for those looking to enjoy a fruity, refreshing beverage without the alcohol content.
Food Pairings

Old Mout Berries & Cherries Alcohol-Free Cider Food Pairings

Old Mout Berries & Cherries Alcohol-Free Cider is a versatile beverage that pairs well with a variety of dishes. Its fruity and refreshing taste complements and enhances the flavours of many foods. Here are some suggestions for delicious pairings:

Grilled meats: The sweet and tangy flavours of this cider work beautifully with barbecued or grilled meats, such as chicken, pork, or sausages, cutting through the richness and enhancing the smoky notes.
Spicy dishes: The fruity sweetness of this cider can help to balance the heat of spicy dishes, such as curries, making it an excellent accompaniment to Indian or Thai cuisine.
Seafood: The crisp, refreshing taste of Old Mout Berries & Cherries Alcohol-Free Cider pairs nicely with light seafood dishes, like fish and chips or a shrimp salad, enhancing the delicate flavours.
Cheeses: The cider's fruit-forward profile works well with a variety of cheeses, such as creamy Brie, tangy goat cheese, or sharp cheddar, providing a delightful contrast.
Desserts: The natural sweetness of the cider complements fruity desserts like mixed berry tarts, cherry pies, or raspberry cheesecake, making it a perfect way to round off a meal.

Old Mout Berries & Cherries Alcohol-Free Cider is a delightful and versatile addition to any meal, offering a fruity and refreshing alternative to traditional alcoholic beverages. Enjoy it with a range of dishes to elevate your dining experience.
Serving Suggestions

Old Mout Berries & Cherries Alcohol-Free Cider Serving Suggestions

For an optimal tasting experience, follow these simple steps when serving Old Mout Berries & Cherries Alcohol-Free Cider:

Chill: Ensure the cider is properly chilled before serving. Aim for a temperature between 4-6°C for the best balance of flavours and refreshment.
Glassware: Choose a glass that will enhance the visual appeal and aroma of the cider, such as a cider or beer glass. A wine glass can also be used to showcase the fruity character of the cider.
Pouring: Tilt the glass at a 45-degree angle and gently pour the cider, allowing it to flow down the side of the glass. Straighten the glass as you finish pouring, leaving a small head of foam to help retain the aroma.
Aroma: Take a moment to appreciate the bouquet of the cider, which includes notes of ripe berries, cherries, and a hint of apple.
Taste: Sip the cider, letting it wash over your palate, and enjoy the harmonious blend of sweet and tart flavors from the berries and cherries.

By following these serving suggestions, you can fully appreciate the delightful flavors and aromas of Old Mout Berries & Cherries Alcohol-Free Cider, making it the perfect choice for any occasion.
About Old Mout

Old Mout Ciders originated in the stunning and picturesque landscape of New Zealand, on the south island in the small town of Nelson. The brand's name, Old Mout (pronounced 'oot'), pays homage to its roots, as it is derived from the Dutch word 'mout', meaning fruit.

The story of Old Mout Ciders began in 1947 when Wanda Tait, a passionate and pioneering woman, decided to set up a small fruit winery in Nelson. Wanda's vision was to create delicious fruit-based beverages that showcased the exceptional quality of local produce. As her business grew, she began experimenting with the traditional cider-making process, infusing it with the diverse and vibrant flavours of New Zealand's abundant fruit.

Over the years, Old Mout Ciders has continued to innovate and develop its range of unique and flavourful ciders. By combining classic cider-making techniques with the exotic and natural ingredients of New Zealand, the brand has succeeded in crafting a truly distinctive range of ciders that cater to various tastes and preferences.

Today, Old Mout Ciders are enjoyed and celebrated not only in New Zealand but around the world, including the UK, where the brand has gained a loyal following. Their commitment to creating ciders that capture the spirit of New Zealand's natural beauty and flavourful fruit has remained unwavering, and they continue to inspire and delight cider lovers everywhere with their refreshing and adventurous concoctions.
Old Mout Berries & Cherries Alcohol Free Cider
Nutritional Information Per 100ml
| Nutrient | Amount |
| --- | --- |
| Energy (Kcal) | 38kcal |
| Fat | 0g |
| Carbs | 9.2g |
| Sugars | 9g |
| Protein | 0g |
Ingredients:&nbsp Water, apple juice (from concentrate), sugar, fruit juices (from concentrate; grape juice, elderberry juice, strawberry juice, lime juice, lemon juice, sour cherry juice, blackcurrant juice, raspberry juice, blueberry juice, blackberry juice), acid: citric acid, colouring food (concentrate from carrot), natural flavourings, antioxidant: potassium metabisulphite.
Disclaimer: At Dry Drinker, we take great care to ensure the accuracy of product information displayed on our website. However, product recipes may change periodically, impacting nutrition and allergen information. As a result, we advise that you always review product labels and not rely solely on the information presented on our website.
For specific advice regarding any Dry Drinker or ZeroHero™ branded products, please contact our Customer Care Team. For all other products, we recommend reaching out to the manufacturer directly.
The information provided on our website is intended for personal use only. Reproducing this information in any form without the prior consent of Dry Drinker Limited or without proper acknowledgement is strictly prohibited.
Collapsible content
Delivery & Returns

How Much is Delivery?

Enjoy free delivery on orders over £69 when placed before 5 pm.

For orders below £69, a standard delivery charge of £5.99 applies.

Most orders placed by 5 pm will typically be delivered on the next working day.

Do you deliver at the weekend?

Saturday Delivery is available for £8.99. To ensure timely dispatch, please complete your order by 5 pm on Friday, allowing enough time for picking and packing. Please note we don't ship or deliver on UK Bank Holidays.

Are there any restrictions?

Our next-day delivery is available for 99% of the UK mainland. However, some Scottish mainland postcodes may incur higher charges. Saturday delivery serves mainland England, Wales, Edinburgh, and Glasgow. Regrettably, it doesn't cover Aberdeen, the Highlands, or the following postcodes: PA, FK, DD, AD, PH, IV, KO, HS, BT, KA, and KY.

Do you make deliveries to Northern Ireland?

Certainly, we do deliver to Northern Ireland. Kindly allow 5 to 7 working days for your order to arrive.

Do you make deliveries to more remote areas of the UK?

Indeed, we deliver to the Islands and Highlands. Delivery times for these areas are based on your order's weight, and typically take 7-10 working days.

I want to make a very large order.

We regard an order as large when it consists of 20 cases or more, with each case containing 12 bottles/cans. Although next-day delivery isn't guaranteed for such orders, we'll ensure delivery within three working days from the order date.

If you need to contact us for any reason please use the contact option on our website here.

Don't forget your order number and to send us a photo.

Please check your delivery as soon as you receive it as we can't give a refund if it is more than 24 hours after delivery.

More information available here
Choosing a selection results in a full page refresh.
Opens in a new window.