Free Delivery Over £69*
5% off for new customers using code WELCOME
4.86/5 on Trusted Shops
0.0% ABV | 700ml + 750ml
Regular price
Sale price
$47.00
Unit price
per
Offer
Hold Tight - Being Restocked Shortly
In stock
The Lyre's Italian Spritz is a non-alcoholic version of the beloved classic Italian aperitif. This beverage showcases a vibrant orange colour and has aromatic blood orange and floral elderflower notes with a hint of red Italian bitterness on the palate. It captures the spirit of a spritz without the alcohol, making it an ideal choice for those seeking a sophisticated, non-alcoholic alternative.
The Classico Grande is an elegant sparkling non-alcoholic wine. It presents a beautifully crisp, clean, and refreshing profile, boasting lively citrus and green apple notes. Perfect for celebrations or casual sipping, Classico Grande offers a taste of the finer things without the alcohol.
Combined, these two bottles provide the perfect ingredients to craft a delicious, non-alcoholic version of a Spritz cocktail at home. Enjoy the Lyre's Italian Spritz and Classico Grande either separately or combined, offering a refreshing and guilt-free drinking experience.
Share
Curious to explore our range? You don't have to settle for just one. At DryDrinker, we offer
'Pick Your Own'
mixed cases. Handpick a selection of different products to discover your new favourites without getting too much of one kind.
Stuart's Product of the Month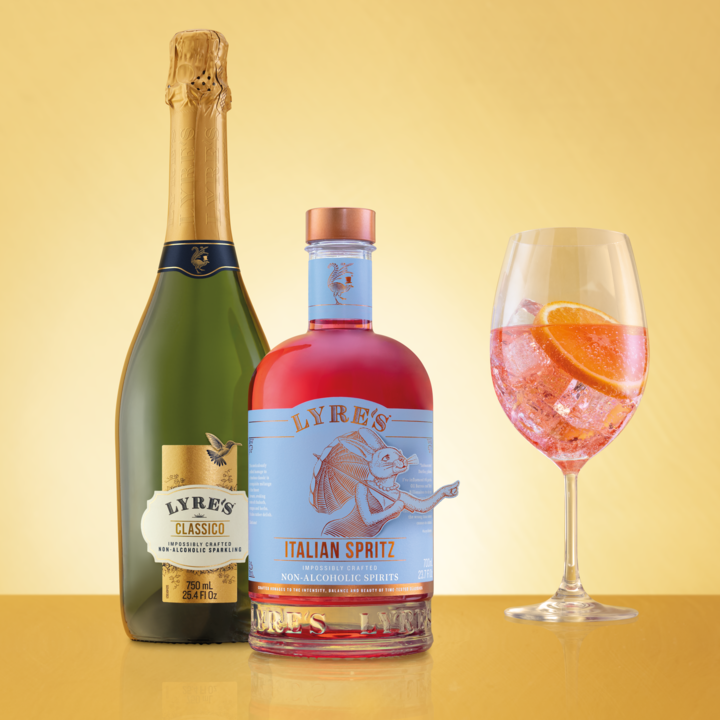 Collapsible content
Tasting notes

Lyre's Italian Spritz and Classico Grande Tasting Notes:

Lyre's Italian Spritz:

Appearance: This drink presents a radiant, warm orange hue that adds visual allure to your tasting experience.
Aroma: On the nose, the Italian Spritz exhibits a captivating bouquet of aromatic blood orange and floral elderflower, with subtle hints of Italian bitters.
Taste: On the palate, it delivers a delightful balance of sweet blood orange flavours counterbalanced by the bitter tones typical of the classic Italian Spritz. Its bitterness is tempered with a delicate floral finish.
Finish: It leaves a refreshing and somewhat complex finish that lingers pleasantly, inviting you to take another sip.

 

Classico Grande:

Appearance: The Classico Grande pours a brilliant, clear, light golden colour that sparkles in the glass, reminiscent of a classic sparkling wine.
Aroma: It emits a delightful, fresh aroma of green apples and zesty citrus fruits, hinting at the refreshing taste that awaits.
Taste: On the palate, this drink reveals a crisp, dry flavour profile dominated by tart green apple and citrus, well balanced by a hint of sweetness.
Finish: It concludes with a clean, refreshing finish that's notably crisp, leaving a subtle fruitiness on the palate.

Together, the Lyre's Italian Spritz and Classico Grande offer a well-rounded, flavourful non-alcoholic experience that doesn't compromise on complexity or satisfaction.
Food Pairings

For an enhanced tasting experience, consider pairing the Lyre's Italian Spritz and Classico Grande with these complementary foods:

Lyre's Italian Spritz:

Crostini: The crunch of crostini, especially when topped with fresh tomato, basil, and a drizzle of olive oil, pairs wonderfully with the spritz's bitter-sweet profile.
Olives and Pickles: The briny, tangy flavours of olives and pickles are a traditional pairing with an Italian spritz, offering a pleasing contrast to its sweet and bitter notes.
Fish and Seafood Dishes: Light, fresh seafood dishes, particularly those featuring lemon or other citrus, complement the spritz's vibrant, fruity character.
Cheeses: Mild cheeses like mozzarella can create a delightful flavour balance with the Italian Spritz, the creaminess of the cheese contrasting the spritz's bitterness.

Classico Grande:

Canapés: Small, bite-sized appetizers, particularly those with fresh, vibrant flavours, pair excellently with the crisp, fruity notes of the Classico Grande.
Fruit Salad: A refreshing fruit salad can enhance the sparkling wine's own fruity flavours, making for a harmonious pairing.
Light Pasta Dishes: Consider pasta dishes with creamy sauces or fresh vegetables to balance the Classico Grande's crispness.
Seafood: As with many sparkling wines, seafood is a superb match for the Classico Grande, particularly lighter fare like grilled fish or shrimp.

These food pairings can truly elevate your non-alcoholic beverage experience with the Lyre's Italian Spritz and Classico Grande, making any occasion a memorable one.
Serving Suggestions

Serving these two elegant non-alcoholic beverages correctly will further enhance your tasting experience. Here are our recommendations:

Lyre's Italian Spritz: To serve, fill a wine glass with ice, pour in the Lyre's Italian Spritz, and top with soda or sparkling water if desired. Garnish with an orange slice to highlight the citrus notes of the beverage and add a pop of color. Enjoy this refreshing drink in the warmth of a sunny afternoon or as an aperitif before dinner.
Classico Grande: Serve the Classico Grande well-chilled in a flute to maintain its effervescence and concentrate its lovely aromas. This is an excellent choice for toasting during celebrations or as an elegant accompaniment to a sophisticated dinner party.

Remember, the key to a fantastic beverage experience is to serve these drinks as you would their alcoholic counterparts, ensuring that they are appreciated to the fullest.
About Lyres

Discover the Magic of Lyre's Non-Alcoholic Spirits – A World of Flavour Awaits

Have you been searching for the perfect non-alcoholic alternative to your favourite spirits?

Look no further than Lyre's – a pioneering brand offering a stunning range of non-alcoholic spirits that will leave your taste buds dancing with delight. Whether you're a cocktail connoisseur or love the taste of a well-crafted beverage, Lyre's has something for everyone without the intoxicating effects.

Lyre's non-alcoholic spirits are crafted using an innovative blend of natural flavours and essences, resulting in beverages that closely mimic the taste, aroma, and mouthfeel of traditional alcoholic spirits. From their Amaretti Spirit, evoking the classic almond liqueur, to their Dry London Spirit, offering a gin-like experience, Lyre's has your non-alcoholic desires covered.

One of the key aspects that sets Lyre's apart is their commitment to creating high-quality, flavourful non-alcoholic alternatives. By meticulously selecting the finest ingredients and employing advanced extraction techniques, Lyre's is able to replicate the distinct notes and profiles of classic spirits. Their range includes non-alcoholic versions of whisky, rum, vermouth, and more, providing endless possibilities for crafting exquisite cocktails or sipping neat.

Not only does Lyre's offer unparalleled taste, but their non-alcoholic spirits also provide a healthier option for those looking to reduce their alcohol consumption. With fewer calories and less sugar than their alcoholic counterparts, Lyre's allows you to indulge in your favourite beverages guilt-free.

As you explore the world of Lyre's non-alcoholic spirits, you'll be inspired to create an array of delectable cocktails. Impress your friends and family with a Lyre's Amaretti Sour, featuring their Amaretti Spirit, lemon juice, and simple syrup. Or, shake things up with a refreshing Lyre's Dry London Spirit and tonic – a delightful twist on the classic G&T.

In a world where more people are seeking mindful drinking options, Lyre's stands out as a trailblazer, offering a diverse and flavourful range of non-alcoholic spirits that cater to a variety of tastes and preferences. Whether you're abstaining from alcohol, looking to cut back, or simply seeking new and exciting flavours, Lyre's is the perfect choice for a sophisticated and enjoyable drinking experience.

Experience the magic of Lyre's non-alcoholic spirits and open up a world of flavour without compromise. Cheers to new beginnings and memorable moments with Lyre's!
Disclaimer: At Dry Drinker, we take great care to ensure the accuracy of product information displayed on our website. However, product recipes may change periodically, impacting nutrition and allergen information. As a result, we advise that you always review product labels and not rely solely on the information presented on our website.
For specific advice regarding any Dry Drinker or ZeroHero™ branded products, please contact our Customer Care Team. For all other products, we recommend reaching out to the manufacturer directly.
The information provided on our website is intended for personal use only. Reproducing this information in any form without the prior consent of Dry Drinker Limited or without proper acknowledgement is strictly prohibited.
Collapsible content
Delivery & Returns

How Much is Delivery?

Enjoy free delivery on orders over £69 when placed before 5 pm.

For orders below £69, a standard delivery charge of £5.99 applies.

Most orders placed by 5 pm will typically be delivered on the next working day.

Do you deliver at the weekend?

Saturday Delivery is available for £8.99. To ensure timely dispatch, please complete your order by 5 pm on Friday, allowing enough time for picking and packing. Please note we don't ship or deliver on UK Bank Holidays.

Are there any restrictions?

Our next-day delivery is available for 99% of the UK mainland. However, some Scottish mainland postcodes may incur higher charges. Saturday delivery serves mainland England, Wales, Edinburgh, and Glasgow. Regrettably, it doesn't cover Aberdeen, the Highlands, or the following postcodes: PA, FK, DD, AD, PH, IV, KO, HS, BT, KA, and KY.

Do you make deliveries to Northern Ireland?

Certainly, we do deliver to Northern Ireland. Kindly allow 5 to 7 working days for your order to arrive.

Do you make deliveries to more remote areas of the UK?

Indeed, we deliver to the Islands and Highlands. Delivery times for these areas are based on your order's weight, and typically take 7-10 working days.

I want to make a very large order.

We regard an order as large when it consists of 20 cases or more, with each case containing 12 bottles/cans. Although next-day delivery isn't guaranteed for such orders, we'll ensure delivery within three working days from the order date.

If you need to contact us for any reason please use the contact option on our website here.

Don't forget your order number and to send us a photo.

Please check your delivery as soon as you receive it as we can't give a refund if it is more than 24 hours after delivery.

More information available here
Choosing a selection results in a full page refresh.
Opens in a new window.