Free Delivery Over £69*
5% off for new customers using code WELCOME
4.86/5 on Trusted Shops
0.0% ABV | 750ml Bottle
Regular price
Sale price
$11.00
Unit price
per
Offer
Hold Tight - Being Restocked Shortly
In stock
Experience the enchantment of a truly exceptional alcohol-free white wine with Vintense Sauvignon Blanc. This exquisite beverage transports you on a sensory journey, capturing the very essence of what makes the Sauvignon Blanc varietal so revered amongst wine enthusiasts.
The Vintense Sauvignon Blanc is more than just a wine; it's a celebration of the senses. Each bottle encapsulates the vibrant soul of its grape, offering a non-alcoholic alternative that refuses to compromise on flavour and complexity. Its bouquet is a fragrant symphony, where notes of zesty lemon and ripe pink grapefruit perform in harmonious balance, intertwined with subtle herbaceous whispers that evoke the lush vineyards from which they were born.
The wine's appearance is a visual poetry, a pale yellow canvas painted with strokes of green highlights, inviting you to dive into its refreshing depths. Its taste is an ode to fruity vivacity, a cascade of lemony freshness adorned with the delicate floral notes of elderflower. This is a wine that sings with the joy of spring, its sweet finish leaving a lingering promise of the next sip.
Vintense Sauvignon Blanc is not just a beverage; it's an experience, an escape to a world where the spirit of the vine is celebrated without the need for alcohol. It's perfect for those special moments when you desire the sophistication of a fine wine but prefer to stay alcohol-free. Whether it's a toast to an achievement, a companion to a delightful meal, or simply a treat to unwind with at the end of a long day, this wine stands as a testament to the possibility of indulgence without compromise.
Join us in raising a glass to the artistry and innovation behind Vintense Sauvignon Blanc. Let yourself be carried away by its fruity vivacity and unique character. Here's to moments of delectation where taste and satisfaction go hand in hand, to a sensory adventure that redefines the very essence of alcohol-free white wines.
Share
Curious to explore our range? You don't have to settle for just one. At DryDrinker, we offer
'Pick Your Own'
mixed cases. Handpick a selection of different products to discover your new favourites without getting too much of one kind.
Stuart's Product of the Month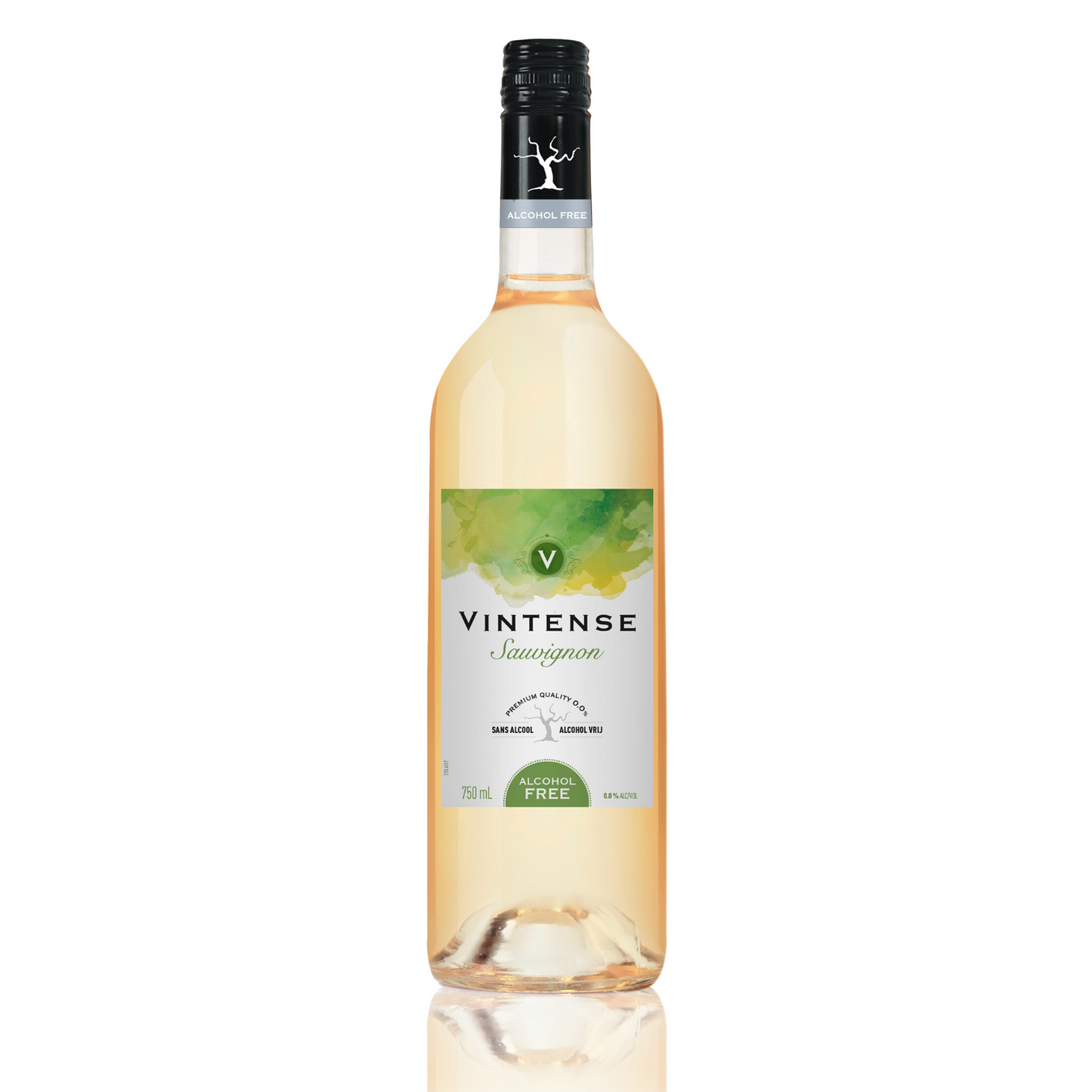 Collapsible content
Tasting notes

Vintense Sauvignon Blanc Tasting Notes:

Appearance: Upon pouring, the Vintense Sauvignon Blanc greets the eye with a pale yellow hue, adorned with playful green highlights, reminiscent of young, sunlit leaves in springtime vineyards. This visual allure promises a fresh and vibrant experience.

Aroma: The initial aroma tantalizes the senses with a lively burst of lemon zest and pink grapefruit, embodying the quintessential freshness of the Sauvignon Blanc grape. As the wine breathes, it reveals an herbaceous touch, evoking the scents of a dew-kissed, early morning garden.

Taste: The palate is greeted with a supple attack, inviting you into a world where the vivacity of lemony notes dances gracefully with hints of elderflower. This harmonious blend creates a symphony of flavours, both refreshing and complex. The finish is characterized by a gentle sweetness, a delicate embrace that lingers, beckoning the next sip.

Alternative: Vintense Sauvignon Blanc stands as a non-alcoholic alternative for those who appreciate a lively and fruity wine with character. Its vibrant personality makes it a delightful companion to a wide array of gastronomic adventures, catering to both the casual drinker and the discerning palate.

Experience the essence of Sauvignon Blanc, crafted with care by Vintense. Whether you're toasting to a special occasion or simply enjoying the everyday, this alcohol-free white wine promises a journey of sensory delight, one glass at a time.

Food Pairings

Embark on a culinary voyage with the Vintense Sauvignon Blanc, a non-alcoholic wine that opens up a realm of pairing possibilities. Its refreshing profile and aromatic complexity make it a versatile companion to a myriad of dishes. Here's how to elevate your dining experience with this delightful wine:

Seafood Symphony: The wine's lemony zest and herbaceous undertones brilliantly complement the delicate flavours of seafood. Try it with oysters, a classic pairing that sings with freshness, or with grilled prawns, where the wine's citrus notes dance alongside the smoky, sweet taste of the sea.
Vegetarian Delights: The green highlights of the wine beautifully match with leafy salads, especially those incorporating goat cheese and vinaigrette dressing. Its crispness also makes it an excellent partner for asparagus spears drizzled in lemon butter or a refreshing Greek salad.
Poultry Perfection: Chicken dishes, particularly those with a lemon or herb focus, are elevated when accompanied by Vintense Sauvignon Blanc. A chicken piccata or a herbed chicken salad would find a harmonious match in this wine.
Spice and Everything Nice: The wine's vibrant character can stand up to the spices and tanginess in Thai or Vietnamese cuisine. Pair it with a spicy green curry or fresh spring rolls for an explosion of complementary flavours.
Cheese Course: Sauvignon Blanc and goat cheese is a classic pairing, the tangy sharpness of the cheese blending seamlessly with the wine's acidity. A cheese platter featuring goat cheese, feta, and other fresh cheeses alongside some fruit chutneys would be ideal.

The Vintense Sauvignon Blanc, with its lively character and flavourful personality, is an adventurous partner to a diverse range of dishes. Its versatility in pairing makes it not just a beverage but an integral part of the culinary experience, enhancing flavours and bringing a touch of elegance to any meal. Explore these pairings and discover the delightful harmony this alcohol-free white wine brings to your table.
Serving Suggestions

Indulge in the elegance of Vintense Sauvignon Blanc Alcohol-Free White Wine with these curated serving suggestions. Its bright and lively character makes it not just a beverage, but a centrepiece of any occasion. Here are some ideas to enhance your experience:

Glassware: Serve this non-alcoholic Sauvignon Blanc in a white wine glass with a tapered mouth to focus the aromatics. The right glassware can accentuate the wine's delicate floral and citrus aromas, enhancing the tasting experience.
Temperature: Chill the wine to about 8-10°C (46-50°F) before serving. A cooler temperature highlights the wine's crisp acidity and lively fruit flavours, making it more refreshing.
Outdoor Gatherings: This wine is a perfect companion for al fresco dining or garden parties. Its refreshing nature complements sunny days and outdoor settings, making it an ideal choice for picnics, barbecues, or beach outings.
Elegant Dinners: Elevate your dinner parties by serving Vintense Sauvignon Blanc as an aperitif or with light appetizers. Its sophisticated profile adds an air of refinement and pairs beautifully with delicate hors d'oeuvres.
Creative Cocktails: Use it as a base for alcohol-free cocktails. Mix it with sparkling water and a splash of elderflower cordial for a refreshing spritzer, or blend it with tropical fruit juices for a non-alcoholic sangria that everyone can enjoy.

With these serving suggestions, Vintense Sauvignon Blanc Alcohol-Free White Wine becomes more than just a drink—it's a versatile companion that elevates every occasion. Whether you're hosting an elegant dinner, enjoying a casual outdoor gathering, or crafting creative mocktails, this wine offers a multitude of possibilities to delight your senses.
About Vintense

Discover the beautiful world of Vintense non-alcoholic wines, expertly crafted to deliver an authentic wine experience without alcohol. Our carefully selected range features delectable reds, refreshing whites, and delicate rosés, each brimming with rich flavours, tantalising aromas, and perfect balance. Indulge in our Vintense Origin, Fine Bubbles, and Ice range collection, crafted from high-quality grape varieties such as Gewurztraminer, Riesling, and Cabernet Sauvignon.

Embrace the sophisticated taste of Vintense, the ultimate choice for health-conscious wine lovers and mindful drinkers seeking a guilt-free alternative for social occasions, elegant dinners, and relaxed evenings. With Vintense, you can savour the complexities and nuances of traditional wine while enjoying the benefits of low-calorie, vegan-friendly, and alcohol-free beverages.
Vintense Sauvignon Blanc Alcohol Free White Wine
Nutritional Information Per 100ml
| Nutrient | Amount |
| --- | --- |
| Energy (Kcal) | 16kcal |
| Energy (kJ) | 69KJ |
| Fat | 0g |
| Sodium | 0g |
| Carbs | 4.5g |
| Sugars | 6.5g |
| Protein | 0g |
Disclaimer: At Dry Drinker, we take great care to ensure the accuracy of product information displayed on our website. However, product recipes may change periodically, impacting nutrition and allergen information. As a result, we advise that you always review product labels and not rely solely on the information presented on our website.
For specific advice regarding any Dry Drinker or ZeroHero™ branded products, please contact our Customer Care Team. For all other products, we recommend reaching out to the manufacturer directly.
The information provided on our website is intended for personal use only. Reproducing this information in any form without the prior consent of Dry Drinker Limited or without proper acknowledgement is strictly prohibited.
Collapsible content
Delivery & Returns

How Much is Delivery?

Enjoy free delivery on orders over £69 when placed before 5 pm.

For orders below £69, a standard delivery charge of £5.99 applies.

Most orders placed by 5 pm will typically be delivered on the next working day.

Do you deliver at the weekend?

Saturday Delivery is available for £8.99. To ensure timely dispatch, please complete your order by 5 pm on Friday, allowing enough time for picking and packing. Please note we don't ship or deliver on UK Bank Holidays.

Are there any restrictions?

Our next-day delivery is available for 99% of the UK mainland. However, some Scottish mainland postcodes may incur higher charges. Saturday delivery serves mainland England, Wales, Edinburgh, and Glasgow. Regrettably, it doesn't cover Aberdeen, the Highlands, or the following postcodes: PA, FK, DD, AD, PH, IV, KO, HS, BT, KA, and KY.

Do you make deliveries to Northern Ireland?

Certainly, we do deliver to Northern Ireland. Kindly allow 5 to 7 working days for your order to arrive.

Do you make deliveries to more remote areas of the UK?

Indeed, we deliver to the Islands and Highlands. Delivery times for these areas are based on your order's weight, and typically take 7-10 working days.

I want to make a very large order.

We regard an order as large when it consists of 20 cases or more, with each case containing 12 bottles/cans. Although next-day delivery isn't guaranteed for such orders, we'll ensure delivery within three working days from the order date.

If you need to contact us for any reason please use the contact option on our website here.

Don't forget your order number and to send us a photo.

Please check your delivery as soon as you receive it as we can't give a refund if it is more than 24 hours after delivery.

More information available here
Choosing a selection results in a full page refresh.
Opens in a new window.