Free Delivery Over £69*
10% off for new customers using code WELCOME
4.86/5 on Trusted Shops
0.5% ABV | 500ml Cans
Regular price
Sale price
£16.00
Unit price
per
Offer
Hold Tight - Being Restocked Shortly
In stock
Embark on an interstellar voyage with ALIEN FORM, a Fruity AF IPA crafted for those with a spirit of curiosity. Designed for the discerning dry drinker, this alcohol-free brew stands as a beacon for those who dare to be different.
From the first sup, be transported to distant realms. Envision the lushest citrus orchards on an alien world, melding seamlessly with the wild, pine-scented woods of uncharted galaxies. Each note of this IPA is a journey - a vivid reminder of fruits still undiscovered and adventures awaiting.
Its bewitching pale gold shade resembles a sundown on an elusive exoplanet, teasing the marvels within it. The inviting aromas pledge a universe of wonder: robust citrus, mystical pine, and the timeless charm of malt.
Yet, the true enchantment is in its flavour. Celestial fruity notes whisk you across the cosmos, a symphony of sensation in every sip. And while the experience might feel otherworldly, rest assured it's rooted in pure, vegan ingredients, expertly amalgamated to guarantee a transcendent tasting voyage.
Harnessing the pioneering biotransformation of Thiolised yeast, ALIEN FORM delivers all the euphoria of a starlit expedition right from the comfort of your local.
Encased in a 500ml can, ALIEN FORM is not just a beverage. It's a call to venture beyond the familiar, to seek out novel tastes, and to bravely journey where no drinker has tread before.
Share
Curious to explore our range? You don't have to settle for just one. At DryDrinker, we offer
'Pick Your Own'
mixed cases. Handpick a selection of different products to discover your new favourites without getting too much of one kind.
View full details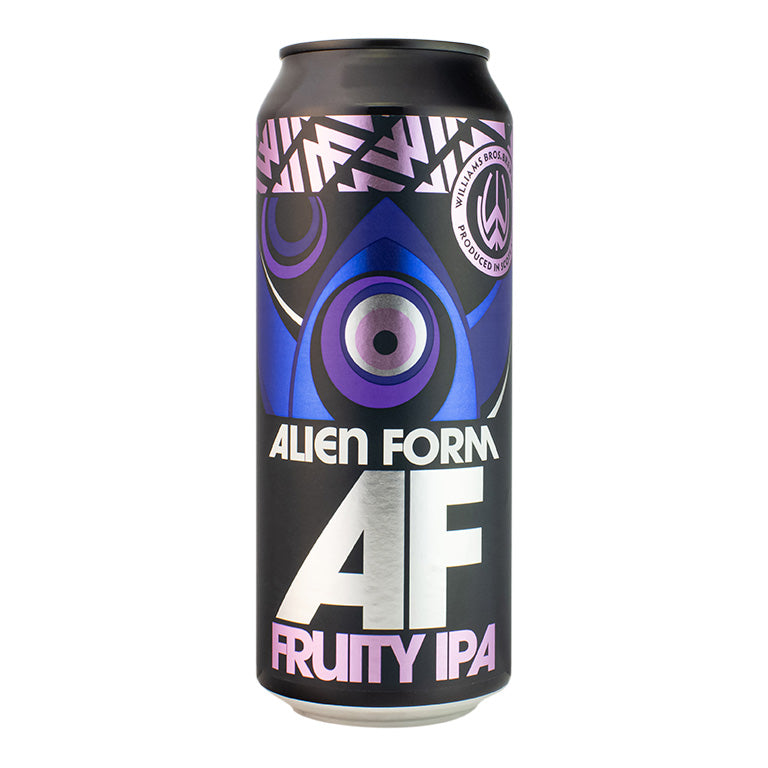 Collapsible content
Tasting notes

Appearance: A captivating pale gold that captures light like a far-off star. It presents with a gentle haze, reminiscent of distant nebulae, hinting at the mysteries held within.

Aroma: Upon the nose, it's a celestial journey. Leading with vibrant bursts of citrus, there's a tale of far-off orchards floating in space. Trails of aromatic pine hint at alien forests, while a gentle undercurrent of malt provides an anchoring, earthly nostalgia.

Taste: The first sip is a sensory starship ride. Boldly fruity at the forefront, it brings to mind juices from fruits not of this Earth. The juiciness is complemented by an ethereal touch, truly out of this world. Hints of malt, pine, and a galaxy of hop varieties (Cascade, Citra, Mosaic, Amarillo, Sabro, Galaxy) intermingle, creating a cosmic dance on the palate.

Mouthfeel: Smooth and quenching, like the soft atmosphere of a serene planet. The low IBUs of 25 ensure that bitterness is kept in check, making for a balanced and easy-drinking experience.

Finish: It concludes with a gentle linger, a reminder of the interstellar journey, leaving the adventurer yearning for the next cosmic sip.
Food Pairings

Light Bites:

Avocado Toast: The creamy texture and subtle flavour of avocado contrasts with the beer's fruity notes, creating a harmonious pairing.
Mixed Olives: Their briny and slightly bitter taste complements the beer's mild bitterness and enhances its fruity profile.

Hearty Dishes:

Grilled Vegetable Platter: Charred courgettes, bell peppers, and aubergines highlight the beer's piney undertones.
Spicy Lentil Soup: The warming spices in the soup will be beautifully offset by the IPA's citrusy brightness, creating a comforting match.

Protein-Rich Choices:

Chickpea & Spinach Curry: The earthy tones of chickpeas and spinach work well with the fruity and malty notes of the beer.
Tofu Stir-Fry: A medley of vegetables and tofu, stir-fried with soy and a hint of ginger, pairs wonderfully, offering a delightful interplay of textures and tastes.

Cheeses:

Vegan Soft Cheese: A creamy vegan cheese with herbs pairs nicely, as the creaminess balances the beer's effervescence.
Matured Vegan Cheddar: The sharpness and umami of a well-aged vegan cheddar can be a delightful counterpoint to the beer's citrus profile.

Sweet Treats:

Lemon Sorbet: The tangy citrusy notes of the sorbet will enhance the beer's fruity character, offering a refreshing palate cleanser.
Fruit Tart: A tart filled with berries or citrus fruits can harmonize with the beer's fruit-forward profile, making for a delightful dessert pairing.
Serving Suggestions

Glassware:

Opt for a tulip-shaped IPA glass. Its design helps concentrate the aromatic compounds, allowing the drinker to fully appreciate the complex aromas of citrus, pine, and malt.

Temperature:

Serve chilled, ideally between 4°C to 7°C. This temperature range accentuates the beer's vibrant fruity notes while balancing the malt undertones.

Pouring:

Hold the glass at a 45° angle and pour the beer, targeting the middle of the glass side. As the liquid fills up, straighten the glass to achieve the perfect head - about one to two fingers thick. This ensures the release of aromas and provides a visually appealing drink.

Accompaniments:

Consider a small bowl of salted mixed nuts or light crisps. Their saltiness can contrast and accentuate the beer's fruity nuances.

For the Explorer:

Pair with a light stargazing session on a clear evening. The cosmic vibes of ALIEN FORM and the mysteries of the universe make for an unmatched combo!

For the Indoor Adventurer:

Play ambient space or cosmic-themed music in the background. The combination of otherworldly tunes and this interstellar beer can transport you to distant galaxies from the comfort of your seat.
About Williams Bros.

The Tale of Williams Bros. Brewing Co.

In the heart of Scotland, the story of Williams Bros. began not with a grand brewery but rather with a family-owned homebrew shop in Glasgow. It was here that a fateful encounter in the 1980s set the stage for one of Scotland's most innovative breweries.

A woman walked into the shop one day with a curious proposition. In exchange for help translating an old Gaelic recipe into a brewable formula, she would share with them the ancient recipe for "Leann Fraoch" (or "Heather Ale"). This brew, steeped in legend and history, was said to have been enjoyed by the Scots since 2000 B.C.

Seeing the potential and intrigued by the challenge, Bruce Williams, aided by his brother Scott, embarked on the adventure of reviving this almost-forgotten ale. The result was "Fraoch," a beer that paid homage to Scotland's rich brewing heritage.

The success of Fraoch sparked a flame of inspiration. Williams Bros. then began a journey of unearthing and reviving other historical Scottish ales. From the spruce-infused "Alba" to the elderberry-flavoured "Ebulum", each beer told a tale of ancient Scottish traditions and tastes.

From these humble beginnings, the brewery grew in both size and reputation. Today, Williams Bros. Brewing Co. stands as a testament to innovation, dedication, and a deep love for brewing. While they have expanded their range to include contemporary recipes and styles, their heart remains rooted in the stories and flavours of Scotland's past.

In every sip of a Williams Bros. brew, one can taste not just malt and hops but the legends, landscapes, and lore of Scotland itself.
Williams Bros Alien Form - Non Alcoholic Fruity IPA
Nutritional Information per 100ml
| Nutrient | Amount |
| --- | --- |
| Energy (Kcal) | 24Kcal |
| Energy (kJ) | 103kJ |
| Fat | 0g |
| Sodium | 0.1g |
| Carbs | 5.5g |
| Sugars | 2.3g |
| Protein | 0.1g |
Ingredients:&nbsp Water, Malted Barley, Oats, Hops, Wheat, yeast. Hops: Cascade, Citra, Amarillo, Mosaic, Galaxy, Sabro. Grains: Pale Malt, Torrified Wheat, Oats, Dextrine Malt, Cara Gold, Munich Malt
Disclaimer: At Dry Drinker, we take great care to ensure the accuracy of product information displayed on our website. However, product recipes may change periodically, impacting nutrition and allergen information. As a result, we advise that you always review product labels and not rely solely on the information presented on our website.
For specific advice regarding any Dry Drinker or ZeroHero™ branded products, please contact our Customer Care Team. For all other products, we recommend reaching out to the manufacturer directly.
The information provided on our website is intended for personal use only. Reproducing this information in any form without the prior consent of Dry Drinker Limited or without proper acknowledgement is strictly prohibited.
Collapsible content
Delivery & Returns

How Much is Delivery?

Enjoy free delivery on orders over £69 when placed before 5 pm.

For orders below £69, a standard delivery charge of £4.99 applies.

Most orders placed by 5 pm will typically be delivered on the next working day.

Do you deliver at the weekend?

Saturday Delivery is available for £8.99. To ensure timely dispatch, please complete your order by 5 pm on Friday, allowing enough time for picking and packing. Please note we don't ship or deliver on UK Bank Holidays.

Are there any restrictions?

Our next-day delivery is available for 99% of the UK mainland. However, some Scottish mainland postcodes may incur higher charges. Saturday delivery serves mainland England, Wales, Edinburgh, and Glasgow. Regrettably, it doesn't cover Aberdeen, the Highlands, or the following postcodes: PA, FK, DD, AD, PH, IV, KO, HS, BT, KA, and KY.

Do you make deliveries to Northern Ireland?

Certainly, we do deliver to Northern Ireland. Kindly allow 5 to 7 working days for your order to arrive.

Do you make deliveries to more remote areas of the UK?

Indeed, we deliver to the Islands and Highlands. Delivery times for these areas are based on your order's weight, and typically take 7-10 working days.

I want to make a very large order.

We regard an order as large when it consists of 20 cases or more, with each case containing 12 bottles/cans. Although next-day delivery isn't guaranteed for such orders, we'll ensure delivery within three working days from the order date.

If you need to contact us for any reason please use the contact option on our website here.

Don't forget your order number and to send us a photo.

Please check your delivery as soon as you receive it as we can't give a refund if it is more than 24 hours after delivery.

More information available here
Choosing a selection results in a full page refresh.
Opens in a new window.