Free Delivery Over £69*
5% off for new customers using code WELCOME
4.86/5 on Trusted Shops
0.0% ABV | 750ml Bottle
Regular price
Sale price
$11.00
Unit price
per
Offer
Hold Tight - Being Restocked Shortly
In stock
Vintense Merlot - A Non-Alcoholic Delight
Discover the enchanting world of Vintense Merlot, where the tradition of winemaking meets the modern desire for health and well-being. This non-alcoholic red wine is crafted with the utmost care, selecting only the finest Merlot grapes known for their vibrant flavours and sumptuous aromas.
Every bottle of Vintense Merlot is a testament to the art of winemaking without the alcohol. Through an innovative process, the alcohol is gently removed, leaving behind the pure essence and complexity of a traditional Merlot. Its light garnet appearance is a visual treat, setting the stage for a sensorial journey.
The bouquet of intense, yeasty notes with hints of stewed red fruits, blackberry, and raspberry jam captivates the senses. On the palate, a supple attack gives way to light and round tannins, unfurling into a rich tapestry of flavours reminiscent of plum, prune, and blackcurrant, with a subtle backdrop of toasted and toasted nuances.
Vintense Merlot is more than just a non-alcoholic wine; it's a celebration of life's pleasures, offering a guilt-free indulgence for those moments that call for a toast. Whether it's a special occasion or a simple dinner at home, Vintense Merlot adds a touch of sophistication without compromising your well-being.
Embrace the harmony of flavour and health with Vintense Merlot - a non-alcoholic red wine that stands as a beacon of pleasure and wellness. Here's to moments of joy, shared memories, and the delightful journey of taste that Vintense Merlot offers, one sip at a time.
Share
Curious to explore our range? You don't have to settle for just one. At DryDrinker, we offer
'Pick Your Own'
mixed cases. Handpick a selection of different products to discover your new favourites without getting too much of one kind.
Stuart's Product of the Month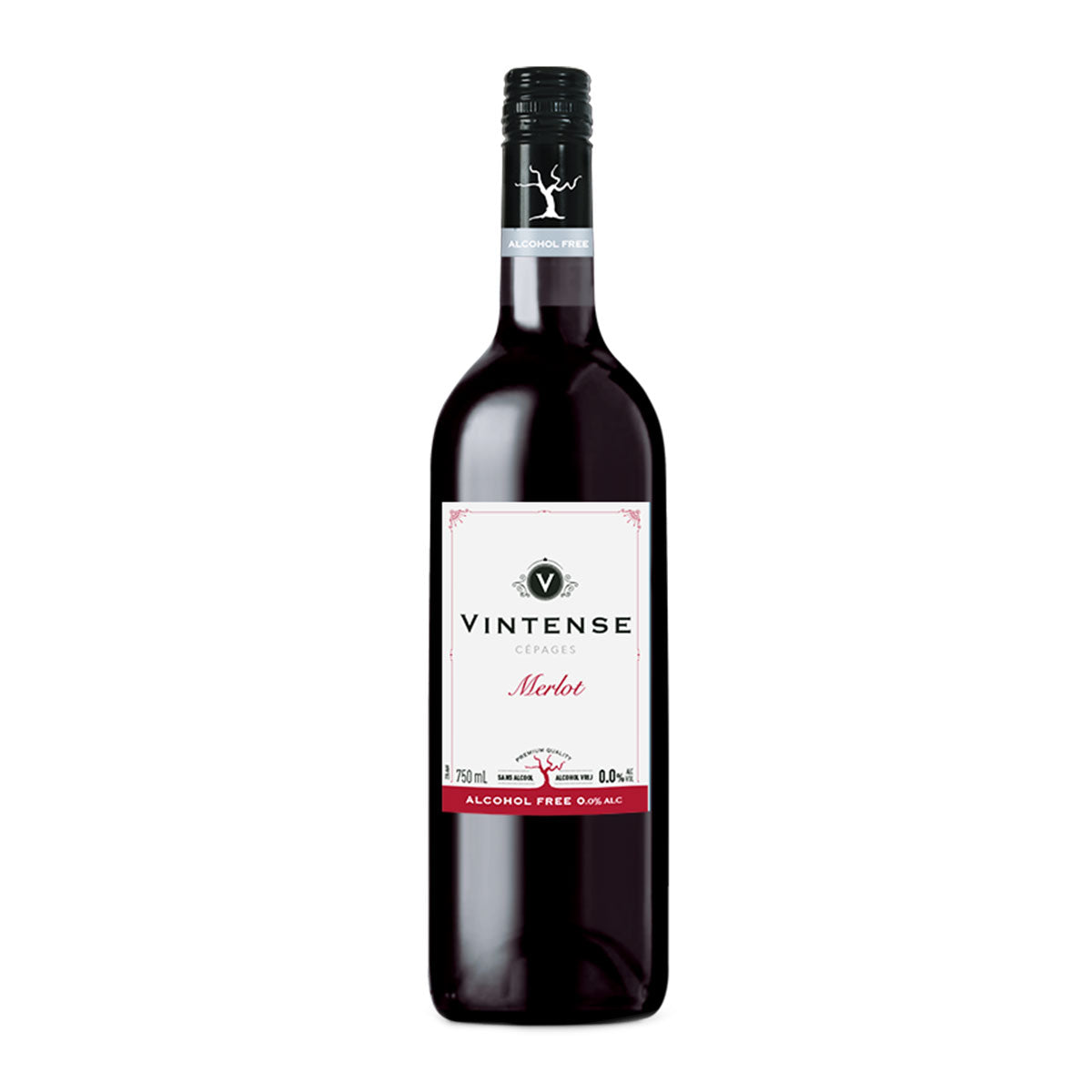 Collapsible content
Tasting notes

Vintense Merlot Alcohol-Free Red Wine Tasting Notes:

Embark on a sensorial journey with the Vintense Merlot Alcohol-Free Red Wine, a testament to the exquisite craft of winemaking without the alcohol. Here are the detailed tasting notes for this intriguing beverage:

Appearance: The Vintense Merlot exhibits a captivating light garnet colour, akin to finely cut gemstones, inviting the connoisseur into its rich and elegant world.

Aroma: An intense aromatic experience begins with yeasty notes, paving the way for a symphony of stewed red fruits. Dominant fragrances of blackberry and raspberry jam interweave, creating an olfactory tapestry reminiscent of a late summer orchard.

Taste: Upon the palate, the wine delivers a supple attack, enveloping the taste buds in a smooth and velvety embrace. Light yet round tannins provide a delicate structure, leading to an intricate dance of flavours. Notes of plum, prune, and blackcurrant unfold in succession, each wave of taste building upon the last. The experience culminates in a graceful finale of toasted and toasted undertones, paying homage to the storied tradition of winemaking.

Alternative: As a non-alcoholic option, Vintense Merlot stands as a testament to the light, fruity essence of red wine, characterized by its exceptionally round tannins. It is a beverage that truly encapsulates the essence of its alcoholic counterpart, offering a sophisticated and enjoyable experience for all.
Food Pairings

Engage your palate with the harmonious dance of flavours that the Vintense Merlot - Alcohol Free Red Wine brings to the table. Its versatile profile makes it the perfect partner for a wide array of dishes, elevating your culinary experience.

Hearty Stews and Casseroles: The robust nature of Vintense Merlot complements the richness of slow-cooked stews and casseroles. Its fruity undertones provide a delightful contrast to the savoury depth of these dishes.
Grilled Vegetables and Roasted Root Veggies: The light tannins and jammy notes of this alcohol-free Merlot accentuate the earthy flavours of grilled aubergines, bell peppers, and roasted root vegetables like carrots and beets.
Italian Classics: Embrace the Mediterranean flavours by pairing Vintense Merlot with tomato-based pasta dishes, pizza, or a hearty lasagne. The wine's acidity balances the tomato's sweetness, while its fruitiness intertwines with the herbs and spices.
Cheese Platters: Create a delightful cheese board with a selection of soft cheeses like Brie and Camembert, or aged varieties like Gouda and Cheddar. The wine's round tannins complement the creaminess and richness of cheese.
Chocolate and Berry Desserts: Indulge in the classic pairing of red wine and chocolate. The Vintense Merlot's fruity notes echo the sweetness of chocolate and berry desserts, making for an exquisite finish to any meal.

Vintense Merlot - Alcohol Free Red Wine is not just a beverage; it's a key ingredient in creating unforgettable dining experiences. From cosy dinners at home to festive gatherings, let this non-alcoholic Merlot enhance the flavours of your favourite dishes and become a staple at your table.
Serving Suggestions

Discover the art of serving Vintense Merlot - Alcohol Free Red Wine to elevate your drinking experience. This versatile non-alcoholic red wine offers a multitude of ways to be enjoyed, whether you're dining solo, hosting a gathering, or simply unwinding after a long day.

At the Ideal Temperature: Serve Vintense Merlot slightly chilled, between 16-18°C. This temperature range accentuates the wine's fruity nuances and smooth tannins, making it more refreshing and approachable.
In the Right Glass: Pour the wine into a wide-bowled red wine glass. The generous surface area allows the wine to breathe, enhancing the aromatic profile and allowing the subtle complexities to shine through.
As a Dinner Companion: Pair Vintense Merlot with your favorite meals, using the food pairing suggestions as a guide. The wine's versatility makes it a delightful addition to various cuisines, enhancing the dining experience.
In Creative Mocktails: Use Vintense Merlot as a base for alcohol-free cocktails. Mix it with sparkling water, a splash of fruit juice, and garnish with fresh berries or a citrus twist for a sophisticated mocktail.
During Special Occasions: Celebrate life's milestones and special moments with a glass of Vintense Merlot. Its elegant profile and alcohol-free nature make it inclusive for all guests, ensuring everyone can raise a toast in celebration.

Vintense Merlot - Alcohol Free Red Wine is a testament to the beauty of non-alcoholic alternatives. Serve it with care and creativity, and let it become a cherished part of your beverage repertoire.
About Vintense

Discover the beautiful world of Vintense non-alcoholic wines, expertly crafted to deliver an authentic wine experience without alcohol. Our carefully selected range features delectable reds, refreshing whites, and delicate rosés, each brimming with rich flavours, tantalising aromas, and perfect balance. Indulge in our Vintense Origin, Fine Bubbles, and Ice range collection, crafted from high-quality grape varieties such as Gewurztraminer, Riesling, and Cabernet Sauvignon.

Embrace the sophisticated taste of Vintense, the ultimate choice for health-conscious wine lovers and mindful drinkers seeking a guilt-free alternative for social occasions, elegant dinners, and relaxed evenings. With Vintense, you can savour the complexities and nuances of traditional wine while enjoying the benefits of low-calorie, vegan-friendly, and alcohol-free beverages.
Vintense Merlot - Alcohol Free Red Wine
Nutritional Information Per 100ml
| Nutrient | Amount |
| --- | --- |
| Energy (Kcal) | 17kcal |
| Energy (kJ) | 72KJ |
| Fat | 0g |
| Sodium | 0g |
| Carbs | 3.9g |
| Sugars | 3.9g |
| Protein | 0g |
Disclaimer: At Dry Drinker, we take great care to ensure the accuracy of product information displayed on our website. However, product recipes may change periodically, impacting nutrition and allergen information. As a result, we advise that you always review product labels and not rely solely on the information presented on our website.
For specific advice regarding any Dry Drinker or ZeroHero™ branded products, please contact our Customer Care Team. For all other products, we recommend reaching out to the manufacturer directly.
The information provided on our website is intended for personal use only. Reproducing this information in any form without the prior consent of Dry Drinker Limited or without proper acknowledgement is strictly prohibited.
Collapsible content
Delivery & Returns

How Much is Delivery?

Enjoy free delivery on orders over £69 when placed before 5 pm.

For orders below £69, a standard delivery charge of £5.99 applies.

Most orders placed by 5 pm will typically be delivered on the next working day.

Do you deliver at the weekend?

Saturday Delivery is available for £8.99. To ensure timely dispatch, please complete your order by 5 pm on Friday, allowing enough time for picking and packing. Please note we don't ship or deliver on UK Bank Holidays.

Are there any restrictions?

Our next-day delivery is available for 99% of the UK mainland. However, some Scottish mainland postcodes may incur higher charges. Saturday delivery serves mainland England, Wales, Edinburgh, and Glasgow. Regrettably, it doesn't cover Aberdeen, the Highlands, or the following postcodes: PA, FK, DD, AD, PH, IV, KO, HS, BT, KA, and KY.

Do you make deliveries to Northern Ireland?

Certainly, we do deliver to Northern Ireland. Kindly allow 5 to 7 working days for your order to arrive.

Do you make deliveries to more remote areas of the UK?

Indeed, we deliver to the Islands and Highlands. Delivery times for these areas are based on your order's weight, and typically take 7-10 working days.

I want to make a very large order.

We regard an order as large when it consists of 20 cases or more, with each case containing 12 bottles/cans. Although next-day delivery isn't guaranteed for such orders, we'll ensure delivery within three working days from the order date.

If you need to contact us for any reason please use the contact option on our website here.

Don't forget your order number and to send us a photo.

Please check your delivery as soon as you receive it as we can't give a refund if it is more than 24 hours after delivery.

More information available here
Choosing a selection results in a full page refresh.
Opens in a new window.