Free Delivery Over £69*
5% off for new customers using code WELCOME
4.86/5 on Trusted Shops
0.5% ABV | 330ml Cans
Regular price
Sale price
$32.00
Unit price
per
Offer
Hold Tight - Being Restocked Shortly
In stock
Discover the meticulously crafted Funky Fluid and HAYB - Free Topic Non-Alcoholic, a beverage that offers the full experience of a specialty craft creation, with the added benefit of being alcohol-free. This beverage represents a new frontier in the realm of non-alcoholic offerings, where the focus is on flavour complexity and crafting excellence.
Each can of Free Topic Non-Alcoholic is the result of a collaborative effort between two innovative teams: Funky Fluid and HAYB. Their shared passion for brewing excellence and a commitment to quality ingredients culminate in this non-alcoholic beverage that stands out in both sophistication and drinkability.
The dedication to an authentic craft experience is evident in every aspect of the product. From the careful selection of ingredients to the precision of the brewing process, no detail is overlooked. This beverage is not just a substitute for its alcoholic counterparts; it is a standalone masterpiece that invites both connoisseurs and casual drinkers to enjoy without compromise.
Free Topic Non-Alcoholic is versatile and suited to a variety of occasions, whether it's a casual gathering, a formal event, or a quiet moment of relaxation. It pairs wonderfully with a broad range of cuisines and serves as a delightful refreshment at any time of day.
With its appealing branding and innovative approach, Funky Fluid and HAYB - Free Topic Non-Alcoholic is more than just a drink—it's a statement. It's for the forward-thinkers, the trendsetters, and those who seek to enjoy the finer things in life, responsibly and inclusively.
Join us in celebrating the art of brewing and the joy of discovery with Funky Fluid and HAYB's Free Topic Non-Alcoholic — where every sip is an invitation to explore the boundless possibilities of non-alcoholic craft beverages.
Share
Curious to explore our range? You don't have to settle for just one. At DryDrinker, we offer
'Pick Your Own'
mixed cases. Handpick a selection of different products to discover your new favourites without getting too much of one kind.
Stuart's Product of the Month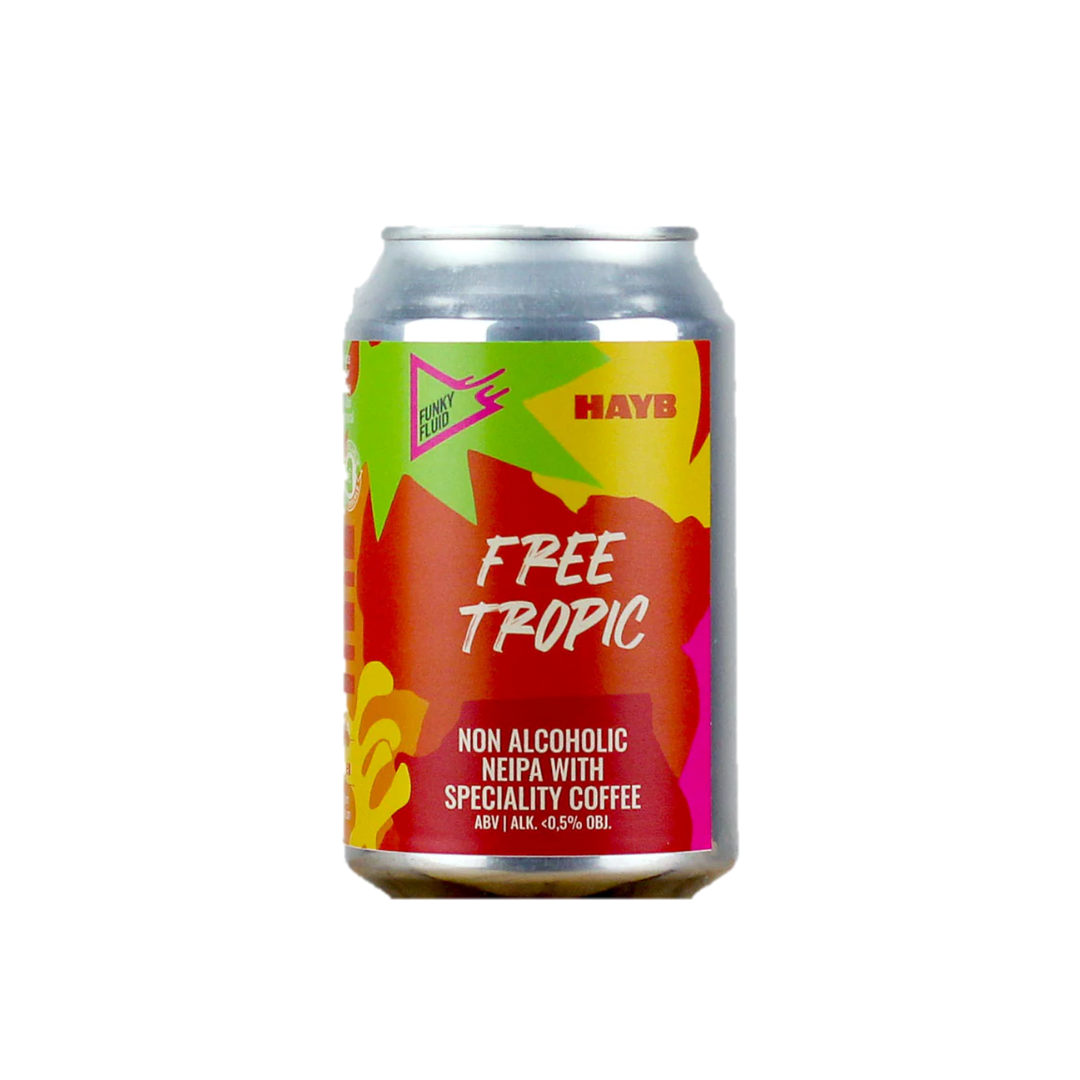 Collapsible content
Tasting notes

Funky Fluid and HAYB - Free Topic Tasting Notes:

Embark on a sensory journey with the intricate profile of the Funky Fluid and HAYB - Free Topic Non-Alcoholic Neipa. Crafted for those who appreciate the complexity of craft beverages without the alcohol, each sip reveals a tapestry of flavours.

Appearance: Pours a radiant golden hue with a frothy white head, offering a visual promise of the crisp experience to follow. The effervescence sparkles, inviting the first sip.

Aroma: The aroma is a symphony of citrus zest and tropical fruit, with whispers of floral and herbaceous notes. The initial encounter with the nose hints at the complexity and refreshing character of this beverage.

Flavour: The palate is greeted with a harmonious blend of sweet and tart flavours. Notes of lemon, grapefruit, and a subtle tropical sweetness reminiscent of mango and passionfruit dance across the tongue. The absence of alcohol allows the purity and intensity of the flavours to shine through unfettered.

Mouthfeel: The mouthfeel is light and clean, with a balanced carbonation that adds a pleasant tingle without overwhelming the subtle nuances of the flavour profile. It finishes smoothly, leaving a refreshing aftertaste that invites another taste.

Finish: The finish is crisp and satisfying, with a lingering fruity and floral presence that maintains the refreshing essence of the beverage, making it perfect for savouring on any occasion.

Funky Fluid and HAYB - Free Topic Non-Alcoholic is a testament to the art of non-alcoholic craft brews, where every element is meticulously balanced to create a refreshing and flavorful experience.
Food Pairings

Embark on a culinary adventure with Funky Fluid and HAYB - Free Topic Non-Alcoholic, an exemplary beverage that complements an array of gastronomic delights. Its versatile flavour profile allows it to harmonize with a broad spectrum of dishes, enhancing both the drink and the dining experience.

Imagine starting your meal with a plate of delicate sushi, where the Free Topic's clean and refreshing essence acts as a palate cleanser between each exquisite bite. As you transition to the main course, consider a classic Margherita pizza. The subtle complexities of the beverage cut through the richness of the mozzarella and the tanginess of the tomato sauce, while its effervescence elevates the basil's freshness.

For those who prefer heartier fare, a grilled vegetable panini, with its layers of zucchini, bell peppers, and aubergines, creates a symphony of flavours when paired with Free Topic Non-Alcoholic. The drink's character mingles with the smokiness of the vegetables, presenting a delightful contrast.

As your meal draws to a close, and the dessert is served, this beverage stands ready to accompany the sweetness with its own brand of sophistication. A lemon tart, with its balance of tartness and sweetness, pairs impeccably with the crisp notes of Free Topic, making each mouthful a celebratory event.

Whether you're indulging in a casual brunch or hosting an elegant dinner, Funky Fluid and HAYB - Free Topic Non-Alcoholic is a consummate companion to your meal, enhancing every flavour and creating a tapestry of taste that is sure to delight the senses.
Serving Suggestions

Welcome to the thoughtful presentation of Funky Fluid and HAYB's Free Topic Non-Alcoholic, where serving is an art that enhances the drinking experience. To fully appreciate the subtle nuances of this artisan beverage, we recommend a few serving tips that will elevate your sensory enjoyment.

Begin by selecting the right vessel; a clear, stemless wine glass is ideal, as it allows the drinker to fully appreciate the colour and aroma of the beverage. The elegance of the glass also adds to the overall experience, reminding one that non-alcoholic does not mean non-special.

Chill the Free Topic to a perfect temperature, slightly cooler than room temperature, to invigorate its inherent flavours without dulling them. Pour gently to preserve its delicate carbonation, which is instrumental in releasing the full range of aromatic compounds.

Consider the ambiance - soft lighting, comfortable seating, and perhaps a backdrop of gentle music can transform the ordinary into the extraordinary. Serving this non-alcoholic specialty in such an environment encourages relaxation and mindful sipping.

For those who appreciate a garnish, a simple twist of citrus peel or a sprig of fresh mint can add a visual flourish and a hint of complementary flavour, ensuring that every sense is engaged in the tasting journey.

Whether enjoyed alone in a moment of solitude or shared amongst friends and family, the serving of Funky Fluid and HAYB - Free Topic Non-Alcoholic is an invitation to savour the moment, sip by sip, with no rush and full appreciation for the craft that has gone into its creation.
About Funky Fluid

Picture this: a group of daring, adventure-seeking beer fanatics band together to embark on a flavourful journey like no other. Their mission? To transform the world of brewing and concoct the most unique, unforgettable, and downright funky beers known to humankind. Enter the world of Funky Fluid, where convention is turned on its head and ordinary just doesn't cut it.

These intrepid brewers revel in experimentation, fearlessly combining bold flavours and avant-garde techniques to create a mind-blowing array of beers that cater to all taste buds. From the hoppy heights of their eye-popping IPAs to the velvety depths of their smooth stouts, Funky Fluid is a taste sensation that will leave you craving more.

At the heart of this flavour factory lies an unquenchable thirst for innovation. The Funky Fluid team are always on the lookout for the latest trends, techniques, and ingredients, weaving them into their brewing wizardry to constantly surprise and delight even the most discerning of beer aficionados.

But it's not all fun and games at Funky Fluid; these brewing mavericks are also dedicated to making the world a better place. They work hand in hand with local suppliers and partners to minimise their environmental footprint and support the communities they love. Because, let's face it, great beer tastes even better when you know it's brewed with a conscience.

So, if you're ready to take a walk on the wild side and explore the thrilling world of Funky Fluid, prepare yourself for a beer experience that defies expectations and will leave you wondering: "Where has this been all my life?"
Funky Fluid and HAYB - Free Topic Non Alcoholic Neipa
Nutritional Information Per Can
| Nutrient | Amount |
| --- | --- |
| Energy (Kcal) | 125KJ |
| Energy (kJ) | 30Kcal |
| Fat | <0.1g |
| Sodium | <0.1g |
| Carbs | 6.3g |
| Sugars | 2.5g |
| Protein | 0.4g |
Disclaimer: At Dry Drinker, we take great care to ensure the accuracy of product information displayed on our website. However, product recipes may change periodically, impacting nutrition and allergen information. As a result, we advise that you always review product labels and not rely solely on the information presented on our website.
For specific advice regarding any Dry Drinker or ZeroHero™ branded products, please contact our Customer Care Team. For all other products, we recommend reaching out to the manufacturer directly.
The information provided on our website is intended for personal use only. Reproducing this information in any form without the prior consent of Dry Drinker Limited or without proper acknowledgement is strictly prohibited.
Collapsible content
Delivery & Returns

How Much is Delivery?

Enjoy free delivery on orders over £69 when placed before 5 pm.

For orders below £69, a standard delivery charge of £5.99 applies.

Most orders placed by 5 pm will typically be delivered on the next working day.

Do you deliver at the weekend?

Saturday Delivery is available for £8.99. To ensure timely dispatch, please complete your order by 5 pm on Friday, allowing enough time for picking and packing. Please note we don't ship or deliver on UK Bank Holidays.

Are there any restrictions?

Our next-day delivery is available for 99% of the UK mainland. However, some Scottish mainland postcodes may incur higher charges. Saturday delivery serves mainland England, Wales, Edinburgh, and Glasgow. Regrettably, it doesn't cover Aberdeen, the Highlands, or the following postcodes: PA, FK, DD, AD, PH, IV, KO, HS, BT, KA, and KY.

Do you make deliveries to Northern Ireland?

Certainly, we do deliver to Northern Ireland. Kindly allow 5 to 7 working days for your order to arrive.

Do you make deliveries to more remote areas of the UK?

Indeed, we deliver to the Islands and Highlands. Delivery times for these areas are based on your order's weight, and typically take 7-10 working days.

I want to make a very large order.

We regard an order as large when it consists of 20 cases or more, with each case containing 12 bottles/cans. Although next-day delivery isn't guaranteed for such orders, we'll ensure delivery within three working days from the order date.

If you need to contact us for any reason please use the contact option on our website here.

Don't forget your order number and to send us a photo.

Please check your delivery as soon as you receive it as we can't give a refund if it is more than 24 hours after delivery.

More information available here
Choosing a selection results in a full page refresh.
Opens in a new window.