Free Delivery Over £69*
5% off for new customers using code WELCOME
4.86/5 on Trusted Shops
0.5% ABV | 500ml Cans
Regular price
Sale price
$42.00
Unit price
per
Offer
Hold Tight - Being Restocked Shortly
In stock
Embark on an imaginative journey of flavours with Funky Fluid's Free Gelato series. This particular craft creation is a whimsical nod to the iconic Southeast Asian dessert, Mango Sticky Rice, transformed into a delightful alcohol-free sour beer. Meticulously crafted to capture the essence of this beloved sweet treat, Funky Fluid has innovated a beer that defies expectations and delivers a unique experience.
The Mango Sticky Rice Ice Cream Sour is part of Funky Fluid's alcohol-free range, offering a guilt-free indulgence for those who savour complex, dessert-inspired beers without the effects of alcohol. This brew is a testament to the brewery's commitment to excellence and innovation in the non-alcoholic craft beer scene.
Every sip is designed to conjure the imagery of tropical Thailand, where the flavours of ripe mango and creamy, sweet rice are a staple. Funky Fluid's meticulous brewing process ensures that each element of the dessert is represented, creating a harmonious blend of fruit and sweetness that's balanced with a refreshing sourness, reminiscent of a true gelato experience.
Moreover, this beer stands as a beacon of inclusivity, crafted to be enjoyed by all beer enthusiasts regardless of their dietary preferences. As part of a vibrant and ever-expanding world of craft beer, the Mango Sticky Rice Ice Cream Sour invites you to defy tradition and explore the boundaries of what beer can be.
Enjoy this alcohol-free sour at your next gathering or as a solo treat to unwind, and let Funky Fluid take you on a flavourful escapade that's both bold and original. It's not just a beer; it's a celebration of innovation, culture, and the art of brewing.
Share
Curious to explore our range? You don't have to settle for just one. At DryDrinker, we offer
'Pick Your Own'
mixed cases. Handpick a selection of different products to discover your new favourites without getting too much of one kind.
Stuart's Product of the Month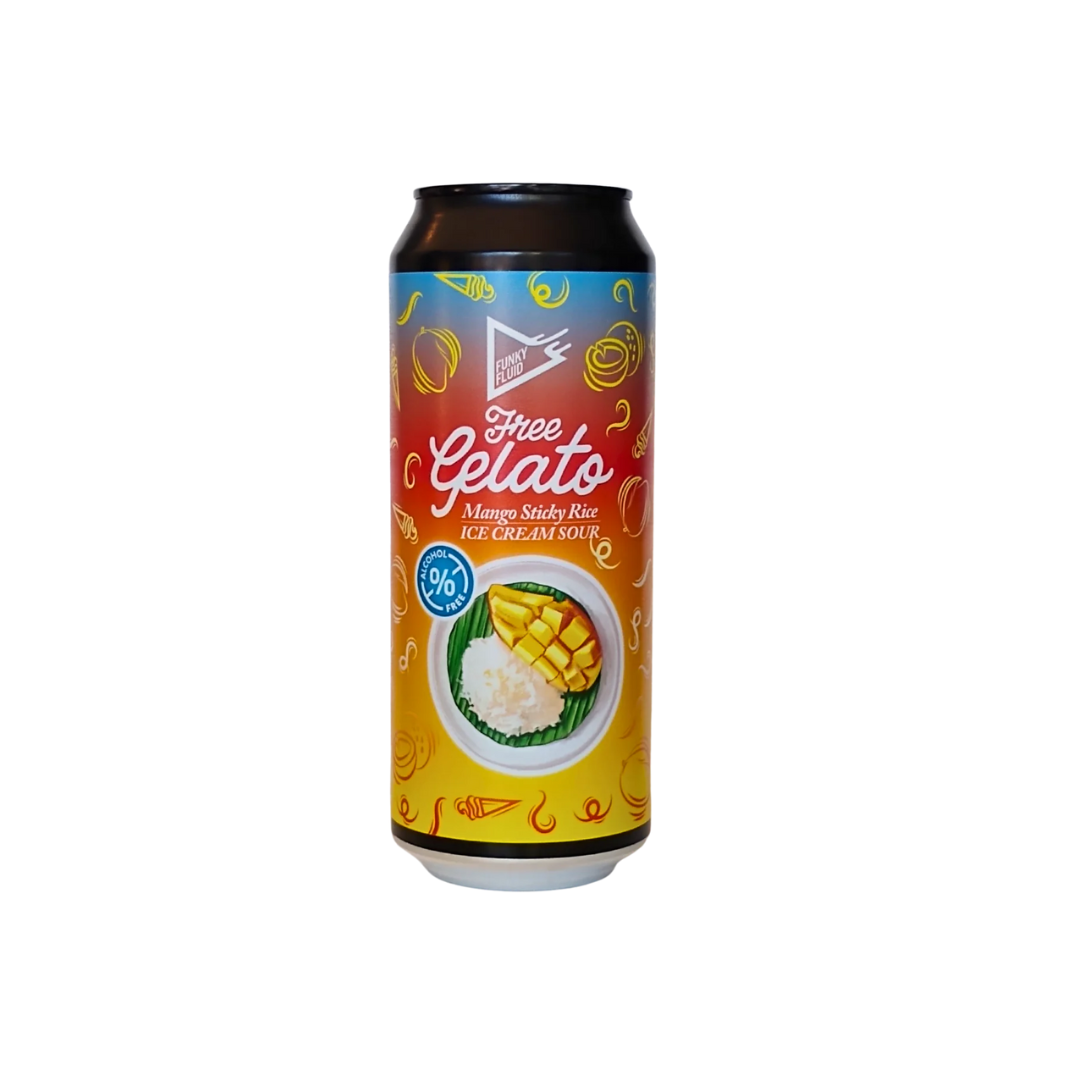 Collapsible content
Tasting notes

Funky Fluid Free Gelato - Mango Sticky Rice Ice Cream Sour Tasting Notes:

Appearance: A hazy, golden-yellow pour reminiscent of ripe mango flesh greets the eye, capped by a thin, white head that dissipates slowly, leaving delicate lacing on the glass.

Aroma: The nose is instantly hit with an aromatic wave of tropical mango, complemented by a creamy sweetness that evokes the comforting scent of sticky rice. A hint of tangy lactic sourness adds complexity and depth to the bouquet.

Flavour: On the palate, this beer unfolds like a rich dessert. The initial taste is a lush blend of mango purée and coconut cream, leading into the subtle, grainy notes of glutinous rice. The sour profile is gentle but assertive, providing a refreshing contrast that prevents the sweetness from overwhelming, and instead, heightens the exotic fruitiness.

Mouthfeel: The body is medium and velvety, akin to a well-whipped sorbet. Light carbonation dances on the tongue, ensuring each sip remains lively and effervescent, leading to an almost creamy sensation akin to a dairy-free gelato.

Finish: The finish is long and satisfying, with the lingering taste of mango and a subtle tartness that invites another sip. A faint hint of vanilla and a whisper of coconut milk smoothness conclude the experience, leaving a memorable aftertaste that fully captures the essence of mango sticky rice ice cream.
Food Pairings

Experience the delightful fusion of flavours with the Funky Fluid Free Gelato - Mango Sticky Rice Ice Cream Sour. This alcohol-free beverage, reminiscent of a tropical dessert, pairs beautifully with a variety of dishes. Here are some curated food pairing suggestions:

Sweet Harmony

The beer's dessert-like qualities make it a natural companion for:

Traditional Southeast Asian desserts such as Thai Mango Sticky Rice which echo the beer's key flavour notes.
Coconut-based desserts like Coconut Pudding or Buko Pie that complement the tropical character of the mango and the creaminess of the gelato essence.

Savoury Contrast

For a delightful contrast, pair with:

Spicy dishes such as Thai Green Curry or Szechuan Chicken where the beer's sweetness can cool the palate.
Grilled seafood, particularly Grilled Shrimp or Scallops, which are enhanced by the beer's citrusy undertones.

Cheese Companions

Choose cheeses that will complement the beer's profile:

Soft, creamy cheeses like Brie or Camembert to match the beer's velvety mouthfeel.
Mild goat cheeses which will not overpower the beer's delicate flavours.

Adventurous Pairings

For those looking to explore:

Experiment with fusion dishes such as Mango Salsa Tacos that play with the combination of sweet, sour, and savoury.
Try with Spiced Duck Breast accompanied by a fruit glaze that can bridge the gap between the dish and the tart, fruity notes of the beer.

The Funky Fluid Free Gelato - Mango Sticky Rice Ice Cream Sour is versatile in its pairing possibilities, capable of both complementing and contrasting a wide array of dishes. Let your culinary imagination guide you to create memorable dining experiences with this unique non-alcoholic sour beer.
Serving Suggestions

Indulge in the playful and inventive character of Funky Fluid Free Gelato - Mango Sticky Rice Ice Cream Sour with these serving tips designed to enhance your drinking experience:

Glassware

For the optimal tasting adventure:

Opt for a tulip glass to concentrate the aromatics, allowing the tropical mango and subtle rice nuances to come to the forefront.
Alternatively, a snifter glass can be used to swirl the beer gently, releasing the complex layers of aroma and capturing the essence of the gelato inspiration.

Temperature

To fully appreciate the flavours:

Serve this craft sour between 6-8°C. A slightly chilled temperature is ideal to refresh the palate while still permitting the intricate flavours to shine through.

Presentation

Enhance the visual appeal:

Garnish the rim of your glass with a thin slice of ripe mango or a twist of lime to add a touch of elegance and a hint of fresh fruitiness before each sip.

Occasion

Best enjoyed:

As an aperitif to awaken the taste buds or as a delightful post-meal digestif that offers a sweet, tangy conclusion to your dining experience.
During warm weather gatherings, where the refreshing and fruity profile can be especially appreciated as a thirst-quencher.

By following these serving suggestions, you're set to experience the Funky Fluid Free Gelato - Mango Sticky Rice Ice Cream Sour in a way that celebrates the artistry behind this non-alcoholic craft beer. Cheers to a new dimension of beer enjoyment!
About Funky Fluid

Picture this: a group of daring, adventure-seeking beer fanatics band together to embark on a flavourful journey like no other. Their mission? To transform the world of brewing and concoct the most unique, unforgettable, and downright funky beers known to humankind. Enter the world of Funky Fluid, where convention is turned on its head and ordinary just doesn't cut it.

These intrepid brewers revel in experimentation, fearlessly combining bold flavours and avant-garde techniques to create a mind-blowing array of beers that cater to all taste buds. From the hoppy heights of their eye-popping IPAs to the velvety depths of their smooth stouts, Funky Fluid is a taste sensation that will leave you craving more.

At the heart of this flavour factory lies an unquenchable thirst for innovation. The Funky Fluid team are always on the lookout for the latest trends, techniques, and ingredients, weaving them into their brewing wizardry to constantly surprise and delight even the most discerning of beer aficionados.

But it's not all fun and games at Funky Fluid; these brewing mavericks are also dedicated to making the world a better place. They work hand in hand with local suppliers and partners to minimise their environmental footprint and support the communities they love. Because, let's face it, great beer tastes even better when you know it's brewed with a conscience.

So, if you're ready to take a walk on the wild side and explore the thrilling world of Funky Fluid, prepare yourself for a beer experience that defies expectations and will leave you wondering: "Where has this been all my life?"
Disclaimer: At Dry Drinker, we take great care to ensure the accuracy of product information displayed on our website. However, product recipes may change periodically, impacting nutrition and allergen information. As a result, we advise that you always review product labels and not rely solely on the information presented on our website.
For specific advice regarding any Dry Drinker or ZeroHero™ branded products, please contact our Customer Care Team. For all other products, we recommend reaching out to the manufacturer directly.
The information provided on our website is intended for personal use only. Reproducing this information in any form without the prior consent of Dry Drinker Limited or without proper acknowledgement is strictly prohibited.
Collapsible content
Delivery & Returns

How Much is Delivery?

Enjoy free delivery on orders over £69 when placed before 5 pm.

For orders below £69, a standard delivery charge of £5.99 applies.

Most orders placed by 5 pm will typically be delivered on the next working day.

Do you deliver at the weekend?

Saturday Delivery is available for £8.99. To ensure timely dispatch, please complete your order by 5 pm on Friday, allowing enough time for picking and packing. Please note we don't ship or deliver on UK Bank Holidays.

Are there any restrictions?

Our next-day delivery is available for 99% of the UK mainland. However, some Scottish mainland postcodes may incur higher charges. Saturday delivery serves mainland England, Wales, Edinburgh, and Glasgow. Regrettably, it doesn't cover Aberdeen, the Highlands, or the following postcodes: PA, FK, DD, AD, PH, IV, KO, HS, BT, KA, and KY.

Do you make deliveries to Northern Ireland?

Certainly, we do deliver to Northern Ireland. Kindly allow 5 to 7 working days for your order to arrive.

Do you make deliveries to more remote areas of the UK?

Indeed, we deliver to the Islands and Highlands. Delivery times for these areas are based on your order's weight, and typically take 7-10 working days.

I want to make a very large order.

We regard an order as large when it consists of 20 cases or more, with each case containing 12 bottles/cans. Although next-day delivery isn't guaranteed for such orders, we'll ensure delivery within three working days from the order date.

If you need to contact us for any reason please use the contact option on our website here.

Don't forget your order number and to send us a photo.

Please check your delivery as soon as you receive it as we can't give a refund if it is more than 24 hours after delivery.

More information available here
Choosing a selection results in a full page refresh.
Opens in a new window.