Free Delivery Over £69*
5% off for new customers using code WELCOME
4.86/5 on Trusted Shops
0.5% ABV | 500ml Cans
Regular price
Sale price
$42.00
Unit price
per
Offer
Hold Tight - Being Restocked Shortly
In stock
Introducing the Funky Fluid Free Gelato - Verde Ice Cream Sour, a low-alcohol sour ale that captures the essence of artisan gelato in a bottle. This unique brew is a celebration of innovative brewing techniques, merging the indulgent world of ice cream with the refreshing zest of sour ales.
Crafted for those who appreciate the finer subtleties of a well-made sour ale, yet seek a session able option, this low-alcohol delight promises a full-flavored experience. It embodies the spirit of a carefree summer day, perfect for those moments when you crave something sweet yet sophisticated.
The Verde variant of the Free Gelato series is a nod to classic Italian desserts, incorporating the vibrant hues and flavours reminiscent of a stroll through the streets of Florence. Its hue is a soft nod to the gelato it emulates, while the texture is a homage to the silky smoothness of a finely churned sorbet.
With an approach that prioritizes balance and finesse, the Funky Fluid Free Gelato series stands as a paragon of the non-traditional beer movement. It invites connoisseurs and casual drinkers alike to explore the boundaries of what beer can be. The Verde Ice Cream Sour is not just a beverage, but an experience, designed to transport its enjoyer to an Italian gelateria with every sip.
As part of the Funky Fluid line-up, this offering maintains the brewery's commitment to quality and innovation, ensuring that each batch is brewed to perfection. Whether you're a fan of sours, seeking a dessert-like treat, or simply looking for a beer that's as easy on the palate as it is on the alcohol content, the Verde Ice Cream Sour is a sublime choice.
Indulge in the artistry of this gelato-inspired brew, and let the Funky Fluid Free Gelato - Verde Ice Cream Sour whisk you away on a gustatory journey that's truly one of a kind.
Share
Curious to explore our range? You don't have to settle for just one. At DryDrinker, we offer
'Pick Your Own'
mixed cases. Handpick a selection of different products to discover your new favourites without getting too much of one kind.
Stuart's Product of the Month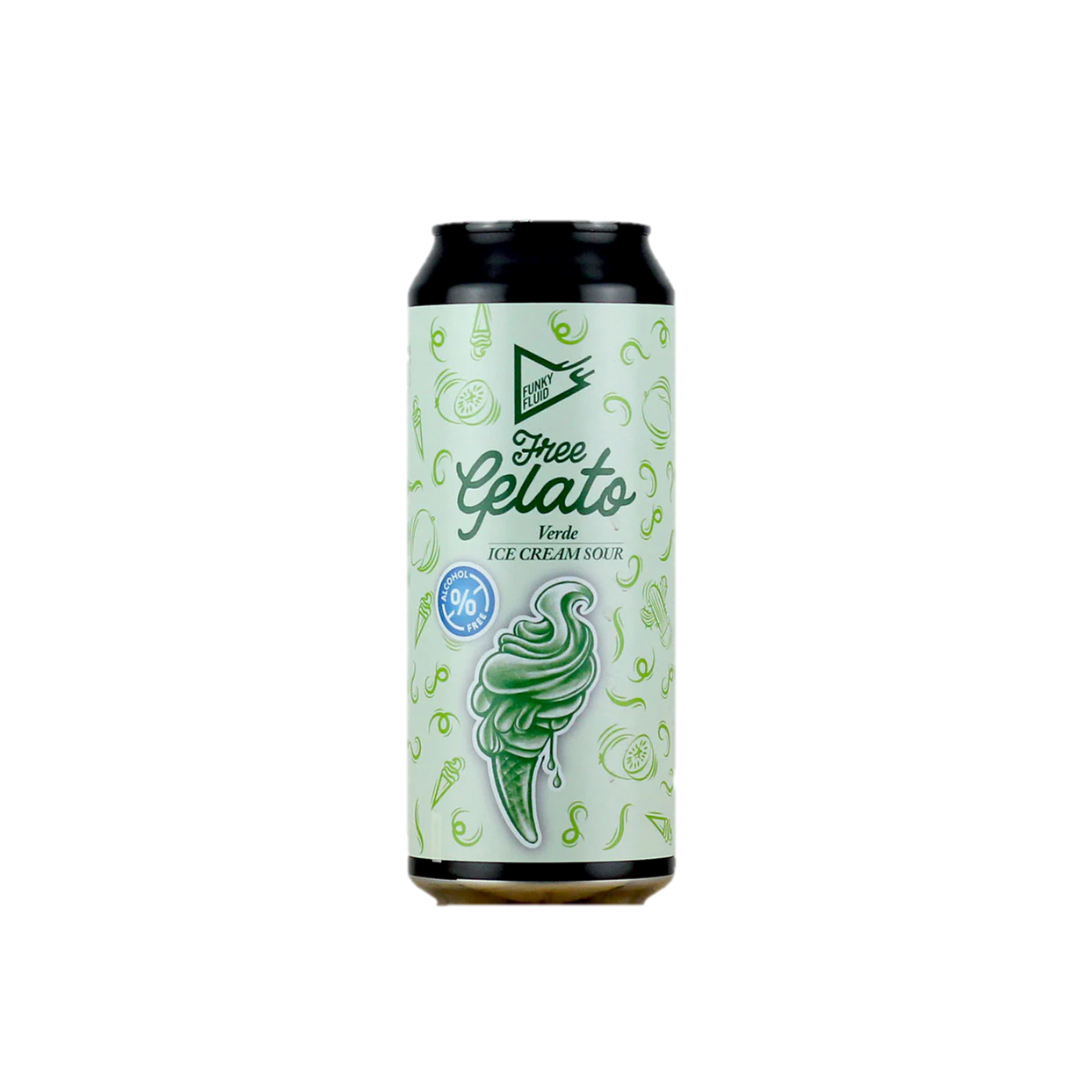 Collapsible content
Tasting notes

Funky Fluid Free Gelato - Verde Ice Cream Sour Tasting Notes:

Embark on a taste adventure with the Funky Fluid Free Gelato - Verde Ice Cream Sour. This low-alcohol sour presents a playful twist on traditional beer, offering a complex and delightful flavour profile that's both invigorating and indulgent.

Appearance: Pouring a hazy, pastel green, it mimics the colour of creamy pistachio gelato. A soft, frothy head sits atop, resembling a dollop of freshly whipped cream.

Aroma: The initial olfactory encounter is a sweet and tart interplay between lime and soft herbal notes, giving way to a backdrop of creamy vanilla and subtle almond a reminder of its dessert inspiration.

Taste: Upon the first sip, a rush of gentle lime tartness tingles the palate, balanced immediately by the sweetness of the malt. Mid-palate, the flavours evolve into a blend of herbaceous notes reminiscent of Italian gelato, with hints of fresh basil and mint, leading into a complex, yogurt-like tang.

Mouthfeel: The body is light to medium, with a creamy texture akin to melted ice cream. The fine carbonation provides a refreshing effervescence that cleanses the palate, making each sip as enjoyable as the first.

Finish: The finish is long and satisfying, with a lingering sweetness that counterbalances the sourness, leaving a craving for more. Notes of sweet cream and a whisper of lime zest remain, inviting another sip.

The Funky Fluid Free Gelato - Verde Ice Cream Sour is a testament to the creativity in the world of low-alcohol beers, proving that you can indulge in rich, dessert-like flavours while enjoying the lightness that comes with a low-alcohol content.

Food Pairings

Immerse yourself in the culinary adventure that awaits with Funky Fluid Free Gelato - Verde Ice Cream Sour. This low-alcohol sour ale is a masterful complement to a variety of dishes. Here are some expertly curated food pairings to enhance your tasting experience:

Cheese Platter:

The subtle tartness of the Verde Ice Cream Sour cuts through the creaminess of cheeses like Brie or Camembert, and balances the sharpness of aged Cheddar or Gouda, making for a delightful cheese-tasting session.

Spicy Asian Cuisine:

Partner this ale with the bold flavours of Thai or Vietnamese dishes. The refreshing sour profile soothes the heat from a spicy curry or a tangy Pad Thai, enhancing the complex spice layers.

Seafood:

Pair with sushi, ceviche, or grilled shrimp to allow the citrusy undertones of the beer to mingle with the delicate sweetness of the seafood, highlighting the fresh, oceanic flavours.

Grilled Meats:

The Verde Ice Cream Sour's acidity is the perfect counterpoint to the smoky, savoury flavours of barbecued or grilled meats, cleansing the palate and accentuating the charred exterior of the meat.

Fruity Desserts:

Experience a symphony of flavours by pairing with fruit-based desserts such as lemon tarts, berry sorbets, or apple pies, which echo the sour ale's fruity and tart characteristics.

Artisanal Bread:

Enjoy with a freshly baked sourdough or a crusty baguette to explore the fermentation connection, where the tangy notes of the bread harmonize with the sour elements of the beer.

The versatility of Funky Fluid Free Gelato - Verde Ice Cream Sour allows it to accompany a broad spectrum of flavours from your dining table. Let it be the refreshing companion to your favourite dishes or the highlight of your food exploration journey.
Serving Suggestions

Indulge in the refreshing and innovative Funky Fluid Free Gelato - Verde Ice Cream Sour with our tailored serving suggestions designed to elevate your tasting experience:

Proper Glassware:

For the ultimate experience, serve this vibrant low-alcohol sour in a tulip glass. The distinct shape of the glassware enhances the aromatic profile and maintains the delicate head, allowing the intricate flavours and aromas to develop fully.

Serving Temperature:

Chill the Verde Ice Cream Sour to approximately 6-8°C before serving. A cool temperature is key to refreshing the palate and highlighting the beer's subtle tartness and fruit notes without muting its complex characteristics.

Pouring Technique:

Pour with care to avert excessive foaming. Tilt the glass at a 45-degree angle and gently pour the beer along the side until half-full, then straighten to fill the remainder. This method ensures the perfect foam cap and presentation.

Preparation:

Consider a pre-chilled glass to maintain the coolness. Additionally, ensure the glass is clean and free from any detergents or residues that might interfere with the beer's natural flavours and carbonation.

Accompaniments:

Enhance your experience by adding a slice of orange or a sprig of fresh mint to the glass. The citrus or mint will complement the sour and fruity notes, offering a refreshing twist to each sip.

Storage:

Store the beer in a cool, dark place to preserve its delicate flavours. Avoid direct sunlight and fluctuating temperatures to maintain its optimal condition until it's time to enjoy.

Embrace the full potential of Funky Fluid Free Gelato - Verde Ice Cream Sour by following these serving suggestions. Each sip promises to be a unique journey through flavours crafted for the discerning palate.
About Funky Fluid

Picture this: a group of daring, adventure-seeking beer fanatics band together to embark on a flavourful journey like no other. Their mission? To transform the world of brewing and concoct the most unique, unforgettable, and downright funky beers known to humankind. Enter the world of Funky Fluid, where convention is turned on its head and ordinary just doesn't cut it.

These intrepid brewers revel in experimentation, fearlessly combining bold flavours and avant-garde techniques to create a mind-blowing array of beers that cater to all taste buds. From the hoppy heights of their eye-popping IPAs to the velvety depths of their smooth stouts, Funky Fluid is a taste sensation that will leave you craving more.

At the heart of this flavour factory lies an unquenchable thirst for innovation. The Funky Fluid team are always on the lookout for the latest trends, techniques, and ingredients, weaving them into their brewing wizardry to constantly surprise and delight even the most discerning of beer aficionados.

But it's not all fun and games at Funky Fluid; these brewing mavericks are also dedicated to making the world a better place. They work hand in hand with local suppliers and partners to minimise their environmental footprint and support the communities they love. Because, let's face it, great beer tastes even better when you know it's brewed with a conscience.

So, if you're ready to take a walk on the wild side and explore the thrilling world of Funky Fluid, prepare yourself for a beer experience that defies expectations and will leave you wondering: "Where has this been all my life?"
Disclaimer: At Dry Drinker, we take great care to ensure the accuracy of product information displayed on our website. However, product recipes may change periodically, impacting nutrition and allergen information. As a result, we advise that you always review product labels and not rely solely on the information presented on our website.
For specific advice regarding any Dry Drinker or ZeroHero™ branded products, please contact our Customer Care Team. For all other products, we recommend reaching out to the manufacturer directly.
The information provided on our website is intended for personal use only. Reproducing this information in any form without the prior consent of Dry Drinker Limited or without proper acknowledgement is strictly prohibited.
Collapsible content
Delivery & Returns

How Much is Delivery?

Enjoy free delivery on orders over £69 when placed before 5 pm.

For orders below £69, a standard delivery charge of £5.99 applies.

Most orders placed by 5 pm will typically be delivered on the next working day.

Do you deliver at the weekend?

Saturday Delivery is available for £8.99. To ensure timely dispatch, please complete your order by 5 pm on Friday, allowing enough time for picking and packing. Please note we don't ship or deliver on UK Bank Holidays.

Are there any restrictions?

Our next-day delivery is available for 99% of the UK mainland. However, some Scottish mainland postcodes may incur higher charges. Saturday delivery serves mainland England, Wales, Edinburgh, and Glasgow. Regrettably, it doesn't cover Aberdeen, the Highlands, or the following postcodes: PA, FK, DD, AD, PH, IV, KO, HS, BT, KA, and KY.

Do you make deliveries to Northern Ireland?

Certainly, we do deliver to Northern Ireland. Kindly allow 5 to 7 working days for your order to arrive.

Do you make deliveries to more remote areas of the UK?

Indeed, we deliver to the Islands and Highlands. Delivery times for these areas are based on your order's weight, and typically take 7-10 working days.

I want to make a very large order.

We regard an order as large when it consists of 20 cases or more, with each case containing 12 bottles/cans. Although next-day delivery isn't guaranteed for such orders, we'll ensure delivery within three working days from the order date.

If you need to contact us for any reason please use the contact option on our website here.

Don't forget your order number and to send us a photo.

Please check your delivery as soon as you receive it as we can't give a refund if it is more than 24 hours after delivery.

More information available here
Choosing a selection results in a full page refresh.
Opens in a new window.