Free Delivery Over £69*
5% off for new customers using code WELCOME
4.86/5 on Trusted Shops
0.5% ABV | 4 x 330ml - 8 x 500ml
Regular price
Sale price
$83.00
Unit price
per
Offer
Hold Tight - Being Restocked Shortly
In stock
The Funky Fluid Mixed Case is a carefully curated collection of non-alcoholic brews that epitomises the boldness and creativity of the Funky Fluid brand. This ensemble is crafted for the discerning drinker who yearns to push the boundaries of taste without the influence of alcohol.
Featuring the Funky Fluid Free Gelato - Mango Sticky Rice Ice Cream Sour Alcohol-Free, this mixed case starts with a journey through exotic flavours, combining the luscious sweetness of mango with the unique taste of sticky rice, all presented in a tantalising sour beer. It's a beverage that transcends the traditional beer experience, inviting the drinker to savour the complexities of a dessert-inspired creation.
The journey continues with the Funky Fluid Free Gelato - Verde Ice Cream Sour Low Alcohol, a brew that is as surprising as it is delightful. This low-alcohol offering captures the spirit of artisanal gelato with a sour twist, delivering a zesty and mildly sweet experience that lingers pleasantly on the palate. It is a testament to the brewer's artistry, embodying the richness of flavour that Funky Fluid is renowned for.
Completing the trio, the Funky Fluid and HAYB - Free Topic Non-Alcoholic stands as a beacon of brewing excellence. It's a collaboration that showcases the harmonious blend of innovative brewing techniques with the purity of non-alcoholic craftsmanship. The result is a beer that is full of character, yet devoid of alcohol, allowing for indulgence at any moment without compromise.
The Funky Fluid Mixed Case is more than a selection of beverages; it is an invitation to explore the uncharted territories of non-alcoholic brewing. Each drink within this case offers a unique narrative, a story that unfolds with every sip, celebrating the joy of flavourful sophistication in a world where alcohol is but an option, not a necessity.
Share
Curious to explore our range? You don't have to settle for just one. At DryDrinker, we offer
'Pick Your Own'
mixed cases. Handpick a selection of different products to discover your new favourites without getting too much of one kind.
Stuart's Product of the Month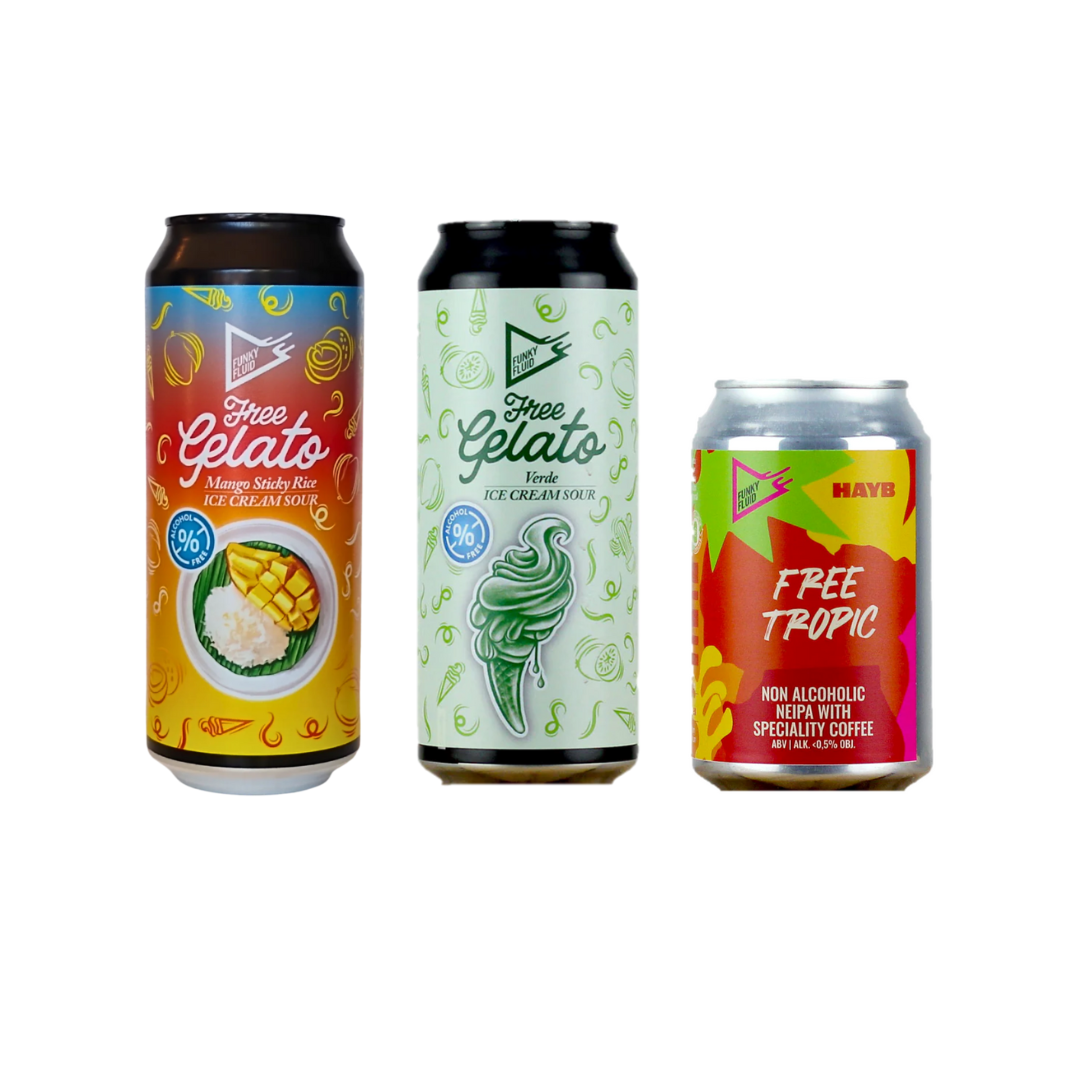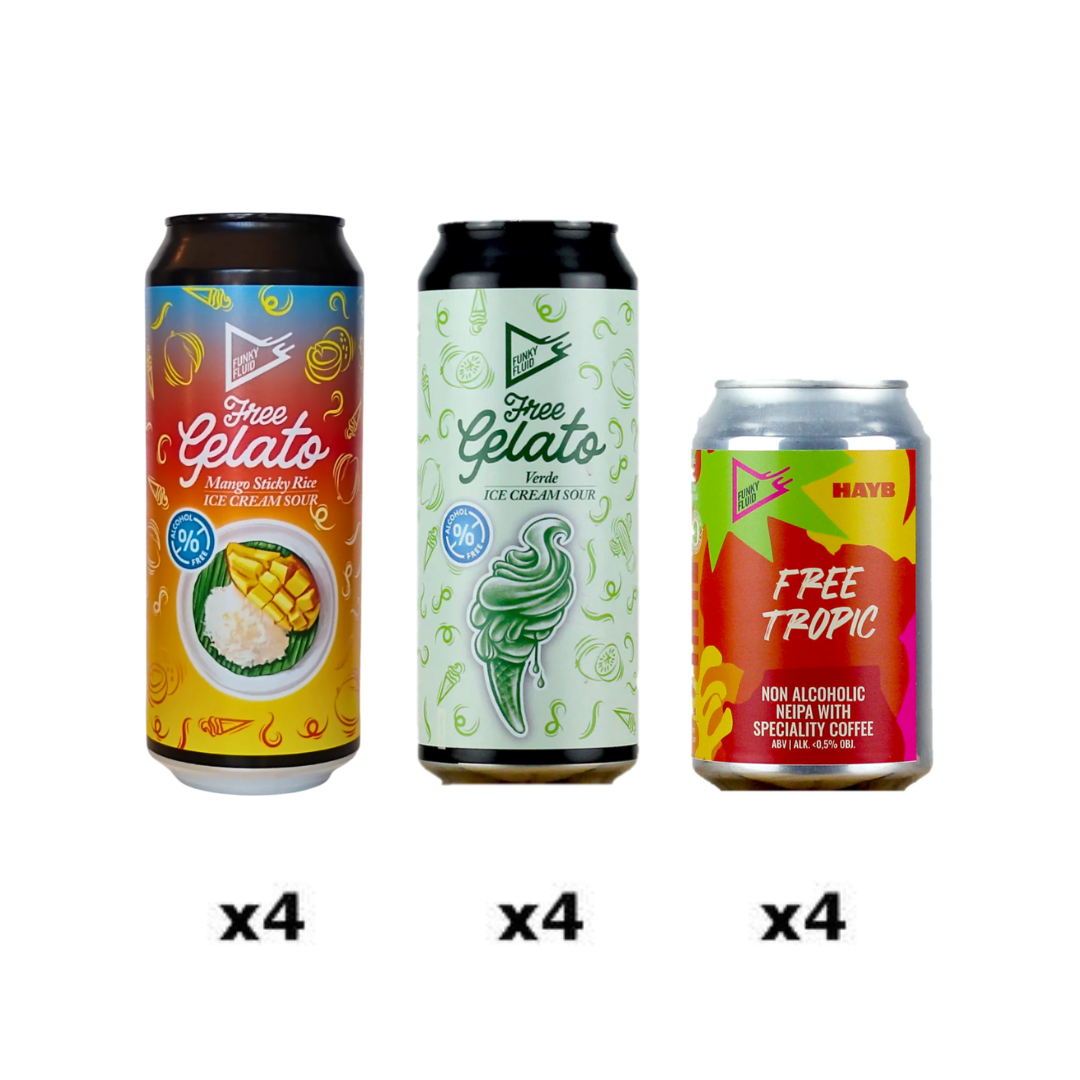 Collapsible content
Tasting notes

Funky Fluid Mixed Case Tasting Notes:

Funky Fluid Free Gelato - Verde Ice Cream Sour:

Visual Appeal: A vibrant, pistachio-green liquid that surprises the eye, topped with a frothy, white head.

Nose: An aroma that suggests a scoop of sweet lime gelato, with hints of vanilla and a tangy citrus zest that tantalizes the senses.

Taste: On the palate, a creamy sweetness is quickly balanced by a tart, zesty lime edge, giving way to a complexity where subtle hints of tropical fruit peek through.

Texture: The mouthfeel is smooth and almost velvety, with a carbonation that playfully prickles the tongue.

Finish: It leaves a refreshing aftertaste with lingering notes of citrus and a faint, herbal undertone that beckons for another sip.

Funky Fluid Free - Session IPA:

Visual Appeal: It boasts a clear, golden hue with an enthusiastic head of foam.

Nose: A bouquet of tropical fruits greets the nose, with pineapple, mango, and a touch of grapefruit leading the charge.

Taste: The first sip delivers a medley of hop-driven fruitiness, balanced by a delicate malt backbone. The absence of alcohol is masterfully masked by a well-judged bitterness.

Texture: Medium-bodied, with a lively carbonation that accentuates its crispness.

Finish: A clean and satisfyingly dry finish, leaving a quenching bitterness and a persistent fruity echo.

Funky Fluid and HAYB - Free Topic:

Visual Appeal: A hazy, straw-yellow pour with a frothy top.

Nose: The aroma is an intricate mosaic of mild herbal notes, soft peach, and a hint of peppery spice.

Taste: A gentle sweetness is beautifully intertwined with a floral hop character and a subtle, grainy undertone.

Texture: A light body with a silky mouthfeel and moderate carbonation.

Finish: Concludes with a crisp and refreshing aftertaste that's clean and bright, leaving a mellow fruitiness on the palate.

The Funky Fluid Mixed Case is a celebration of innovation and flavour, showcasing the artistry of non-alcoholic brewing. Each beer in this case offers a unique sensory journey, from the dessert-inspired sour to the tropical IPA and the collaborative masterpiece. Enjoy them chilled and with friends to fully appreciate the spectrum of tastes and aromas that Funky Fluid has so skilfully crafted.
Food Pairings

The Funky Fluid Mixed Case invites enthusiasts to an exceptional gastronomic affair, where each non-alcoholic brew is paired with culinary creations that elevate the drinking experience to new heights. The case begins with the 'Funky Fluid Free Gelato - Mango Sticky Rice Ice Cream Sour Alcohol-Free', a beverage that harmonises with the creamy sweetness of traditional Southeast Asian desserts. The mango's tropical essence is mirrored by the ripe sweetness of a mango pudding, while the tartness cuts through the richness of coconut milk-based treats, providing a refreshing counterbalance to dishes like creamy coconut sago.

Moving on to the 'Funky Fluid Free Gelato - Verde Ice Cream Sour Low Alcohol', its bright and zesty profile is a match made in heaven for the vibrant flavours of Mexican cuisine. Pair it with fish tacos adorned with fresh cilantro and a squeeze of lime, or let it complement the heat and complexity of a mole poblano. The gentle sourness and effervescence will cleanse the palate between bites of spicy food, readying the taste buds for the next savoury mouthful.

The final offering, 'Funky Fluid and HAYB - Free Topic Non-Alcoholic', is a robust partner to heartier fare. Imagine a plant-based burger, its rich umami flavours melding with the depth of the beer. For cheese aficionados, a charcuterie board featuring aged cheeses, tangy chutneys, and nutty crackers makes for an indulgent session where the intricate flavours of the brew and the savoury snacks enhance one another.

Each beverage within the Funky Fluid Mixed Case is not just a drink but a key ingredient to a memorable meal. The case is designed for those who relish the interplay of food and drink, with non-alcoholic options that promise to be as satisfying and complex as their alcoholic counterparts. The careful selection of pairings aims to showcase the dynamic range and versatility of these pioneering brews.
Serving Suggestions

Dive into the Funky Fluid Mixed Case with a serving approach that accentuates each drink's unique character. Begin with the 'Funky Fluid Free Gelato - Mango Sticky Rice Ice Cream Sour Alcohol-Free'. This tropical treat is best served well-chilled in a tulip glass to capture its vibrant aroma. It's a fantastic companion to a sunny day spent lounging on the patio or as a dessert beverage to conclude a summery feast. Let the chill of the glass mimic the cooling sensation of the ice cream inspiration behind this brew.

Transition to the 'Funky Fluid Free Gelato - Verde Ice Cream Sour Low Alcohol' by presenting it in a wide-brimmed sour glass to fully appreciate its aromatic citrus and herbaceous notes. The effervescence and tang of this brew make it a splendid choice for outdoor barbecues or as an invigorating start to your meal. Serving it alongside a spread of antipasti or as a palate cleanser between courses can showcase its versatility.

Finally, the 'Funky Fluid and HAYB - Free Topic Non-Alcoholic' is a bold offering that demands attention. Pour this into a stout glass to appreciate its full-bodied texture and nuanced layers. It is ideally suited to cooler evenings and pairs wonderfully with rich, savoury dishes. Consider this the highlight of your dinner party or savour it slowly as the night winds down, perhaps with a piece of dark chocolate or a small, indulgent dessert.

In each instance, the Funky Fluid Mixed Case is a testament to the craft of non-alcoholic brewing, presenting a selection that refuses to compromise on flavour and experience. These serving suggestions are crafted to ensure that each sip is as delightful and complex as the brew itself, inviting drinkers to savour the nuances of these innovative creations.
Disclaimer: At Dry Drinker, we take great care to ensure the accuracy of product information displayed on our website. However, product recipes may change periodically, impacting nutrition and allergen information. As a result, we advise that you always review product labels and not rely solely on the information presented on our website.
For specific advice regarding any Dry Drinker or ZeroHero™ branded products, please contact our Customer Care Team. For all other products, we recommend reaching out to the manufacturer directly.
The information provided on our website is intended for personal use only. Reproducing this information in any form without the prior consent of Dry Drinker Limited or without proper acknowledgement is strictly prohibited.
Collapsible content
Delivery & Returns

How Much is Delivery?

Enjoy free delivery on orders over £69 when placed before 5 pm.

For orders below £69, a standard delivery charge of £5.99 applies.

Most orders placed by 5 pm will typically be delivered on the next working day.

Do you deliver at the weekend?

Saturday Delivery is available for £8.99. To ensure timely dispatch, please complete your order by 5 pm on Friday, allowing enough time for picking and packing. Please note we don't ship or deliver on UK Bank Holidays.

Are there any restrictions?

Our next-day delivery is available for 99% of the UK mainland. However, some Scottish mainland postcodes may incur higher charges. Saturday delivery serves mainland England, Wales, Edinburgh, and Glasgow. Regrettably, it doesn't cover Aberdeen, the Highlands, or the following postcodes: PA, FK, DD, AD, PH, IV, KO, HS, BT, KA, and KY.

Do you make deliveries to Northern Ireland?

Certainly, we do deliver to Northern Ireland. Kindly allow 5 to 7 working days for your order to arrive.

Do you make deliveries to more remote areas of the UK?

Indeed, we deliver to the Islands and Highlands. Delivery times for these areas are based on your order's weight, and typically take 7-10 working days.

I want to make a very large order.

We regard an order as large when it consists of 20 cases or more, with each case containing 12 bottles/cans. Although next-day delivery isn't guaranteed for such orders, we'll ensure delivery within three working days from the order date.

If you need to contact us for any reason please use the contact option on our website here.

Don't forget your order number and to send us a photo.

Please check your delivery as soon as you receive it as we can't give a refund if it is more than 24 hours after delivery.

More information available here
Choosing a selection results in a full page refresh.
Opens in a new window.